What Is The Skunk Hair Trend And How Would You Style It?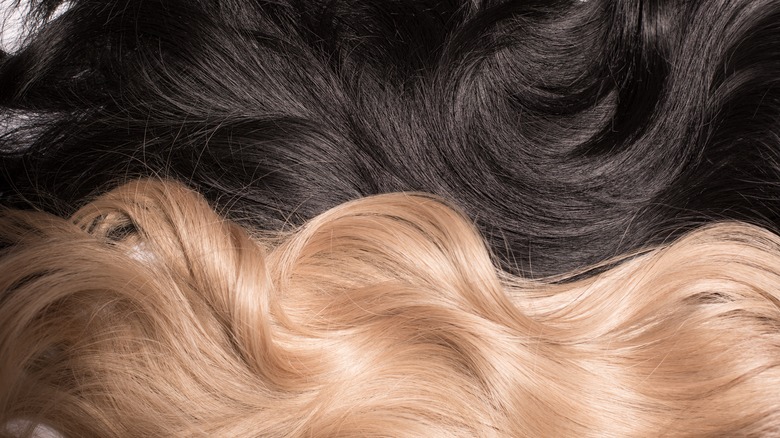 EJ Nickerson/Shutterstock
From top knots and Pamela updos to shag hairstyles and modern Rachel cuts, pop culture has seen many exciting and elevated hair trends in recent years, notes Town & Country. One of these major trends is skunk hair, which Glamour links to celebs like Billie Eilish, Dua Lipa, and Bella Hadid.
If you grew up in the 2000s and 2010s when emo and scene aesthetics dominated spaces like MySpace and Tumblr, then you might be having flashbacks to another animal-themed hairstyle — the raccoon tail (per All Things Hair).
Even though raccoon stripes have been spotted on Rihanna as recently as January of 2022 (per Allure), the skunk hair color trend is more versatile than its pop-punk-inspired cousin. This look can actually be styled in many different ways and fit into several different aesthetics. Read on to find out what exactly the skunk hair trend is, how you can achieve the look yourself, and the best ways to wear it.
The skunk hair trend uses contrast to create a striking look
Skunk hair is a color trend that uses color-blocking techniques and contrasting colors to create a bold look, explains Glamour. While it classically pairs a dark brown or black with a light blonde or white — similar to Cruella de Vil's iconic look — the style can combine any starkly different colors to achieve a contrasting look.
Donmily connects the popularity of this trend to the revival of Y2K fashion, as it aligns with the contrasting aesthetics of the era and resembles the well-known money piece highlight style. It's possible that the trend even predates the early 2000s, as Coloured Hair Care links it to 70s punk rock fashion.
The rise of the modern skunk hair trend could also be linked to the 2021 release of Disney's live-action movie "Cruella," which features the "101 Dalmatians" villain in all her fashionista glory, as mentioned on PureWow. Billie Eilish's green roots are theorized to have revived this look, but stars like Dua Lipa, who can be seen sporting the look on the cover of her 2020 album "Future Nostalgia," has also popularized it. However, the trend seems to be maintaining traction, likely because it can be worn and styled in so many different ways.
Find inspiration for your own skunk-style hair
If you're wanting to achieve skunk hair, there are many ways to go about it. Byrdie recommends working with your natural hair color and pairing it with a pop of contrasting color. If you're adding a light color to your naturally dark tone, you'll likely have to bleach it, which you'll probably be better off taking to the salon (per Glamour).
Once you've decided on your colors, you just need to figure out where you will place your opposing shades. The simplest rendition of the skunk look features streaks of color-blocked hair framing the face in a style reminiscent of softer money-piece highlights, a take on the hairdo that was seen on Blackpink star Jennie in 2020. This form of the look can be styled pretty easily, working with straight, wavy, or curly hair.
Dua Lipa's take on the look is similar to the classic face-framing streaks but with chunkier pieces of blonde that go further back along the part. You can wear this look down, with straight or slightly wavy hair, or use it to elevate your updo, suggests InStyle.
Skunk hair can really be customized depending on where you choose to add your opposing color, with Glamour Magazine showing that you can dye your roots, the back half of your head, or the underside of your hair. Really, there are so many directions to take this style, so it's all about deciding what works best for you.