Is The Lululemon Studio Mirror Worth It?
Andrey_Popov/Shutterstock
With so many different types of fitness equipment on the market, it can be difficult to know what's worth your hard-earned dollars and what's not. In an industry that was once dominated by heavy weights and iron bars, we are seeing a new generation of fitness enthusiasts come into the space, and with new customers, comes new innovation.
According to Healthline, many companies are looking to capture the newly created in-home, connected-fitness market, and consumer options for purchase have become endless. As the Washington Post noted, this in-home trend probably isn't going anywhere. During the height of the COVID-19 pandemic, many people began seeking alternatives to the traditional gym-based workout, and now people who once filled fitness centers, are not returning in their pre-pandemic numbers.
Many fitness-focused consumers have grown fond of their couch-view workouts and ultra-private locker rooms, but what's the difference between an app-based device and a great, at-home YouTube workout? Is it actually worth it to invest in this Lululemon product?
Lululemon is known for fitness innovation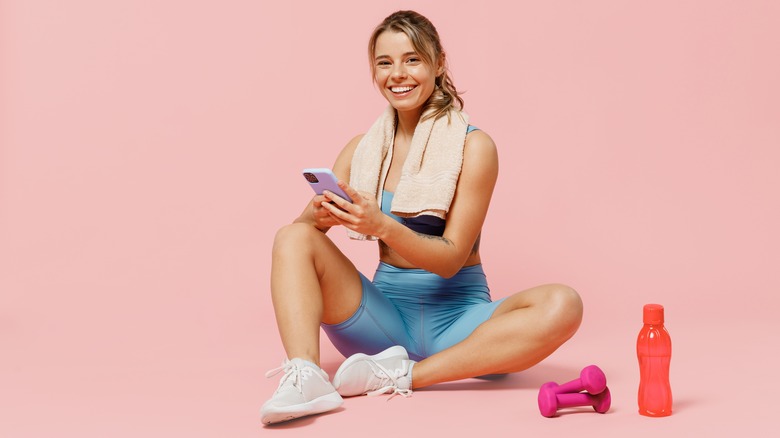 ViDI Studio/Shutterstock
A major player in this space is Lululemon. Known for being on the cutting edge of all things chic and athletic, their recent expansion into the connected-fitness space came as no surprise to many. Their in-home interface, the Lululemon Studio Mirror, is an app-based, subscription-powered piece of fitness tech that, according to the manufacturer "is the centerpiece of your lululemon Studio Membership."
The Lululemon Studio Mirror allows users to access thousands of pre-recorded and live fitness classes, track progress, and even interact with other users and instructors in real time. According to Good Housekeeping, the Mirror was one of the first in-home workout devices of its kind, meaning there has been lots of time to fine-tune the experience. Lululemon is known for its expensive products, and the Mirror — which costs a hefty $745 with current promotional pricing — is absolutely no exception to that rule.
The Mirror is a great option for aesthetically minded fitness enthusiasts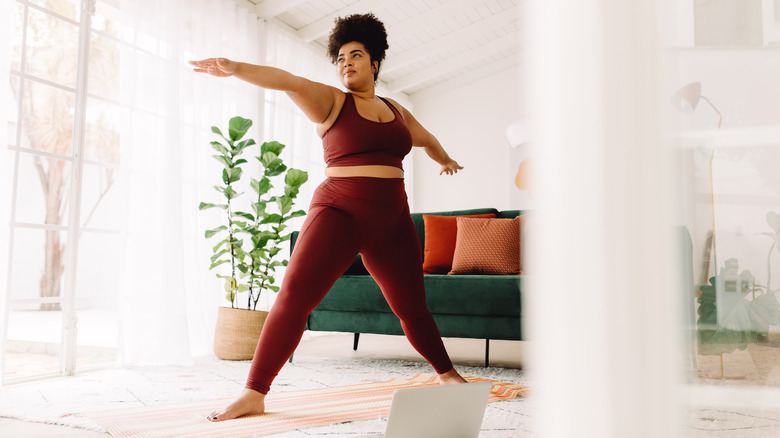 Jlco - Julia Amaral/Getty Images
The Mirror certainly has its upsides. As something that is marketed to people in need of an elegant, convenient, and high-tech solution to a wellness problem, it's easy to see the mass appeal of a product that is a sleek and functional piece of decor when not in use. According to Tom's Guide, the Mirror also offers a variety of workouts meant to be useful to people of all fitness levels and physical abilities. The device is also meant to function alongside a user-friendly app and syncs with Bluetooth heart rate monitors and apple watches (via Lululemon).
On the downside, the Mirror does not offer storage for any class-necessary workout equipment, and per Women's Health, this is in contrast to some competing products on the market. The addition of an in-home fitness device is something that millions of fit-minded individuals have elected to do. The Mirror is a great option for those who are looking to blend wellness with functionality.