The Oil You Should Be Using To Keep Your Nails Healthy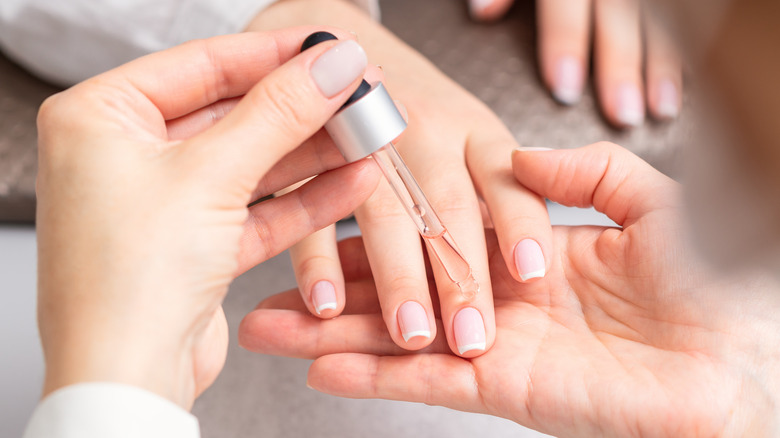 Michelle Aleksa/Shutterstock
Healthy nails are a must, regardless if yours are under acrylic press-ons or all-natural. You do not have to go to the nail salon to achieve pristine nails either. Bendy and brittle nails are a common problem. Mayo Clinic has a few tips to keep your nails in shape. The first is to limit water exposure. Activities like dishwashing should be done with gloves. Too much moisture can lead to weak and brittle nails; however, your nails still need hydration.
Advertisement
The American Academy for Dermatology notes that even though your nails may come in handy, they are not tools. Refrain from using them to puncture packages and open soda cans. These are all tips to prevent your nails from damage, but what about getting your nails strong and shiny? For a salon look at home, we got you covered. Just add this oil to your manicure routine for healthy nails.
Vitamin E oil for healthy nails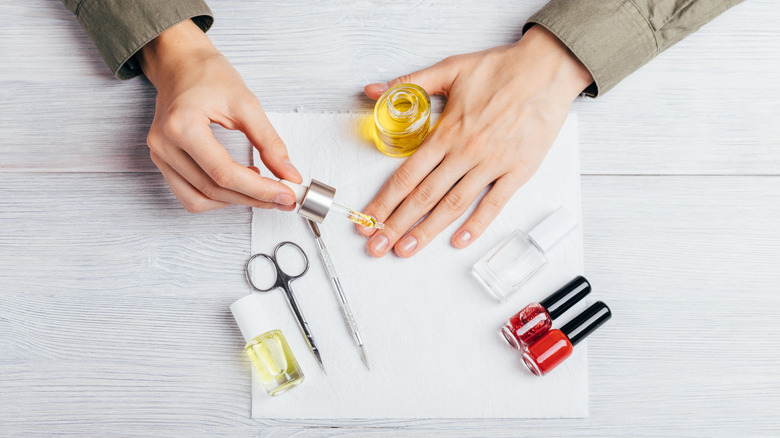 progressman/Shutterstock
Vitamin E oil is the answer to your healthy nail dreams. According to Byrdie, it is great for your nail beds and cuticles. Vitamin E delivers the intense hydration your nails need. There are even lotions infused with this oil because of its moisturizing properties. And hydration isn't its only benefit. Those annoying yellow nails — gone. Brydie recommends vitamin E oil to reduce the discoloration nails face with the constant use of polishes. Those who use vitamin E oil regularly can notice nail growth, according to ISPY. Thin and weak nails from the overuse of acrylics, polishes, and removers can be reversed with vitamin E, thanks to its nutrient boost. It is an excellent way to keep your nails healthy in between manicures.
Advertisement
You can lather the oil on and around your nails twice a day. Use a dropper, nail brush, or cotton swap as an applicator. You can easily integrate vitamin E oil into your morning and night skincare routine. Chanel nail artist, Betina Goldstein, swears by vitamin E oil. The artist, who has celebrity clients like Zoë Kravitz and Julia Garner, tells In Style, "nothing beats 100 percent pure vitamin E oil." Vitamin E oil is not just great for the nails. It comes in handy for other areas of the body too.
Other uses for vitamin E oil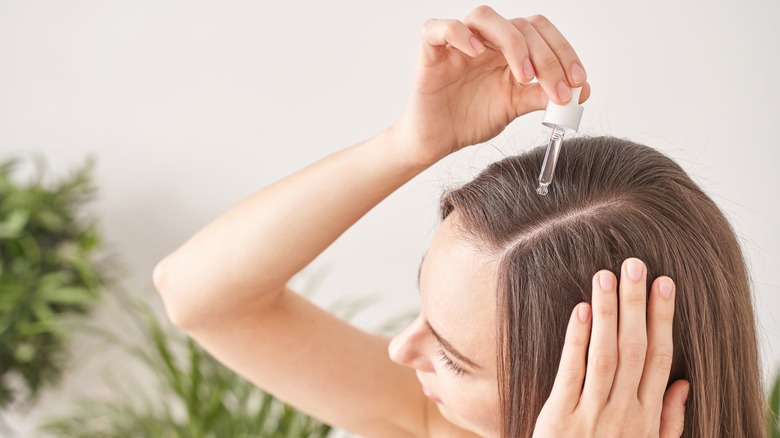 elenavolf/Shutterstock
Vitamin E oil is beneficial to the health of your hair. The nutrient increases circulation in your scalp, according to Vogue, which promotes hair growth. Over time with regular use, vitamin E can restore shine to hair damaged by heat. Its protective and strengthening nature comes from its antioxidant properties. According to Healthline, antioxidants protect our bodies against free radicals. Free radicals are unstable molecules. The body needs them, but without antioxidants, they can overproduce and cause damage.
Advertisement
The oil works wonders for your skin too. Per In Style, Goldsteins mixes vitamin E oil into her face cream, delivering the same stellar hydration it gives her nails to her face and neck. In speaking with Allure, board-certified dermatologist Ava Shamban, M.D. shared that vitamin E can help "cellular restoration from sun damage to healing support for scars or burns." This oil is a triple check for healthy skin, hair, and nails. It is a staple for any beauty routine.