How To Copy Hailey Bieber's Smokey Eye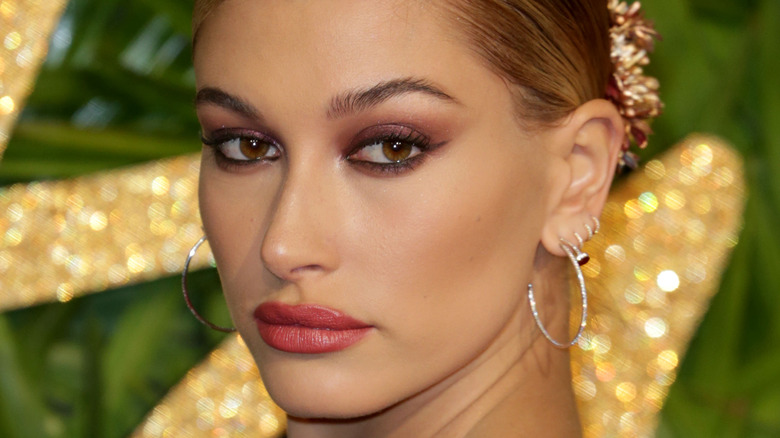 Fred Duval/Shutterstock
As the daughter of Stephen Baldwin and niece of Alec Baldwin, Hailey Bieber has never been a stranger to the world of the Hollywood elite. But when the Arizona native married teen sensation Justin Bieber, her celebrity status skyrocketed to a whole new level. "In the beginning of our marriage, I just wanted to hide," Bieber admitted to Grazia Magazine. "I was like, 'Can there be no anonymity? Can I have any of it back?" Bieber's superstardom has had its ups and downs. The Rhode founder has been the victim of persistent cyberbullying over the years, which has included attacks from Selena Gomez fans. But Bieber has bravely persevered and, in the process, garnered a large fanbase of her own.
Outside of her modeling career, Bieber has made a name for herself through her unparalleled street style (via Harper's Bazaar). Of all of Bieber's looks, the model has many that stand above the rest, from her bold puffer jacket get-up to her effortless outfit involving parachute pants. But who said the Tucson-born star's memorable looks were limited to fashion? Bieber also has many iconic makeup looks, including her sparkly silver smokey-eye.
Alexandra Anele's recreation of Hailey Bieber's smokey eye features a bold green shade
If you've been trying to recreate Hailey Bieber's stunning smokey eye, Alexandra Anele did the heavy lifting for us and tackled this beauty challenge on her YouTube channel. The Los Angeles-based makeup artist uses the color icon palette by Wet and Wild in the shade "Lights Off" to achieve this look. If you are truly committed to creating Bieber's look to a tee, you can purchase one of the model's favorite eye shadow products: RÓEN's Mood 4 Ever Palette (via Stylecaster).
After priming her lids, Anele uses a stone shade to form "a bit of a Halo situation" in her crease. Then, using the same color, Anele goes back to create a v-shape in the outer corner of her eye.
Next, Anele takes a small brush and applies a dark, pigmented green. The beauty influencer places the bold color on the outer corner of her eye and continues to brush upward until the green is slightly overlapping with the stone shade in her crease. Anele takes the same green and tackles the inner corner of her eye, continuing to "buff inward," as well as up towards the crease.
After using the brown shade to buff "around the edges," Anele focuses on the untouched area in the middle of the lid. The makeup artist takes a clean blending brush and lightly buffs her lid with the eye shadow that has already been applied.
Hailey Bieber's smokey eye isn't complete without spikey eyelashes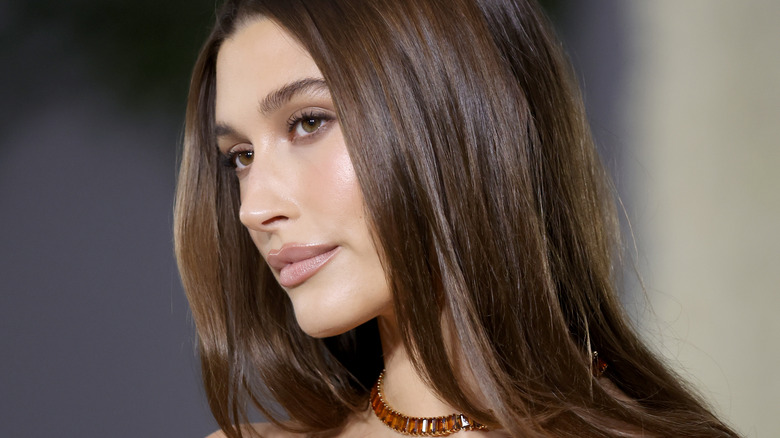 Frazer Harrison/Getty Images
Now that the eye shadow base has been established, things start getting interesting (and sparkly). In her YouTube tutorial, Makeup artist Alex Anele adds a new color to the mix and goes in with a shimmery gold shade with a slightly green undertone. Using her finger, Anele applies the color all over the lid, beginning in the center and working her way to the two outer corners. "Did I tell you we were recreating Hailey Bieber's makeup or what?" Anele exclaimed.
Taking a break from the eye shadow, Anele lines her upper lash line and blends it into the outer corner of her eye with a brush. After also lining her waterline and blending it with a brush, Anele returns to her three eye shadow colors: neutral stone, dark green, and shimmery gold. Using a small brush, Anele applies a thin layer of the green eyeshadow just below her waterline. Taking a slightly larger brush, Anele applies a thin line of stone just below the green. Lastly, the makeup artist takes the shimmery gold eye shadow and applies it on top of the entire green layer.
To complete the look, Anele applies mascara. If you want the full Hailey Bieber makeup effect with her signature "spiky lashes," you can purchase her preferred mascara product. According to Allure, Bieber's go-to is the BareMinerals Strength & Length, Serum-Infused Mascara.