What You Need To Know About Apricot Kernel Oil In Skincare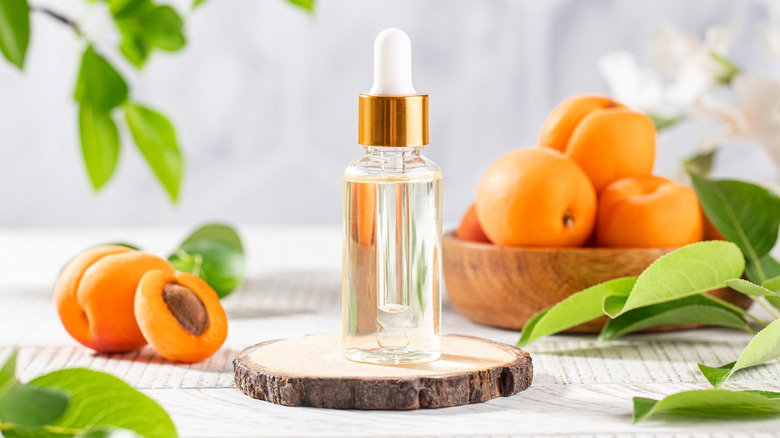 Kabachki.photo/Shutterstock
Oils come in handy. We're not talking about cooking oils — although coconut oil and olive oil are beneficial in the pantry and vanity — but rather oils for our beauty routine. There are an array of oils that work wonders for your hair, skin, and nails. Even oily skin types don't have to shy away from oil in their skincare regime, according to Real Simple. It might sound counterintuitive, but oily skin needs moisturization too. Without it, your skin can become dry and overproduce more oils.
Apricot kernel oil might be the ingredient you're missing from your skincare routine. As a carrier oil, it plays a significant part in skincare. These types of oil are typically mixed with essential oils to make them more tolerable for the skin (via Healthline). Pure essential oils are often too intense for direct skin contact, which can be one of the biggest mistakes when using essential oils. But what makes apricot kernel oil stand out from its peers? We've got you covered with the who, what, where, when, why, and how, of this skincare ingredient.
What is apricot kernel oil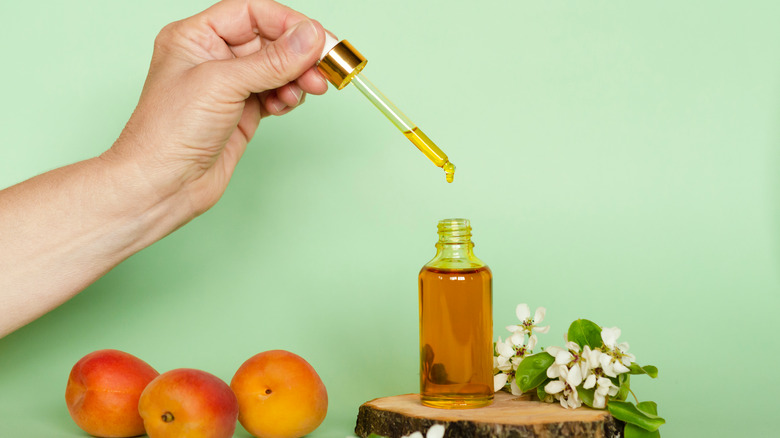 Irinashemiakina/Shutterstock
After devouring a sweet and juicy apricot, you are left with the pit. That is the kernel used to make the apricot kernel oil, hence the name. Board-certified dermatologist Hadley King told Brydie, "It's a good source of bioactive compounds such as tocopherols and phytosterols."
Those tongue-twister compounds are emollients. According to Cleveland Clinic, emollients are ideal when it comes to skin hydration. Medical professionals recommend it for even the toughest skin conditions such as eczema and psoriasis.
Apricot oil is excellent for the majority of skin types. However, for acne-prone skin, this oil can contribute to clogged pores, which lead to blackheads. But don't sweat, we still have you covered with facial oils that are safe for acne-prone skin. Apricot oil is loaded with beta-sitosterol and oleic acid, according to Brydie. These properties aid in reducing inflammation and creating a film on the skin surface to seal in moisture. So, how should you use apricot oil to unlock all its benefits?
How to use apricot oil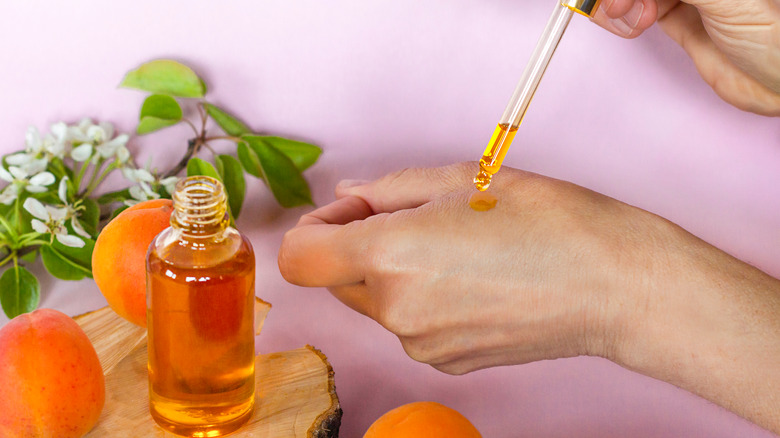 Irinashemiakina/Shutterstock
For oil that is easy to integrate into your skincare routine, look no further. As we learned apricot oil is a major moisturization boost, so first, use it as a moisturizer. StyleCraze suggests using it for your nighttime regime. After cleansing, use two to three drops of oil on your damp skin — remember to apply it in a circular motion. While you count sheep, the oil's properties will be working away. If oil is too heavy as a moisturizer, you may prefer an apricot oil mask. StyleCraze recommends mixing apricot oil, matcha powder, and honey for a 10-minute face mask.
But don't let your face get all the attention. Apricot oil can aid in body and hair care too. Healthline notes it can be used as a carrier oil for your skin's needs. You can mix apricot oil with essential oils to create massage oil and hair products. Not only will they smell delectable but aid your body in moisturization that can combat irritated skin.