Hairstylist And Artistic Director On The Role Your Skin Undertone Plays When Choosing A Hair Color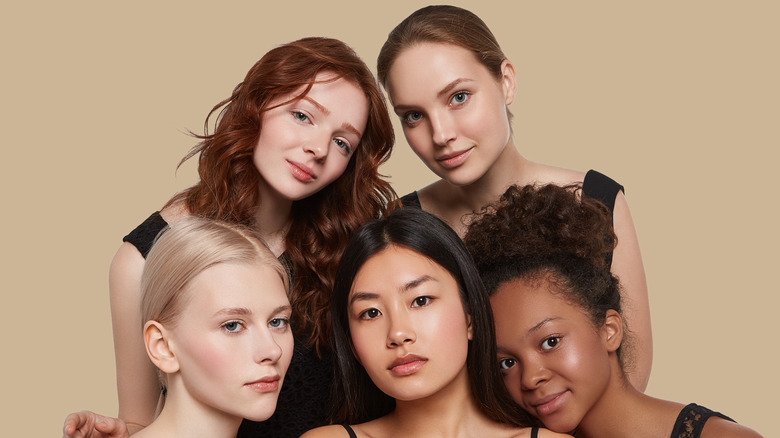 Red Umbrella and Donkey/Shutterstock
Bright pink is having a moment in fashion. Hello Barbiecore! Thanks to designer Valentino for bringing back memories of our childhood, and what was once limited to Barbie dolls or children's clothes is now a major fashion trend (via HelloGiggles). Celebrities like Anne Hathaway and Lizzo are fans. The great thing about pink is that it's a "universally flattering" color that looks amazing on most skin tones.
However, not all colors have the same magical effect on everyone based on their skin tone, and you could wear a color that doesn't work with your skin tone and undertones. If you have deep skin, colors like cobalt and red will look amazing, per Who What Wear. Medium skin tones can rock metallics and neon, while light skin does great with baby blues and blush.
Color matching and your skin tone also come into consideration with makeup. Think about not only your tone, but also your skin type, coverage amount, and undertones when choosing a foundation. Celebrity makeup artist Allen Avendaño told InStyle, "This doesn't have to be an exact match, but maybe slightly lighter because the color is going to shift throughout the day." Regarding your undertones, pick one with yellow undertones if you are warm and pink if you have cooler undertones.
The same principle applies when choosing the right hair color. In an exclusive interview with Glam's sister site The List, Pureology's Global Artistic Director and hairstylist, Jamie Wiley, explains why it's essential to consider your skin's undertone while choosing a hair color.
Considering your skin's undertone while coloring your hair will flatter you more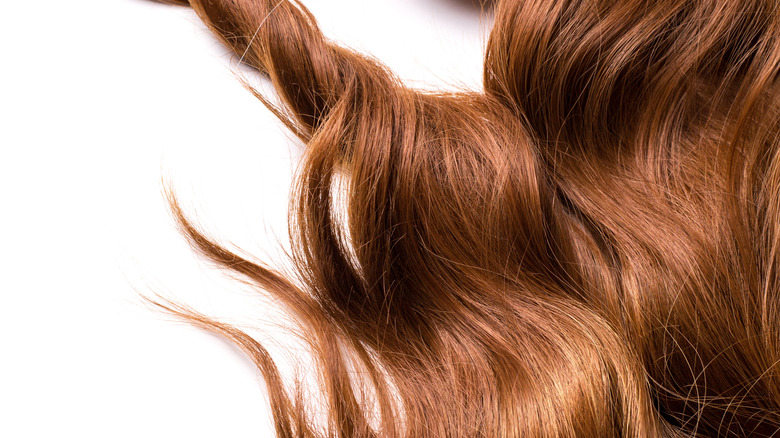 EJ Nickerson/Shutterstock
Beauty and fashion trends come and go, but it's more important to consider whether or not they'll look good on you before jumping on the bandwagon. Of course, you can always rock any look that makes you happy, but if your goal is to find colors that flatter you; you have to consider your skin undertones, and that applies to hair color too. In this instance, we're talking about the trendy copper hair trend.
Pureology's Global Artistic Director and hairstylist Jamie Wiley told Glam's sister site The List, "When choosing a color, considering your undertone is crucial because it will either compliment or clash with your skin tone. The tone will complement the underlying pigment in the skin."
According to Healthline, there are three skin undertones: warm, cool, and neutral. People of any skin tone can have any undertones, so it doesn't mean that lighter skin only has cooler undertones or deeper skin has warmer undertones.
Wiley told us, "Warm underlying pigment undertones are peach, yellow, and golden. And the cool underlying pigments are pink and blue hues. Neutral undertones have the best of both worlds, and don't need to avoid anything!"
Wiley recommends choosing light earthy, warm, or brown tones of copper if you have a warm undertone and reddish brown, copper pink, or cool reds for cooler undertones. Neutral undertones can swing either way. Make sure to talk to your colorist to consider your skin tone and undertones.
How to find your skin undertone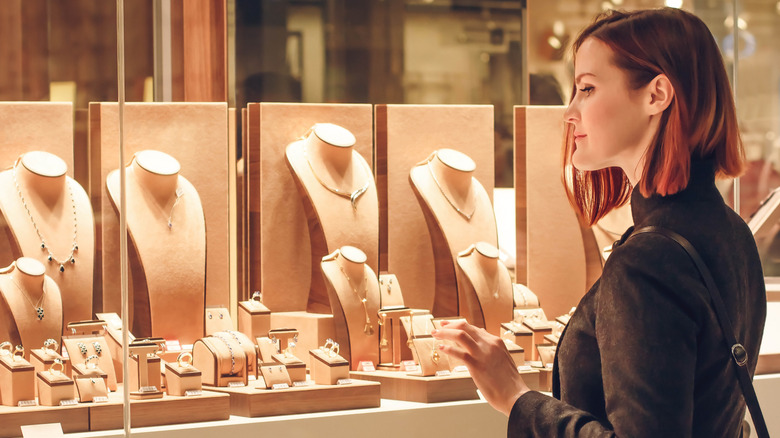 Alexa_Space/Shutterstock
It's a lot easier to find your skin tone than your skin undertone, as you could be extremely light-skinned with a warm undertone and have a deeper complexion with a cool undertone.
Jamie Wiley, Pureology's Global Artistic Director and hairstylist, recommends checking your veins. She told Glam's sister site The List, "Look at your wrist and see what color your veins are." She added that if your veins appear blue or purple, you have a cool undertone; if they look green, you have a warm undertone. If it looks like a mixture, then you're neutral.
Another way to know your undertone is by checking how your metallic jewelry looks against your skin. Healthline says yellow gold complements warm and olive undertones, while "silver, platinum, and rose gold tend to flatter cooler undertones." Neutral undertones look great wearing both yellow gold and silver, so try basing your jewelry decision on a neutral outfit. True whites look better on cool undertones, while off-white and shades of brown play well with warmer undertones. If you're still unsure, check with a beauty expert, as they'll be able to tell you what your skin undertones exactly are.
Once you've decided that you are coloring your hair copper, Wiley suggests "hav[ing] a thorough consultation with your hairstylist, and based on professional recommendations, choose the color based on the underlying pigment and how much depth you would like as well."