Non-Aerosol Dry Shampoos For A Safer Option For Your Scalp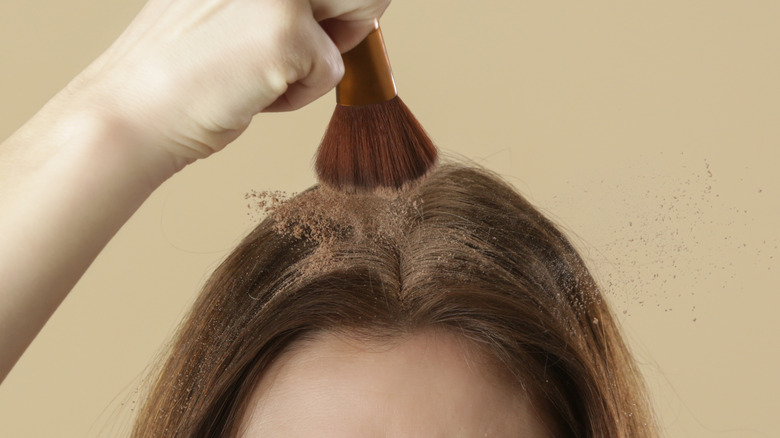 triocean/Shutterstock
We may receive a commission on purchases made from links.
By now, many of us are aware of the dangers associated with aerosol dry shampoo formulas. To recap, a United States Food & Drug Administration report announced the first wave of recalled aerosol dry shampoo products based on the presence of the cancer-causing compound benzene. Shortly thereafter, independent laboratory Valisure found over 30 additional dry shampoo products had tested positive for alarmingly high amounts of the carcinogen. Most recently, the Not Your Mother's dry shampoo brand became embroiled in a class action lawsuit as a result of Valisure's findings. "The presence of benzene in [Not Your Mother's] dry shampoo was not disclosed to consumers in the products' labeling, advertising or otherwise, in violation of state and federal law," the lawsuit states.
Information is still developing regarding the full scale of the affected haircare products, which has led to some conflicting reports for consumers to sift through. Still, experts advise that you exercise caution and ditch the aerosol formulas — benzene has long been deemed a serious health risk to consumers. "[Benzene] can get into the bone marrow, the soft portion of the bones, where blood cells are made, and they can actually change the genetic makeup of the bone marrow," Dr. June McKoy tells WTTW. So, which dry shampoos are considered safe and effective for hair and scalp health?
How we chose the best non-aerosol dry shampoo options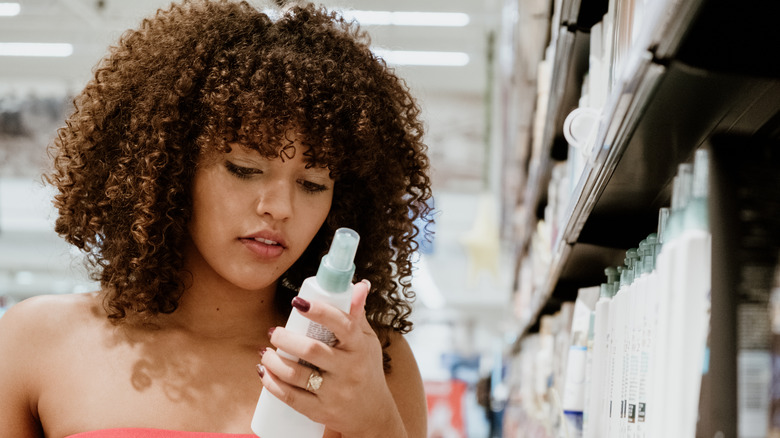 Brastock/Shutterstock
To find the best non-aerosol dry shampoos, we made sure to include products that we've personally seen success with, as well as those with outstanding reputations in the beauty community. The rinse-free cleansers have come a long way in their formulation and design. This round of selections highlights some of the most innovative dry shampoo products, with everything from lotion-based formulas to blotting papers making appearances.
"Dry shampoo is not a product you use one time and are done with it. A lot of people use it once a day or a few times a week," David Light, CEO of Valisure, told Bloomberg. Therefore, you want to choose a clean formula to avoid any exposure to harmful agents. And although safety is the top priority, no one wants to invest in a product that's unsuited to their hair type or styling needs. While texture and grit are helpful when utilizing dry shampoo as a styling aid, they're not desirable in one used for sweaty, post-gym touchups.
Best Micellar Dry Shampoo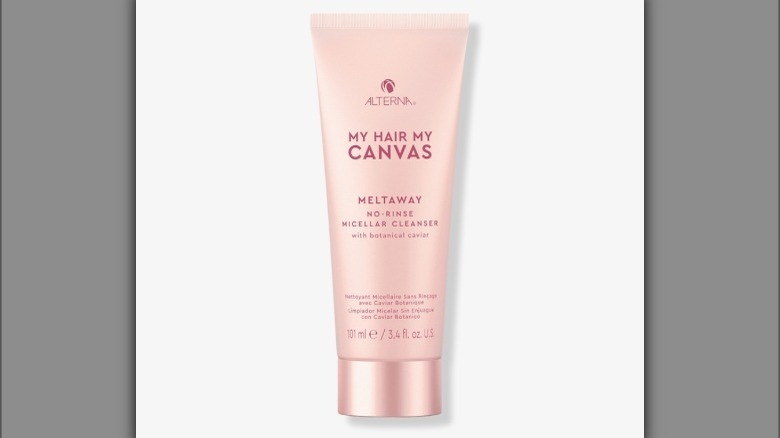 Ulta
It isn't your typical dry shampoo product, but that's what makes Alterna's My Hair My Canvas Meltaway No-Rinse Micellar Cleanser so exceptional. It's true that some of us struggle to adapt to powder-based dry shampoos, but Alterna's crème-to-powder cleanser is a promising alternative. If you're having difficulty with other dry shampoo formulas, Alterna could be just the thing to refresh your locks. 
"With [Alterna], I really feel like I have clean hair. It actually looks better than the day I shampoo," says one reviewer. In addition to odor-fighting ingredients like activated charcoal, this micellar cleanser contains a vegan botanical caviar blend to keep hair hydrated and looking healthy. Simply work a bit of the product from your roots to your ends, and it absorbs dirt and oils with a light, mattifying finish.
Purchase Alterna's My Hair My Canvas Meltaway No-Rinse Micellar Cleanser at Ulta for $29.
Best Texturizing Dry Shampoo
Some dry shampoo fans are more interested in the product as a styling aid rather than a hair and scalp refresher. If this sounds like you, you'll appreciate Verb's Volume Texture Powder, renowned for its ability to lift and transform limp tresses. "It's been very difficult to do anything fun with my hair until I tried this powder! Now, I have incredible volume, and even I can make my hair look like I came from the salon," one user writes. 
Inside its chic pink packaging is a blend of lightweight tapioca powder, nourishing vitamin B5, and silver linden extract to refresh strands from the scalp down. Best of all, this dry shampoo is cruelty-free, vegan, and free from common allergens like gluten and soy. Whether you're looking to fix stringy bangs or add some quick volume to a messy bun, this multitasking product has got you covered.
Purchase Verb's Volume Texture Powder at Ulta for $20.
Best Misting Dry Shampoo
We've covered Pret-a-Powder in the past as a paragon of non-aerosol dry shampoos, but have we mentioned Bumble and Bumble's Pret-a-Powder Post Workout Dry Shampoo Mist? This is the dry shampoo for those with sweaty scalps, thanks to its convenient spray bottle and mess-free formula. The last thing anyone wants is to feel any extra product in their hair after an intense workout or all-night dancing session. Fortunately, the Dry Shampoo Mist delivers invisible relief from sweat and oil buildup, leaving hair silky and clean-feeling with just a few pumps. 
"This quick-drying liquid mist is literally made specifically to clean sweaty 'workout' hair. It not only eliminates [oils] and odor — it actually adds a beautiful floral scent," one customer writes. If you've been searching for a dry shampoo that doesn't leave white residue or grime behind, this refreshing spray is the solution for you.
Purchase Bumble and Bumble's Pret-a-Powder Post Workout Dry Shampoo Mist at Sephora for $31.
Best Dry Shampoo Lotion
Think of R+Co's Bleu Vapor Lotion to Powder Dry Shampoo as the sophisticated older sister of other cream-to-powder cleansing products. This luxe formula not only cleanses your scalp but also smooths the hair follicles using innovative, research-backed ingredients for a bouncier mane. "It smells like heaven. This product keeps oil [away], and there's no powdery mess," says one reviewer. 
According to R+Co, the heavenly fragrance in its Bleu line of haircare was developed by expert perfumers who drew inspiration from the vibrant coasts of Italy. The aquatic scent is just the thing to give your beauty routine a touch of spa-like elegance. Plus, unlike other dry shampoos, the Bleu Vapor Lotion integrates time-released technology from its patented Blue Molecule Complex to prolong the life of your locks. It also features botanical extracts, such as colloidal oatmeal and radish root ferment, to diminish dirt and debris while nourishing your tresses. 
Purchase R+Co's Bleu Vapor Lotion to Powder Dry Shampoo at Nordstrom for $65.
Best Organic Dry Shampoo
A four-ingredient organic dry shampoo that genuinely works? Sign us up. While Lulu Organics Hair Powder may be short on additives, it's big on variety: you can choose the brand's fragrance-free version or pick from a bouquet of six different scents. The nature-inspired brand offers plenty of clean floral selections, like Jasmine and Geranium, as well as classic bohemian combinations, like Patchouli + Amber. What's more, Lulu's art deco packaging is downright gorgeous, making it a satisfying addition to anyone's haircare collection.
This dry shampoo uses a simple blend of cornstarch, white clay, and baking soda to absorb sebum from the hair and scalp. As a bonus, Lulu points out that this powerhouse product can even double as a refreshing, talc-free body powder. If you're torn about which one to choose, don't sweat it. You can try each shampoo in the collection (or share some with a friend) by purchasing the brand's stunning Travel Hair Powder Gift Set.
Purchase Lulu Organics Hair Powder at Lulu Organics for $28.
Best Portable Dry Shampoo
There's a good chance you've used blotting papers to touch up your face, but have you ever considered trying them on your hair? That's the premise behind Cake Beauty's The Take Out Dry Shampoo, a picturesque pink pack of 20 mattifying sheets. These portable papers are dusted with a barely-there coating of rice starch and kaolin clay for optimum absorption of dirt and oils. Since they utilize far less product than the typical dry shampoo powder, they promise to mop up dirty roots without creating buildup. 
But does The Take Out perform as well as other non-aerosol formulas? Fans of Cake Beauty certainly think so. "These work really well for me. They sponge up the grease in my hair without leaving a lot of powdery residue, something I hate about all-natural dry shampoos," one reviewer writes. Plus, just as their name implies, these papers provide a delicately sweet smell to enhance your "shampooing" experience.
Purchase Cake Beauty's The Take Out Dry Shampoo on Amazon for $6.
Best Fragrance-Free Dry Shampoo
Fragrance is a divisive subject in the realm of beauty. While some people undoubtedly enjoy the aroma that scented products leave behind, others are repelled by anything resembling odor. Fortunately for the perfume-averse crowd, Kristin Ess' Fragrance-Free Dry Shampoo Powder Spray is an unscented way to keep oily roots at bay. The haircare brand developed this style extender using potent plant extracts like neem leaf, which can work to reduce dandruff and scalp inflammation. In an unusual twist, this spray uses a powder-dispensing pump to disperse the product along your hairline, so you're never left with a dust-filled disaster. 
"This little bad boy lasted me a whole weekend of concerts, and my hair still felt as clean as it did [on] day one — with even a little extra volume," said one user. Note that there are some warnings from reviewers that the pump mechanism may misfire as you near the end of the bottle, but you can manually dispense it should this occur.
Purchase Kristin Ess Fragrance-Free Dry Shampoo Powder Spray for Oily Hair at Target for $13.
Best Dry Shampoo With Applicator
There's nothing better than a purse-ready, portable dry shampoo for traveling or emergency touch-ups. That's why we've included Fujiko Pon Pon Powder Dry Shampoo in our roundup of the best dry shampoos — not only does it readily absorb sweat and oil without any propellants, but it's also tiny enough to fit in the smallest of handbags. The Japanese-made powder is as cute as a button and even comes with its own soft pouf applicator for hands-free application. Fujiko's number one ingredient is silica, a safe, lightweight compound that quickly traps moisture and sebum throughout the hair and scalp. Furthermore, this product is fragrance-free, which makes it perfect for those with sensitive noses. 
So, do good things really come in small packages? This pint-sized powerhouse's fans think so. "[It's] my favorite oil-snatching product to use for my hair. [It] seamlessly strips oil and [makes] it looks like you just showered. No spray has ever given me that," one reviewer writes. To make that clean hair look last even longer, try applying your dry shampoo on wet hair.
Purchase the Fujiko Pon Pon Powder Dry Shampoo on Amazon for $24.