We Have The Secret To Wearing Sunny Yellow Eyeshadow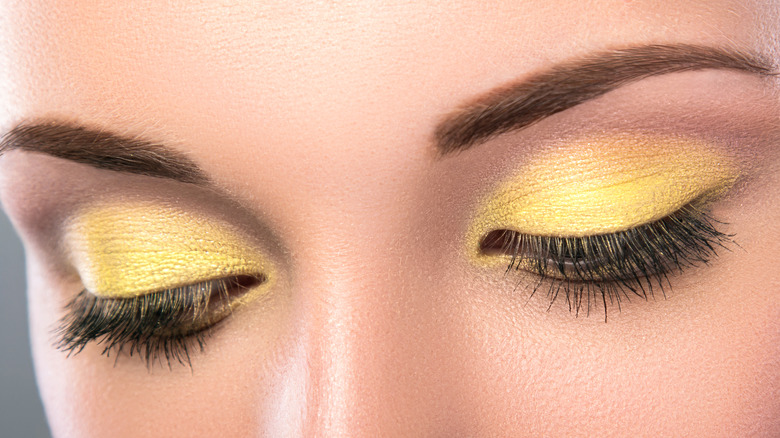 Jun/Getty Images
When you reach into your makeup collection to pick out a colorful eyeshadow, yellow might not be the first hue that comes to mind — you may not even have a yellow eyeshadow in your arsenal. That being said, there is nothing to be afraid of when it comes to this vibrant, fun color. In fact, one of the best places you can possibly wear this hue is on your lids. If you're looking to make a bold statement or just add a pop of color to your overall look, yellow should be a go-to eyeshadow color in your collection.
That being said, you might not be confident in wearing this hue, especially if you've never dared to apply it to your lids in the past. However, yellow isn't just best left to professional makeup artists — anyone can make it work. As L'Oréal Paris notes, it's already become one of the popular eyeshadow colors among celebrities and influencers alike. If you're ready to give it a shot, it's worth familiarizing yourself with tips that can help you rock yellow like a pro. When working with a hue as offbeat as yellow, every step you take during the application process matters, especially if you haven't played with the hue before. Whether you're headed to a casual event or you want to take it up a notch for a semi-formal occasion, here is how to wear sunny yellow eyeshadow.
How to apply yellow eyeshadow like a pro
To rock yellow eyeshadow like a pro, you'll want to focus on priming your lids prior to application, just as you would for any eyeshadow. Eyeshadow primer is specifically designed to ensure your eyelids are as flawless as possible before you apply makeup. Additionally, it's made to keep your eyeshadow in place, meaning you won't have to worry about issues like creasing during a long day.
Once you've primed your eyelids, you can apply your sunny yellow eyeshadow. As L'Oréal Paris notes, don't forget to blend with a fluffy brush for an effortless look. Blending is especially necessary if you're using more than one shade of yellow. Keep in mind that it's totally fine to blend "outside of the lines" — you can use a cotton swab (and a bit of eye makeup remover, if necessary) afterward to get rid of any excess makeup.
Once you've finished applying your eyeshadow, it's time to enhance the look. This can be done in a few ways with other makeup in your collection, such as dark mascara and volumizing eyeliner. Tightlining your eyes, for example, can draw more attention to your peepers and the pigmented yellow eyeshadow you're flaunting. However, technique is everything when it comes to completing a polished look; no one wants their makeup to smudge or run in the middle of the day.
How to make your yellow eyeshadow pop
As you look to make your sunny yellow eyeshadow pop, you might want to consider tightlining your eyes. This term is used to describe the process of adding eyeliner beneath the upper lash line (usually along the waterline) for a more defined look. "A gel waterproof eyeliner applied with a synthetic brush is best for executing this technique," celebrity makeup artist Camille Thompson tells Ipsy. "It's guaranteed to last and it's very gentle on the eyes, avoiding tension to the eye area. Using a waterproof liner also ensures that it won't smudge or bleed."
After you tightline your eyes, you can bring your look together with dark, volumizing mascara. Be sure to use fresh mascara to avoid sabotaging all of your hard work — old, stale mascara will result in clumps on your lashes. As you finish applying it to the base of your eyelashes, shift your focus to the tips. Small repeated swipes can create the illusion of more length and volume. If you've found that mascara doesn't seem to cut it when you've tried to enhance your eyes in the past, consider using lash primer beforehand. There are several lash primers on the market that are specifically designed to make mascara worth every bit of your time. Don't forget to seal the deal with a makeup setting spray before you head out the door.