How To Recreate TikTok's Viral Second Skin Makeup Aesthetic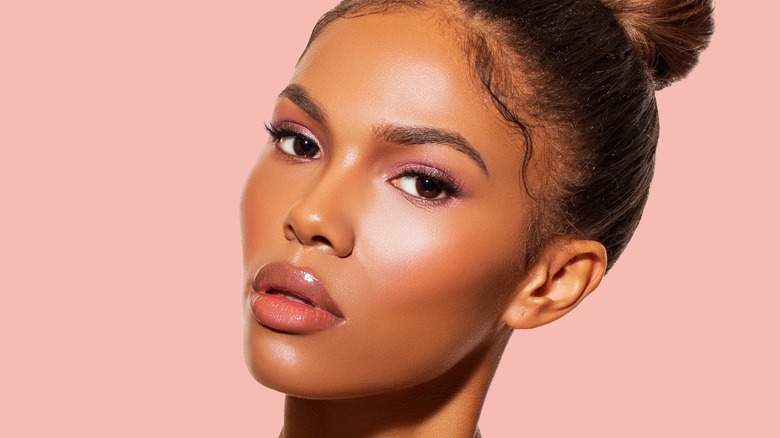 L Julia/Shutterstock
We may receive a commission on purchases made from links.
It's no secret that in terms of makeup trends, the past few years have been all about the "no-makeup" makeup look and clear, glowy skin (via The Every Girl). Since makeup looks have been trending away from full coverage and the heavy foundation it's really no wonder that the latest makeup movement is all about evening out your complexion with makeup and making it look like it's just your perfectly even skin. These days, TikTok is the mecca of makeup trends, and the #secondskinmakeup hashtag has over 600K views, so it's clear that the internet is all about second-skin makeup.
Sure, we all wish we could have perfectly even-looking skin without the need for makeup. However, this isn't the reality for basically anyone. Therefore, we love to opt for just a bit of help from our foundation. With the second-skin makeup trend, we can cover blemishes and uneven color without making it look like our skin is buried deep under thick makeup. Plus, we don't have to worry about harsh lines or blending the way we do with heavy foundation (via MindBodyGreen). According to TikTok user, Rachel Wiseman, whose second-skin makeup tutorial has garnered more than 17K likes on the app, celebs love rocking the second-skin makeup, and this season, the rest of us are hopping on board, as well. Luckily, these days, we've got everything we need to get that effortlessly non-made-up yet flawless look.
Setting your base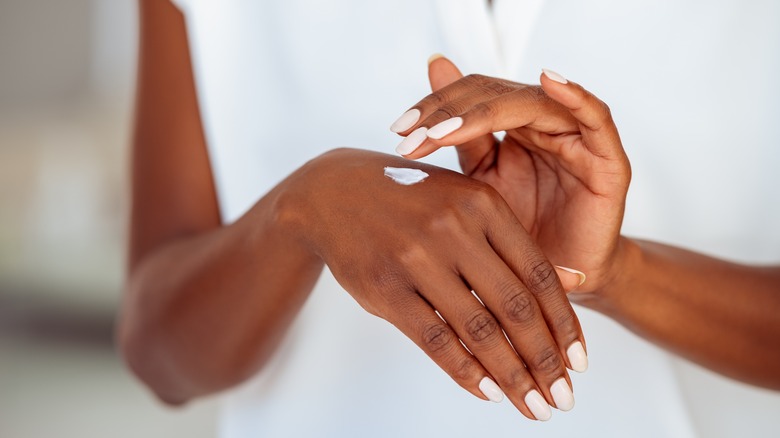 Ground Picture/Shutterstock
Second-skin makeup is all about paring down your foundation and only covering what needs to be covered while letting the rest of your skin shine through, according to Victoria Lyn via TikTok. Consequently, both skincare and prep are even more important here than usual. Start by making sure that your skin is squeaky clean. In fact, makeup artist, Nina Park, who has perfected the skin of beauties like Bella Hadid and Zoë Kravitz, recommends prepping with a sheet mask that's tailored to your needs (via Vogue). Follow this up with a healthy dose of your favorite moisturizer to make sure your skin is in tip-top shape before applying your second-skin makeup. Additionally, makeup artist to the stars, Kira Nasrat, suggests massaging your moisturizer into your skin while applying it. "It creates a natural flush that makes the face look more awake," she said via Vogue. As for the primer, apply a minimal amount with your fingers, but only if needed.
In terms of foundation, Lyn recommends choosing a medium coverage that is buildable for this look (per TikTok). The foundation here will act as both foundation and concealer, so you want something that can cover blemishes just as well as it can blend seamlessly into areas of your face where your real skin is exposed. For this reason, light products are key to making you look like you're not overly made up.
Perfecting your second skin makeup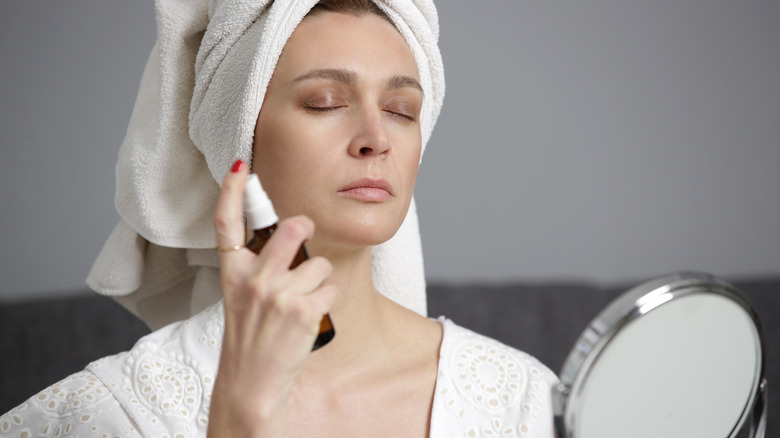 triocean/Shutterstock
With your skin prepped and ready, it's time to apply the "no makeup" makeup technique. According to Victoria Lyn, the trick here is to start by applying a small amount of foundation wherever you want the most coverage (via TikTok). Lyn uses a foundation brush to apply first to her cheeks and chin. However, you'll want to start wherever you personally have redness or blemishes. Be sure to keep the foundation off of your nose entirely, as well as any area where your skin doesn't actually need to be covered. Of course, make sure that the product blends seamlessly into those areas. To ensure this, bounce your makeup brush when blending, rather than using a painting motion (via Vogue).
Next, you'll want to take a cotton swab and use it to spot and conceal any blemishes with a bit of additional makeup (per TikTok). If you have oily skin or tend to get shiny spots, follow up with a light-setting powder. "Use a brush to apply it very lightly and only to the areas that get the most shiny," said Kira Nasrat per Vogue. If you happen to be near an Ulta, we love Juvia's Place I Am Magic Loose Setting Powder for some matte-ifying. Once you're finished with your look, give it a spritz of Morphe Continuous Setting Mist or another light setting spray of your choice, and you're ready to hit the town, looking like you barely have any makeup on.