The 'Model Cheekbones' Contour Hack Might Be The Secret To A Snatched Look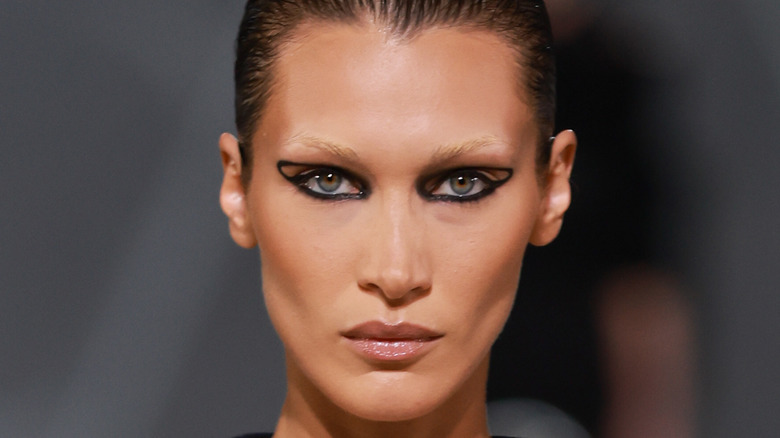 David M. Benett/Getty Images
If you love all things beauty and makeup, you're probably into all the beauty tips and tricks that are constantly shared on social media. Many of these viral makeup hacks have been useful in helping others create a lifted look with blush, getting perfect brows with soap, or learning how to create a sharp eyeliner look on hooded eyelids amongst a wide variety of other hacks, per Good Face Project. Social media plays quite a powerful role in bringing the latest beauty knowledge right into your hands.
Achieving model cheekbones is yet another makeup frenzy going wild on TikTok right now, with over 12 million views on the hashtag #modelcheekbones. It's inspired by today's top models like Bella Hadid, Hailey Bieber, and Kendall Jenner, all of whom have prominent cheekbones. This latest makeup hack has many people rethinking the way they approach their contour. You will definitely want to give this one a try for impeccable snatched cheekbones achieved by one simple makeup trick.
How to achieve the model cheekbones look
This new contour hack is inspired by the beautiful cheekbones of top models everywhere. As many beauty gurus share their techniques all over TikTok, they show that it is actually fairly easy to achieve. In a TikTok video, beauty influencer @sarahssuperspa shows her followers how to achieve model cheekbones through a different contouring technique. Sarah begins by explaining that the most common method is done by applying the contour directly high up on the cheekbone, which is blended upwards and followed by a baking technique underneath it. However, she says this method is quite ineffective.
"The way we should actually be doing it is placing the contour underneath the cheekbone," she says in the video. "Then place it right here," she says as she shows herself connecting her contour line downwards to the side of her chin followed by an application on the side of her jaw. "Pat the cheekbone down into place and then downward so it creates a shadow underneath the cheekbone," she explains. "Blend this area outwards so that it creates a shadow in the buccal fat area, and blend the jaw area inward so that it creates a shadow making it look like a V-shaped jawline." Afterwards, she adds highlighter or concealer and powder on the cheekbone to make it pop.
Beauty influencers like @melisekrem have made TikTok videos displaying the difference between both techniques with "don't do this, do this instead" guidance. The key to this makeup hack is to focus on the shadows you can create with contour on the natural hollow of your cheek underneath your cheekbones rather than on them.
Model cheekbone inspiration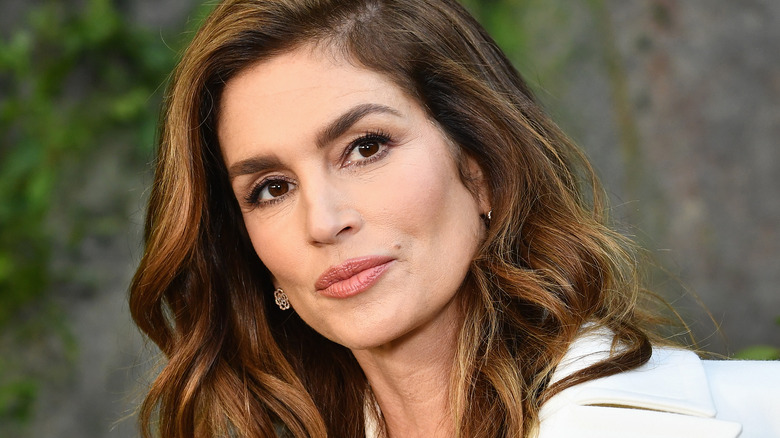 Pascal Le Segretain/Getty Images
Contouring has always been an important step in many people's makeup routines. The purpose of contouring is to achieve a sculpted look around your natural facial features. Back in 2016, extreme contouring with highly contrasting colors was the big deal. Today, as fashion and beauty from the '90s start trending again, the efforts of contouring have shifted to a softer look inspired by the models of the time with strong jawlines and defined cheekbones. "I started my career in the '90s, surrounded by the goddess supers who truly understood the power of tone-on-tone color layering to play up their features," makeup artist Charlotte Tilbury tells The New York Times. "From Cindy and Naomi to Kate and Linda, it was all about magic matte formulas to create a soft, diffused contour."
Many of today's top models have the same cheekbones and prominent facial features that are reminiscent of the models in the '90s. It's a soft, high-fashion look that is now inspiring new generations. As you try to achieve the look with makeup, remember that it's all about working with your natural cheekbones and facial features to create a strong look, per L'Oréal Paris. Anyone can give this fun beauty hack a try.