Glam's Exclusive Survey Uncovers Fans' Favorite French-Inspired Fashion Trend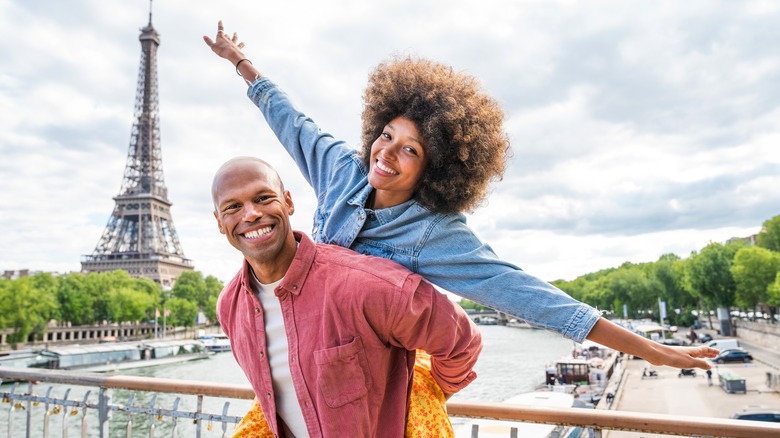 oneinchpunch/Shutterstock
You might say that he made a show of himself every time he entered a room. And he ensured that his portraits depicted him in only the curliest wig, lushest robes, showiest diamonds, and most ornate shoes. King Louis XIV was ahead of his time which is why we're still talking about his influence today — even though his 72-year reign began in 1643. The king revered high fashion and expected everyone in his circle to showcase the very best products of the French fashion industry (via Study.com). He showed a grand preference for haute couture — French for "high sewing," or custom clothing, EuroStart Enterprises says. His precise dress codes became the hallmark of his well-attended parties, which dutiful attendees followed to a T. With his expensive eye on the lookout for trends, he practically single-handedly galvanized niche markets for French workers to develop different types of textiles, lace, ribbons, jewelry, and shoes (per Jules Larimore) 
King Louis' mark on the French fashion industry endures to this day, with French creations continuing to be associated with class and luxury. He probably wouldn't be at all surprised to know that Glam readers revealed some of their favorite French-inspired fashion trends in what was one of the closest exclusive surveys yet.
Feel the ripple effects of King Louis XIV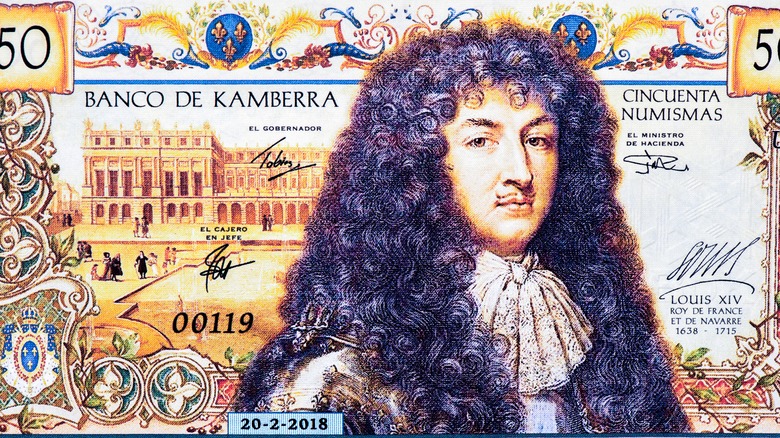 Prachaya Roekdeethaweesab/Shutterstock
As France continues to revel in its status as the fashion capital of the world, a total of 602 Glam readers responded to our latest fashion survey. Readers showed a preference for trench coats, with 21.59%, or 130 people, making it the number one choice. Although they've long been a staple of business professionals, trench coats predate King Louis XIV's day. Knowing his fine tastes, he probably would have preferred a designer coat (like Burberry's long trench).
If you needed (or wanted) further proof that skinny jeans continue to make a graceful exit, look no further than Glam readers' second choice for a French-inspired fashion trend. Nearly 21% of readers, or 125 total, voted for straight-leg jeans, which Masterclass describes as having the same fit from the top of the leg all the way down to the bottom. 
An equal number of Glam readers voted for blazers. In the spirit of King Louis XIV, Leonce Chenal recommends checks, tweeds, and houndstooth for the top three French-inspired blazers.
French exert their influence to the end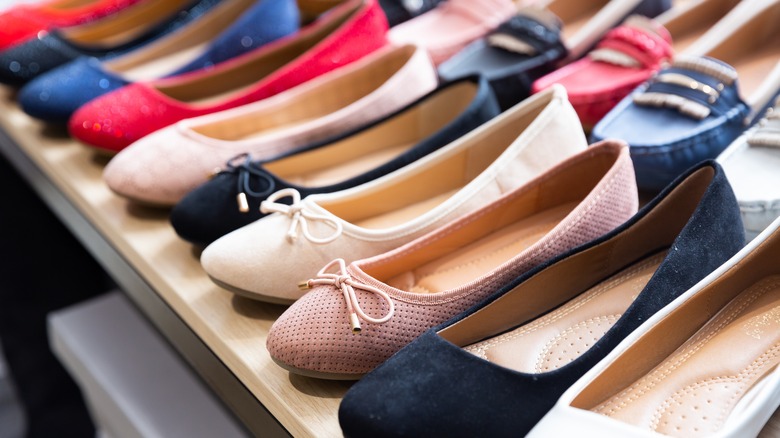 BearFotos/Shutterstock
King Louis XIV was a talented dancer and a follower of ballet in particular (via Stanford University). So what a fitting way for Glam readers to honor his memory by making ballet flats their fourth-favorite French-inspired fashion trend. Nearly 19% of readers, or 114 total, picked the shoe that the Everyday Parisian calls an essential component of dressy, business, and casual wardrobes. (Ballet flats also make it tolerable to swing around a ballroom until dawn — because who needs a foot-full of calluses as proof of a royal party invitation?)
Nearly 18% of readers, or 108 people, chose stripes as their favorite French fashion trend. The classic Breton striped shirt — navy blue and white — even became the official uniform of the French navy in 1858, according to Marie Claire. You can be sure that King Louis would have saluted that fashion choice.