How To Apply Self-Tanner On Your Face For A Streak-Free Finish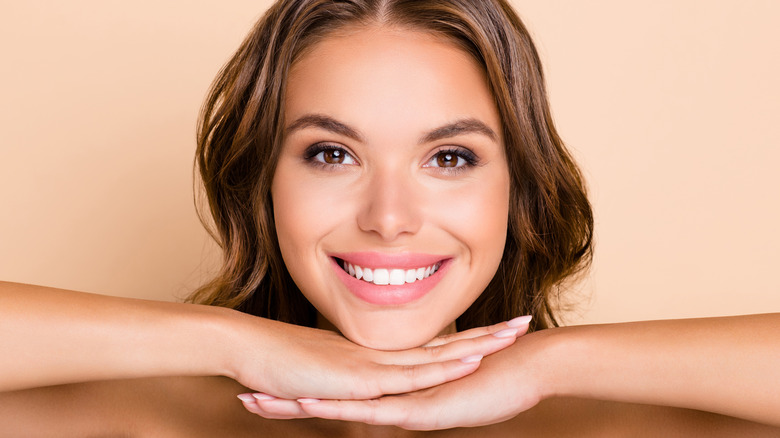 Roman Samborskyi/Shutterstock
If you achieve your all-year glow through a bottle of self-tanner, you're probably no stranger to the unsightly look of a splotchy and streaky self-tanned face. Self-tanners have a habit of clinging to dry skin and blemishes, and since the skin on the face is very different than the rest of the body, it's not a complete shock that the result of a self-tanned face usually prompts a cringe and an immediate face scrub.
This has been such a widespread issue that many people refrain from applying self-tanner on the face completely, resorting to matching their foundation with the rest of their body instead. This is pointed out by a Reddit user, who poses a question as to why "a number of beauty gurus don't self-tan their face." One search on YouTube for self-tanning routines reveals several creators who only apply the product to their bodies.
We know it's easy to give up on using self-tanner on the face, but it can be done beautifully, especially if you reach for the right products and implement the correct techniques. Unfortunately, you can't pump some self-tanner on a mitt and slather it on your face like you would the rest of your body. However, with the right tools, achieving the perfect bronzed glow will be just as easy.
First, reach for a specifically designed self-tanner for the face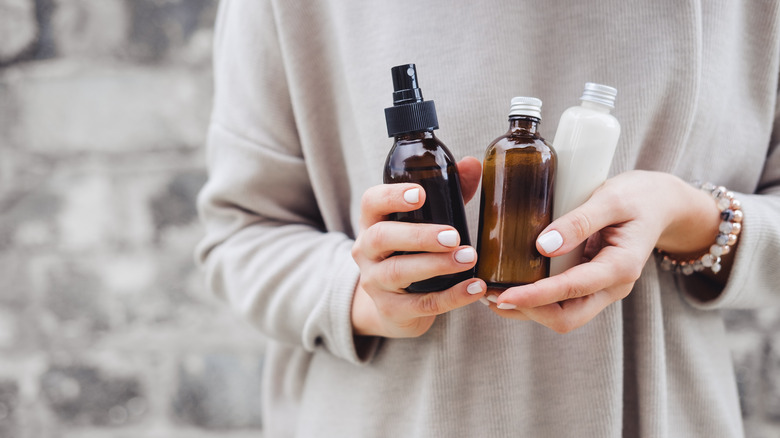 July Prokopiv/Shutterstock
Before we get into how you apply self-tanner to your face, we need to have a talk about the correct products you should be using. While some may struggle to understand why the face has a hard time playing nicely with certain self-tanners, it makes sense when you ask yourself this question: would you use your body hygiene products on your face? Probably not! When going about proper face washing, you most likely don't reach for a body wash. The same thing applies here.
One of the many differences between our face and body is the pH levels. Since our face has a higher level, it often causes the self-tanner to develop darker than the rest of your body, per SelfTanning.com. Therefore, by using a tanner formulated to mesh well with the face, you are avoiding the all-too-common issues that often arise with a traditional self-tanner.
Also, those with sensitive skin may find that using a self-tanner on the face clogs their pores and creates breakouts and other skin issues. Self-tanners can make the acne you already have worse, so applying a body tanner to those areas is a potential way of making skin issues worse, thus giving a blotchy and streaky self-tan finish. Professional spray tanning salon Be Bronzed Studio recommends reaching for a product that suits your skin type to avoid any issues.
Applying self-tanner to your face depends on the formula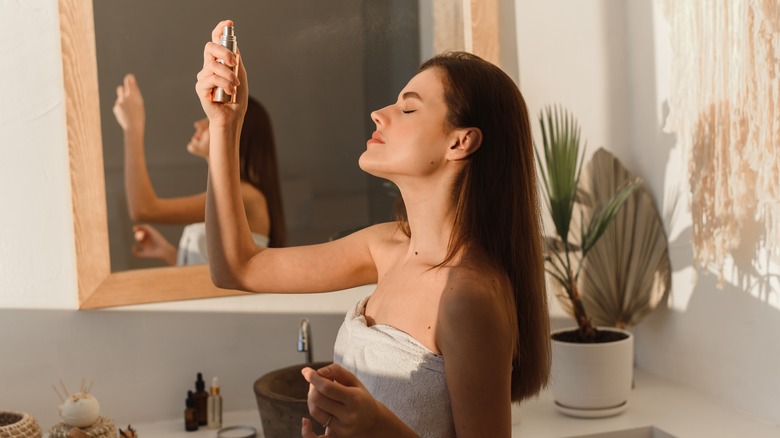 etonastenka/Shutterstock
From sprays and mists to serums and creams, there are plenty of facial self-tanners on the market. Each option provides different results, so you may want to experiment to see which is the best fit for you. If you want an all-over and seamless application without the need for much rubbing, reach for a spray formula. For those who need extra moisture, try a face lotion or serum.
For self-tanning spray, Be Bronzed Studio recommends holding the product to your face no closer than four inches, ensuring that you spray downward. It may be tempting to apply the self-tanner in a setting spray fashion, dousing your face with untamed all-over spritzes. However, for a seamless application, be strategic with each spray, hitting all areas of the face in a downward motion. For those who prefer lotions, serums, or drops, try rubbing the product into your face and neck with your fingertips, ensuring you thoroughly wash your hands afterward.
Want to take your facial self-tanning to the next level? Follow TikTok creator @abbybaffoe's contour routine, where she pumps some self-tanner on a beauty sponge and sculpts her face in the typical contouring areas: the cheekbones, forehead, and jawline. After allowing time for the tanner to develop, rinse it off, and you'll be left with a natural-looking, snatched face. Tricking your brain into thinking you just returned from a tropical vacation with a sun-kissed glow has never been easier!