The Blowout Hack That Gives You Ultimate Volume Without A Round Brush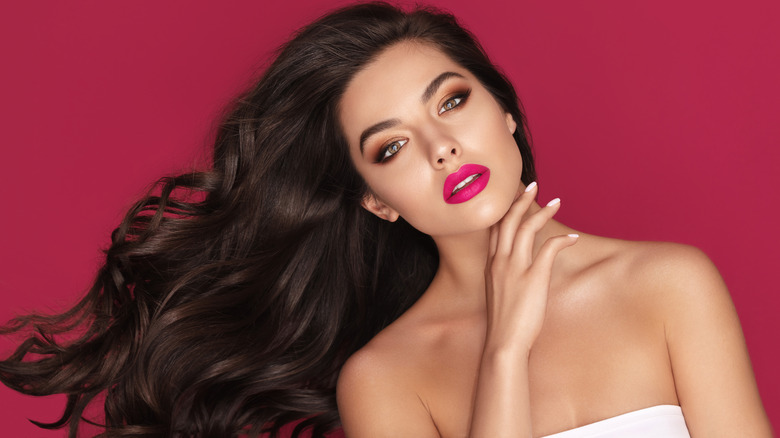 Beauty Agent Studio/Shutterstock
Achieving a salon-quality blowout at home is attainable but definitely requires patience, practice, and skill. Holding a blow dryer at the correct angle while rotating your round brush can be a lot of work. Speaking of that round brush – does anybody truly know how to operate that thing with ease?
Advertisement
If you've ever gotten your hair stuck around a round brush as a little kid (or as an adult, your secret's safe with us), you know the stress that comes with using it. Some people even agonizingly resort to cutting their precious locks because the round brush's death grip on the hair is so tight. A true nightmare.
On a happier note, there is a way you can achieve that bouncy blowout at home without using a round brush. While it's universally credited as an essential tool to create volume, curls, and polished waves, a round brush may not be needed at all. In fact, a blow dryer may not be required either. We know a blowout without a blow dryer sounds like a fairytale. But with this hack, you'll be a true believer that nothing is impossible.
Advertisement
Grab hair rollers and a large-barreled curling iron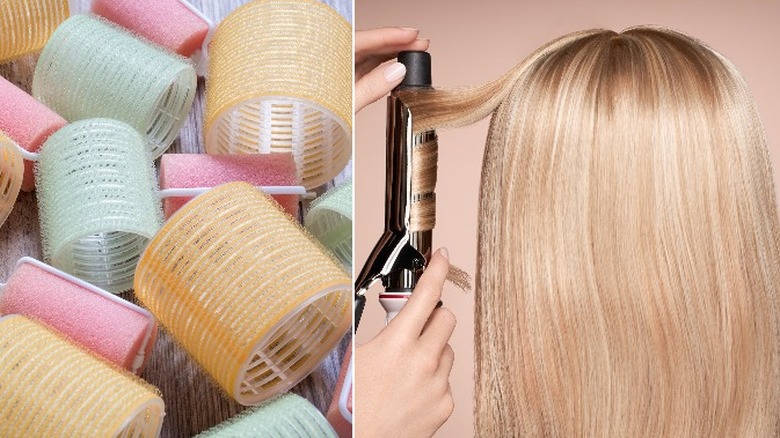 Natali Sam & Oleg Gekman/Shutterstock
If you're anywhere near #HairTok, you've probably added hair rollers to your online shopping cart at one point or another. Used to create bouncy styles on the gorgeously volumized heads of TikTok creators, hair rollers have quickly found their way back into the spotlight. And despite the common stereotype that rollers only create tight curls, depending on the size, they can be the perfect tool for producing that lift and subtle wave that comes with a blowout. This is because they provide that much-needed round shape to hold volume after heat is applied. So, you'll want to use thermal hair rollers that are no smaller than 1 inch in diameter to give massive volume.
Advertisement
Along with your rollers, you want to reach for a large-barreled curling iron. TikTok creator and major HairTok contributor @SouthernWestSunshine gets her hands on a hefty 2-inch curling iron to achieve her blowout. "Apparently, I'm on the quest for the most giant hair known to man," she says in her TikTok video before abruptly cutting herself off to reveal the large curling iron in all its volume-giving glory. Cardinal rule number one for using a curling iron to create a blowout is to go as big as possible. If you use a barrel under 1 inch in diameter, you'll create defined curls instead of the subtle bouncy waves you're going for.
How to use a curling iron and rollers for the perfect blowout
Throw that round brush to the side! Now that you've gathered your curling iron and rollers, it's time to put them in motion to achieve the volumized blowout of your dreams. The first step is ensuring your hair is dry and preferably clean. Then, section your hair starting at the bottom. Hair roller queen and social media influencer Shay Sullivan shared her hair roller blowout routine in a TikTok video, curling her hair in sections and immediately wrapping the warm ringlets in a roller to set.
Advertisement
Sullivan recommends doing the top of the head first, so they set the longest, thus, becoming the most volumized section. Continue your sections, curling the hair and immediately (and neatly) placing each strand in a roller until your entire head is covered in rollers. For guaranteed volume at the root, apply a light spritz of your favorite texturizing spray, and feel free to give those curls an extra boost with an entire coat of hairspray.
After half an hour, gently remove the rollers one by one, twisting them as you release, so you aren't flattening the wave. Give yourself a second to ooh and awe at how bouncy and volumized your hair looks. Once they're all out, run your fingers through your hair and top it off with a light-hold hairspray. Gorgeous, right? We won't be surprised at all if this becomes your new go-to hairstyle.
Advertisement