The Best Nail Colors To Pair With A White Dress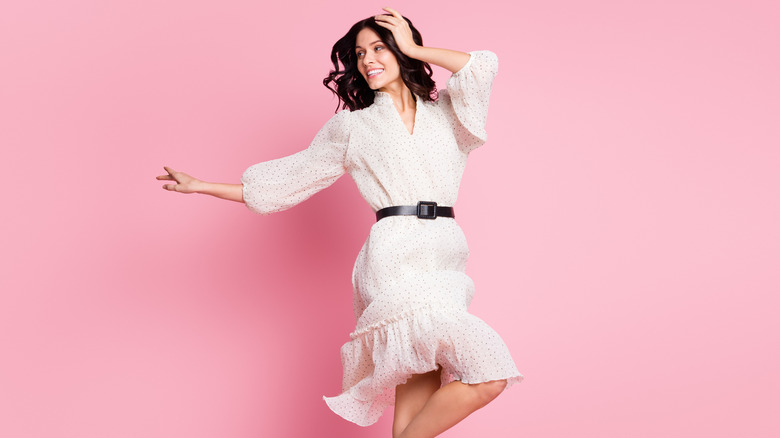 Roman Samborskyi/Shutterstock
Nothing beats the classic elegance of a white dress. Since white dresses are classy, it's no wonder they're a favorite for wedding gowns, sorority events, and other fancy or semi-formal occasions. Whether it's a goddess-inspired maxi dress, an adorable mini-dress, or anything in between, white dresses never fail to turn heads, thanks to their clean, chic appearance.
Since white is the lightest neutral hue available, many people elevate their white dresses with accessories to add stylish pizazz to their look. If you're wearing a white dress and want to make it look more lively, you can consider flaunting a bold statement necklace, colorful purse, or unique pair of heels. Nail polish is another excellent way to level up your white dress, so why not paint your nails to complement your gorgeous garment? While countless nail colors look good with white clothes, we know the best hues for enhancing your white dress for any aesthetic and event.
Bold, sexy red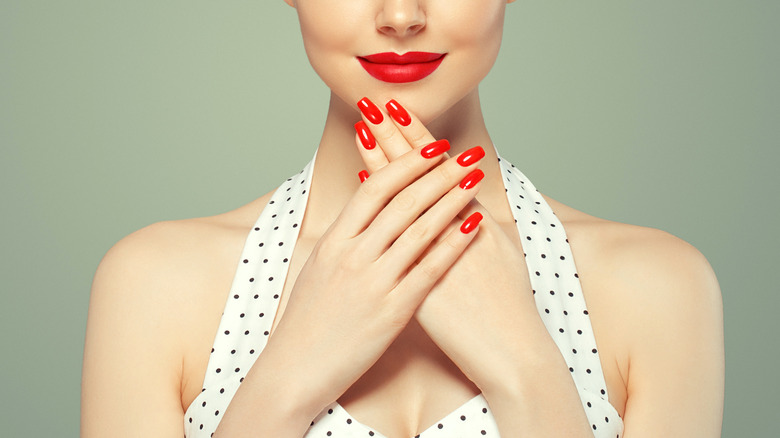 Irina Bg/Shutterstock
Red is famously daring and provocative, so you can't go wrong with using red nail polish to add more sex appeal to your white dress. Rocking red nails can help you look more sophisticated, especially if you pair it with red lipstick, per StyleCheer. White is typically associated with youthfulness and purity, so that pop of red will add a sexier, more dramatic aspect to the look. You can also make it shine with a glitter top coat for extra appeal.
If you want to test out the red nail theory next time you wear a white dress, of course, you'll need red nail polish. Wet n Wild's nail polish in "Red "Red" is an affordable option you can try, and it's available at a wide range of retailers in-store and online. The nail polish is long-lasting and cruelty free. Just don't forget to seal your polish with a top coat for more durability and less chipping.
Classic yet edgy black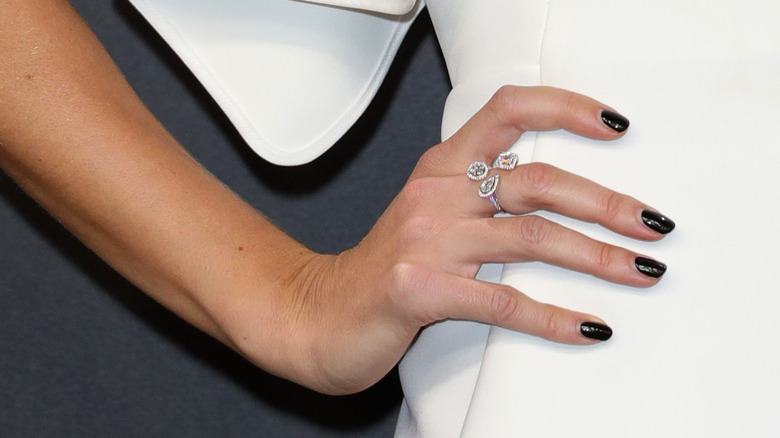 Andreas Rentz/Getty Images
You can never go wrong with a timeless black manicure for an ultra-sleek look. Black and white is a famously beloved combination in the fashion world, as there are over 68,000 posts dedicated to #blackandwhitefashion on Instagram and more than 100,000 photos devoted to #blackandwhiteoutfit on Instagram. The classic black-and-white aesthetic is so popular that some people even enjoy hosting black-and-white themed parties, where guests can only wear black and white. Since black and white never goes out of style, you can't go wrong with painting your nails black if you'll be wearing a white dress. If you want to add a contrasty edge to a wholesome white dress, a black manicure is just the trick.
One beloved black nail polish is the Essie Neutrals Nail Polish in "Licorice," a super sleek black. An alternative is the Sally Hansen Insta-Dri Nail Polish in "Black to Black." It's super convenient for people with on-the-go lifestyles who need a nail polish that dries in a flash.
Pink for girly Y2K vibes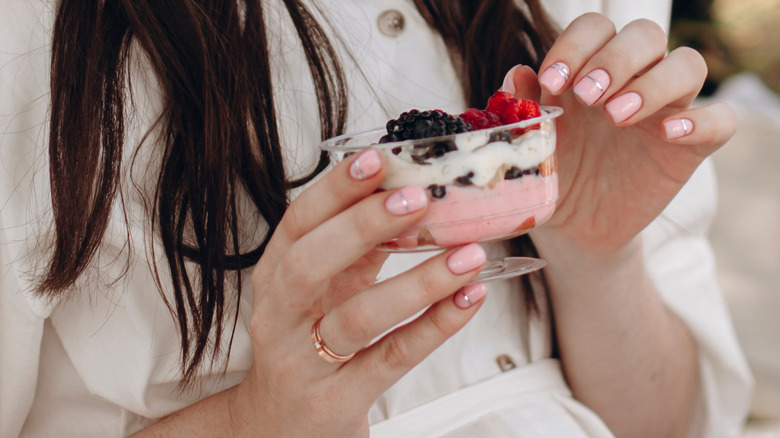 Anne Ponomarenko/Shutterstock
Girly pink hues are thriving in the 2020s. Between the Barbiecore fashion trend and the dainty soft girl aesthetic, pink shades from vibrant neon pink to purple-ish pink are having their moments. In addition, Y2K fashion is back in 2022, and the early 2000s were all about embracing pink accessories and outfits. That being said, we can't think of a better way to add a Y2K-inspired spin on a white dress than to rock a sassy or delicate pink manicure. Pink nails will make your white dress seem even girlier, as pink and white is a famously girly combination.
Sally Hansen's Hard as Nails color, "Heart of Stone," is one affordable pink nail polish option. This polish is durable yet glassy for a flawless look. If you prefer a shiny pink with a darker purple tint, you should check out the OPI Tokyo Collection "All Your Dreams in Vending Machines" nail polish. This product earns points for its look, high quality, and value for the price.
Gorgeous, glamorous gold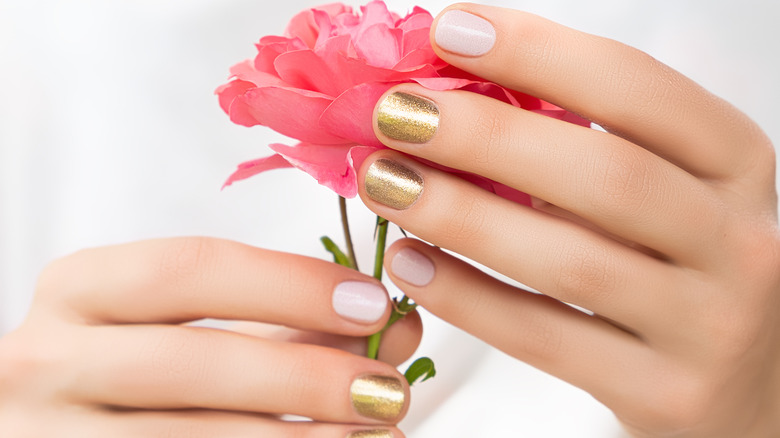 Dev_Maryna/Shutterstock
Gold is a luxurious color. We recommend opting for gold nails if your white dress is a wedding dress, part of your ensemble for a New Year's Eve party, or any other big event. A gold manicure can help you achieve dramatic results without spending too much time or effort, and it looks stunning with gold accessories. For example, a white gown or maxi dress with a gold necklace or bracelet and a gold manicure will make you look like a striking, glamorous goddess.
Sally Hansen's Color Foil nail polish in "Gold Standard" is one affordable option you can consider. This ultra-shiny nail polish can make any white dress appear fancier. Furthermore, anyone searching for a super glittery, chunkier gold nail polish should consider the Essie Luxeffects nail polish in "Summit of Style." The intense, bold nail polish can be a fun complement to your favorite white dress.
Which of these nail polish colors will you use to elevate your look the next time you wear a white dress?