What You Need To Know About The Laminated Skin Trend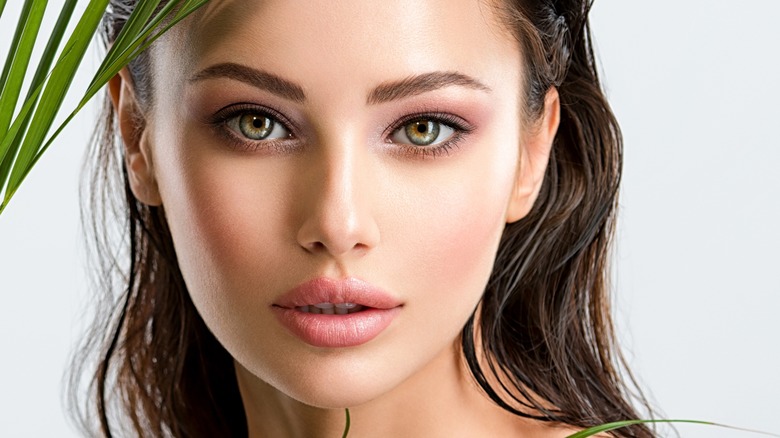 VALUA VITALY/Shutterstock
Every so often, social media brings new beauty trends that seem to rise out of nowhere. Recently, social media has brought us beauty trends such as glass or glazed donut skin. Trends like the glazed donut skin trend come from stars like Hailey Bieber, who suggested lathering on moisturizer before bed. Putting on moisturizer before bed would give way to waking up with gleaming skin, like a glazed donut. Although a donut might not inspire everyone, the idea of skin trends is still growing strong.
The newest skin trend to enter the conversation is the laminated skin trend. While not inspired by your favorite dessert, the laminated skin trend has become the internet's newest trend. Part of this trend's popularity has come from various beauty looks showcased at multiple fashion weeks in 2022. Since then, many are loving the movement, as it is unique and easy to achieve. This Instagram-approved beauty trend is the perfect way to get the glowing skin you want.
What is laminated skin?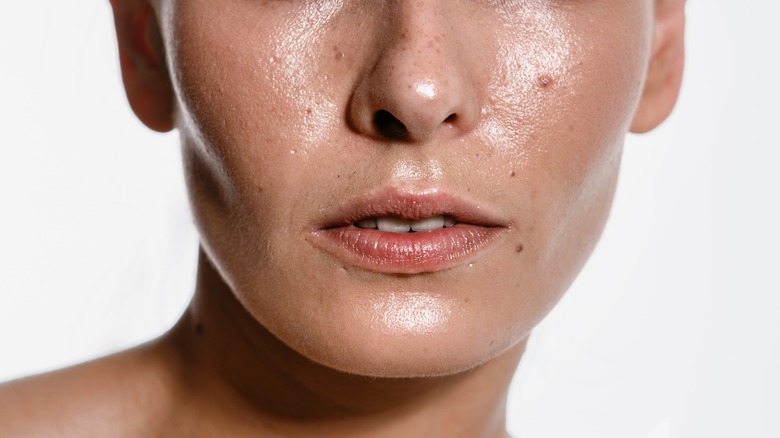 Pavlova Yuliia/Shutterstock
The idea behind laminated skin is to look as close to sweat or wet as possible. The artist behind this skin trend is Terry Barber, MAC's director of makeup artistry, who tells Refinery29, "The skin for the season is sweaty, which is no longer a negative. All the designers I'm working with are talking about sweaty skin, like you've just come out of the ocean on holiday, or been on a dance floor — or you've just had sex." The laminated skin trend is all about including the shine we have long become accustomed to hiding. 
While before some may have thought of it to be unacceptable to show off oils and shine, this trend embodies them and encourages it. Huda Beauty adds that this skin trend can also be a turning point for those with oily skin. Instead of focusing on hiding the excess oil, simply provide your skin with hydration and seal that moisture to embrace your natural shine. As unique as it may sound, those with oily skin might find themselves with an advantage in this trend. Even if you don't have oily skin, this trend involves fewer products and work rather than bringing out what is naturally there. 
How to get laminated skin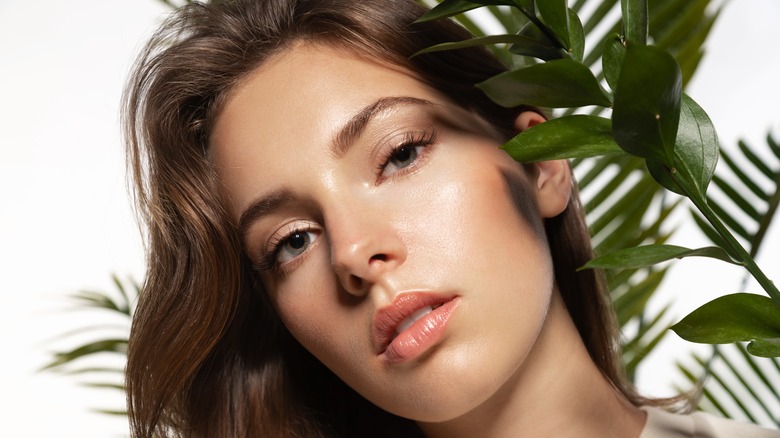 popcorner/Shutterstock
Getting laminated skin is less about the products you use and rather about keeping your skin hydrated and moisturized. NSS explains that the key to achieving laminated skin is mixing creams, mist, and moisturizers for an ultra-hydrated look. For makeup products, you want to add foundation and highlighters that are creamy, hydrating, and leave a perfect glow. However, as much as choosing makeup products is essential for this beauty look, the biggest difference will come from ultra-hydrating skincare products. Creating a hydrated base will get you closer to achieving laminated skin. 
Daily Vanity suggests using beauty products that are light and sheer while avoiding any mattifying products. If you plan to contour your face, ensure you only use cream bronzers and blushes that will still give you the dewy effect you need for laminated skin. Layer a dewy foundation on top for extra coverage. You want to finish off the lock with a face mist that will give you the ultimate wet look. Don't be afraid of adding too much mist, the key to laminated skin is to get a dewy look.