What To Know About The Sofwave Skin Treatment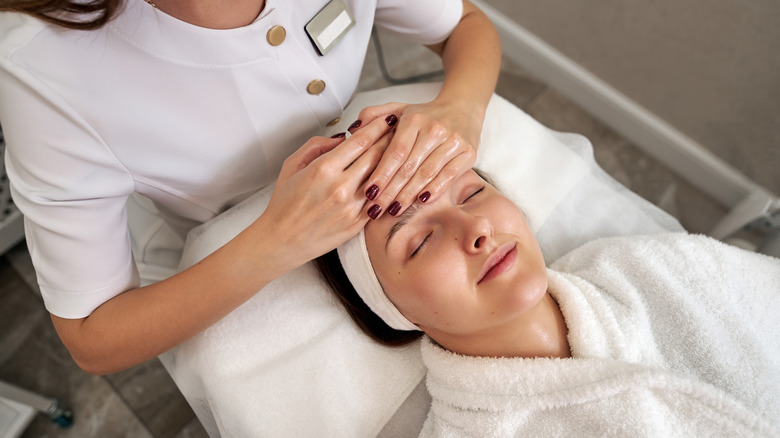 Taras Grebinets/Getty Images
Caring for your skin can be a fun, rewarding journey. Whether you are rejuvenating your moisture barrier, tackling acne, or fighting off fine lines and wrinkles, there are products for every need. But the treatments aren't limited to just these products. In fact, there are many procedures to try in an effort to look and feel your best in your own skin. Whether Botox or microneedling, just to name a few, skincare professionals offer a variety of procedures for your skin needs.
Advertisement
For anti-aging efforts, many people turn to Botox, fillers, or even plastic surgery to minimize the look of fine lines and wrinkles. These procedures can take time and are considered to be semi-invasive. As technology evolves, however, so do the procedures, and many people start reconsidering the kind of maintenance they may require. The latest treatment, known as Sofwave, brings a compelling crossover between technology and skincare for highly-rated results.
What is Sofwave?
If you're looking for a more enhanced treatment to combat the appearance of fine lines and wrinkles, consider getting the latest anti-aging treatment, Sofwave, for a new type of facelift. This non-invasive procedure can be done on your face, eyebrows, submental (below the chin), or your neck to reduce signs of aging. Its technology uses a Synchronous Ultrasound Parallel Beam, or SUPERB™, and heat to boost collagen in the skin, therefore reducing fine lines and wrinkles. "Sofwave safely and effectively heats collagen at the right temperature and at the right depth of 1.5 mm in the mid-dermis, triggering a healing response that increases both collagen and elastin in the skin," board-certified dermatologist Michelle Aszterbaum, M.D., tells Popsugar. The ultrasound energy passes through the epidermis to heat the mid-dermal tissue causing the collagen fibers to rejuvenate.
Advertisement
According to Sofwave, anyone in their 30s can benefit from the procedure as aging signs begin to show around this age, as well as anyone with "some degree of fine lines and wrinkles." With Food & Drug Administration approval, Sofwave is considered safe and suitable for all skin types. Additionally, many patients can see improvement after just one treatment, which typically lasts between from 35 and 45 minutes.
What to expect from Sofwave
Patients are loving the results of their Sofwave procedures. In fact, Sofwave found in a clinical study that 72% of patients were happy with their results from the treatment, moving up from "improved" to "very much improved" in their feedback. Many people love opting for this procedure over other anti-aging procedures because it is non-invasive, involves minimal pain, and is pretty quick to get done.
Advertisement
According to a RealSelf rating, 81% of people who have gotten the procedure say it is worth it. "I am in my late 30s and was looking for something that would help me be proactive with maintaining a youthful appearance. I did my full face and neck and loved the results!" one user wrote on RealSelf's verified reviews platform. "There was little to no discomfort and the treatment lasted only about 30 minutes. I was able to get back to my normal daily routine immediately afterwards and even saw some instant tightening of my jawline."
If you're considering getting Sofwave done, you can expect it to cost anywhere from $1,000 to $3,000 on average, depending on the clinic or physician. After your treatment, you may experience some pinkness on your skin, but it will pass pretty quickly. Some patients have reported seeing the skin-tightening results in as little as a week post-procedure, but it can take up to 12 weeks for the collagen regeneration to fully take effect, per Coveteur. Ultimately, you will leave with a newfound glow.
Advertisement