What To Wear To Your Next Cocktail Party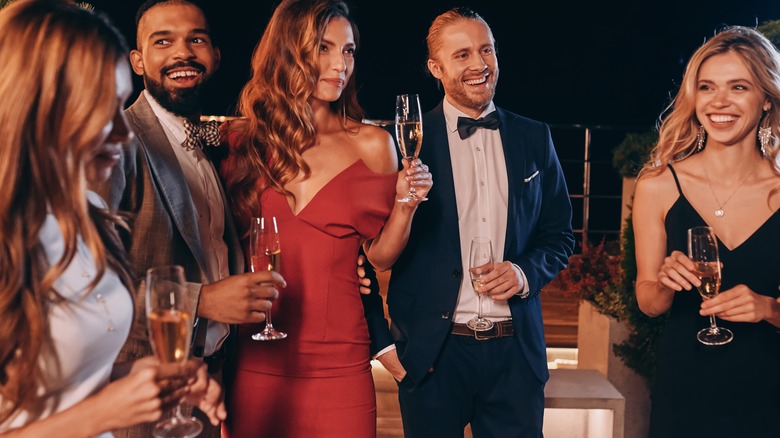 G-Stock Studio/Shutterstock
Getting ready for a cocktail party might feel intimidating, especially as you consider what kind of dress code that might entail. There are white-tie, black-tie, business casual, formal, and more, and they all might be confusing when choosing which one to go with. However, dressing for a cocktail party is not as daunting as it seems. You just have to carefully curate an outfit appropriate for the occasion, and the cocktail dress code might even be doable with items you may already have in your closet. If you don't, then it will certainly make for a fun shopping trip.
Advertisement
The cocktail attire dress code is semi-formal. In this case, you'll want to make sure that strike a perfect balance between casual and formal. Whether you're going to a wedding, holiday party, engagement party, or a business event, it is important to dress the part just right, and we've got you covered with all of the best looks and tips.
Midi dress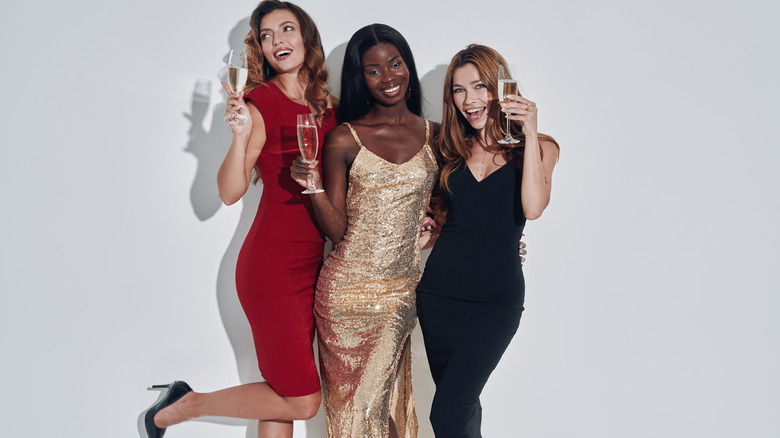 G-stockstudio/Getty Images
If you want to wear a dress to a cocktail party, stick to shorter hemlines. "The most important idea to take away from the cocktail dress code is that your goal is to create an elegant look wearing a knee-length, tea-length, or midi dress," social etiquette advisor Maria Lucrecia Arguello tells Brides. In particular, avoid floor-length ball gowns, as that leans into the too-formal territory. A midi-length dress is the best option to go for, making the outfit perfect for the occasion. Midi dresses are a great balance between avoiding floor-length dresses and going too short.
Advertisement
Dressy trousers or jumpsuit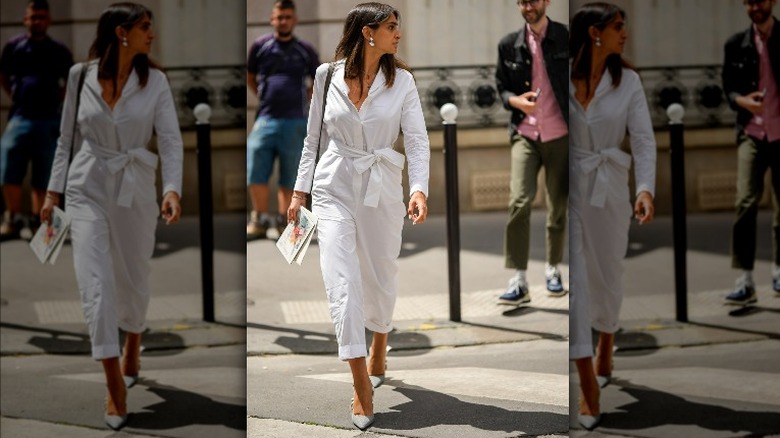 Edward Berthelot/Getty Images
As comfortable as they may be, wearing a graphic t-shirt and jeans is a no-go for cocktail parties. However, a pair of trousers can make the cut, especially when paired with a beautiful blouse. That being said, a jumpsuit would also be a wonderful outfit to wear that offers an elegance that is just right if you prefer not to wear a dress. Whether it is trousers or a jumpsuit, you can find one in appropriate materials such as sequins or linen to provide the perfect semi-formal look.
Advertisement
Blazers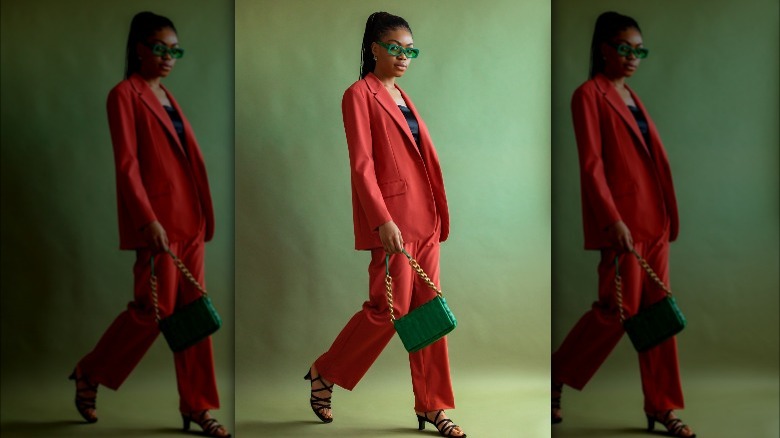 Victoria Chudinova/Shutterstock
Blazers are trending and have been trending for quite some time now for good reason. They are a great way to elevate just about any look. Whether you wear the blazer separately or in a matching set with dress pants, it will look sophisticated, stylish, and chic for a cocktail party, especially if it is a business event. You can do an oversized blazer dress style or a fitted form, but either way, it gets the job done.
Advertisement
Heels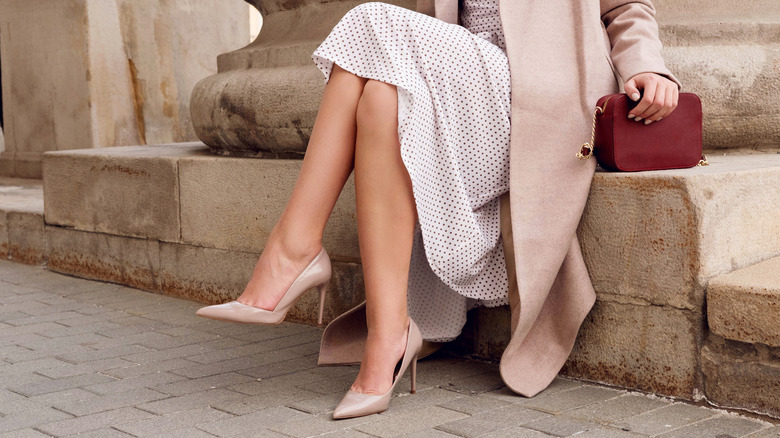 Viktoria Minkova/Shutterstock
Avoid wearing sneakers, chunky shoes, flip-flops, or other casual shoes to a cocktail party. Instead, opt for a fancy pair of heels, wedges, or elegant flats. Heels are a classic fashion statement for events like cocktail parties. The best part is that a pair of heels will work great with any style of cocktail attire you choose to wear, whether that's a dress, trousers, or a jumpsuit. When you pair your heels with your chosen outfit, make sure they work well together by taking into consideration the style of the heel, its color, and its height.
Advertisement
Small handbag or clutch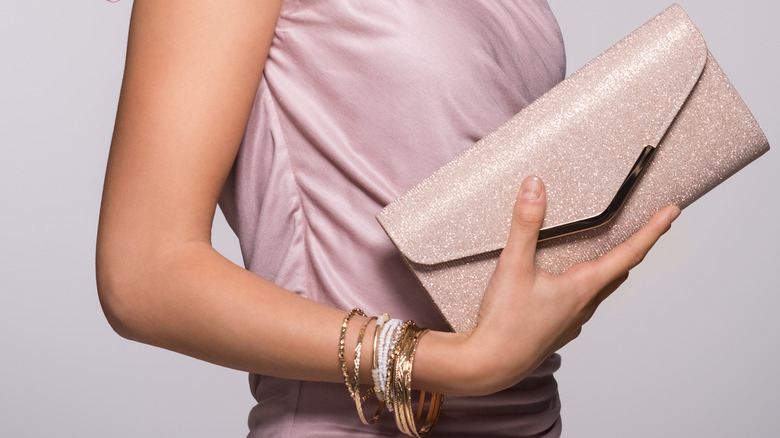 Ridofranz/Getty Images
Your choice of handbag can have a great impact on your entire look, so it is important to choose wisely. For a cocktail party, you want to go for something smaller, like a clutch, and avoid big bulky bags. While it may be tempting to bring something that can carry all of your things, you may have to narrow down your essentials so they can fit in your clutch. With a smaller bag, not only is it easier to carry around, but it adds a cleaner, more sophisticated element of minimalism to your outfit.
Advertisement
Limited jewelry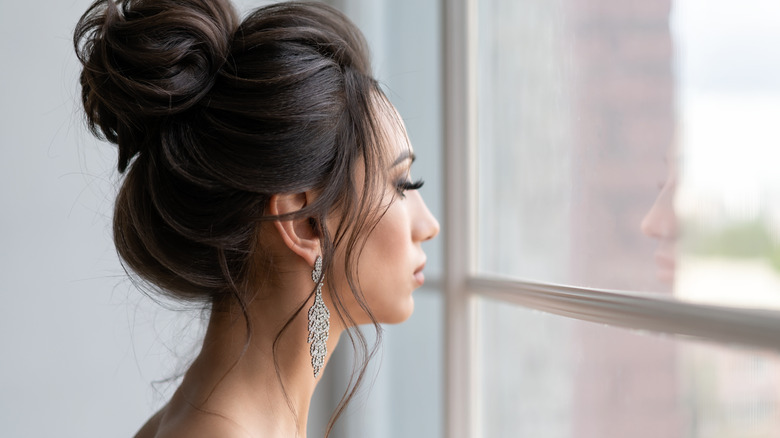 Denis Bukhlaev/Shutterstock
Before you stack multiple necklaces, bracelets, and earrings for your jewelry look, you'll want to be careful not to overdo it on the accessories. For a cocktail party, limit yourself to just one accent piece. This is because you don't want to overpower your stylish outfit. A pair of diamond studs or a delicate bracelet will suffice to keep your outfit more elegant. You can certainly make a statement with your jewelry, but it's important to keep it limited.
Advertisement
Cocktail makeup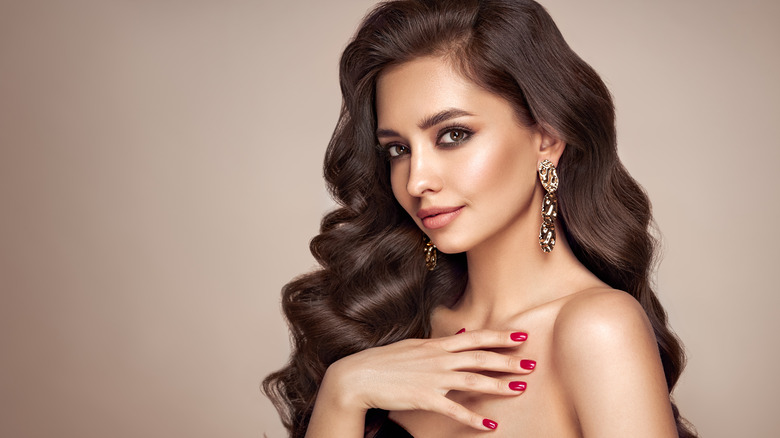 Oleg Gekman/Shutterstock
Top off your cocktail party outfit with a chic beauty look. When it comes to your makeup, this is where you can bring a little more drama. Go for a full-coverage foundation and bring extra warmth with bronzer and blush. Focus on emphasizing one feature of your face only, such as your eyes or lips. For your lips, you can go for a bold red and other fun colors or go for a smokey eye for any outfit. Aim for a balance between minimal and dramatic for your cocktail party look.
Advertisement