We Can Already Tell You The Shoe Trends That Will Be Everywhere Come Spring 2023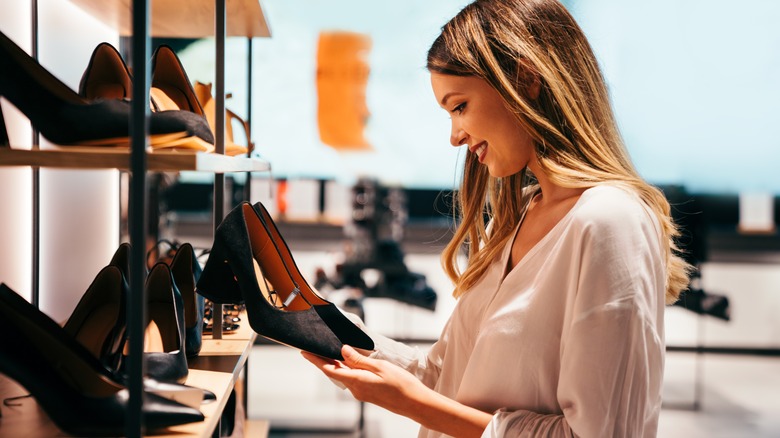 NDAB Creativity/Shutterstock
Keeping up with ever-changing trends is easy to do if you consider yourself to be a total fashionista. The thing about fashion is that it's always morphing, moving, and growing in different directions. There's nothing wrong with wanting to stay in the loop when it comes to the clothing you choose to wear. Shoes are incredibly important when you're completing an overall look. If you don't have the right shoes on, it can ruin everything!
Advertisement
Women's Wear Daily says that the spring of 2023 is going to bring festive and tactile fashion ideas to the table including ruched material, tassels, fringes, and even feathers. What's more, spicing up your look with eccentric accessories and opting for edgier pieces like cargo miniskirts or sheer dresses might make you feel inspired in front of your mirror. What about when it comes to the shoes you're wearing on your feet, though? These are the shoe trends to keep an eye out for during spring 2023.
Track shoes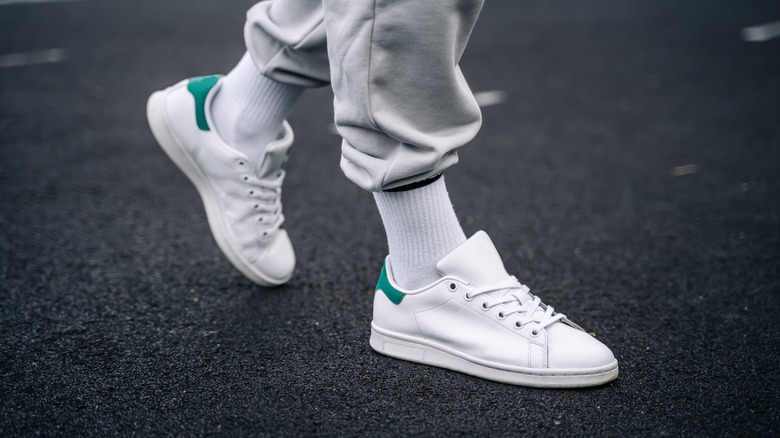 marozzau/Shutterstock
Although you might think about only wearing track shoes when you're hitting the gym or catching up on your workout routine in a fitness class, track shoes will actually be in style in a major way during the spring of 2023. Wearing track shoes doesn't have to equal a workout at this point. When you add track shoes to your outfit, you're supporting the idea of technical streetwear.
Advertisement
Rocking a pair of brand-name sweatpants along with a matching hoodie and the right track shoes will look absolutely fabulous. You can look just as show-stopping if you attempt a clashing look that starts with a more business-savvy outfit on top with trendy sneakers on the bottom. Track shoes can fit into your wardrobe effortlessly depending on the brand you choose to go for. Nike Air Zoom sneakers and Adidas Ultraboost 22 sneakers are just a couple of top-tier options to consider, and they match nearly any outfit to boot.
Colorful rain boots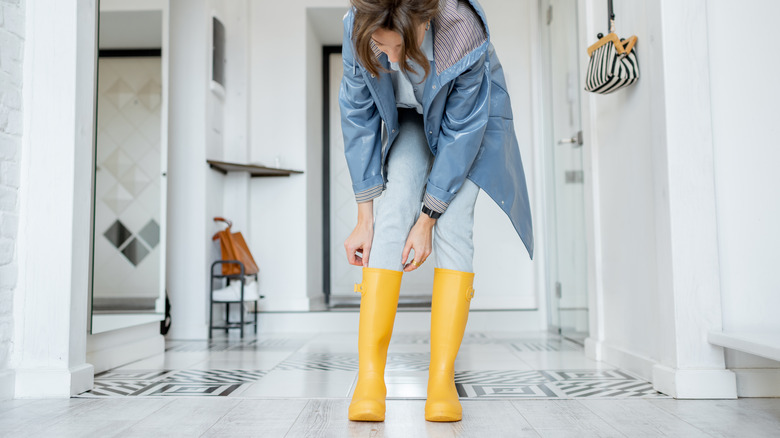 Rosshelen/Getty Images
It might not be super rainy in the region where you live, which means rain boots aren't inherently a must for rainfall purposes. Regardless of the weather you experience during spring, though, colorful rain boots are still a great option to consider when it comes to footwear. After all, rain boots as being both safe and practical, and who doesn't love a multi-use item? There is so much more to rain boots than just their practicality, too.
Advertisement
Rain boots tend to come out during cold seasons along with warm sweaters and cozy leggings. It's time to start thinking about rain boots with a fashion-centered mind for the spring of 2023. Colorful rain boots are a lot of fun because they add a bright splash to any normal outfit you might be wearing. If you decide to wear all black from head to toe with rain boots that are a bright shade of orange, yellow, or purple, you will still undoubtedly stand out. Colorful rain boots covered in patterns and designs such as checkers or polka dots are just as appealing.
Mesh heels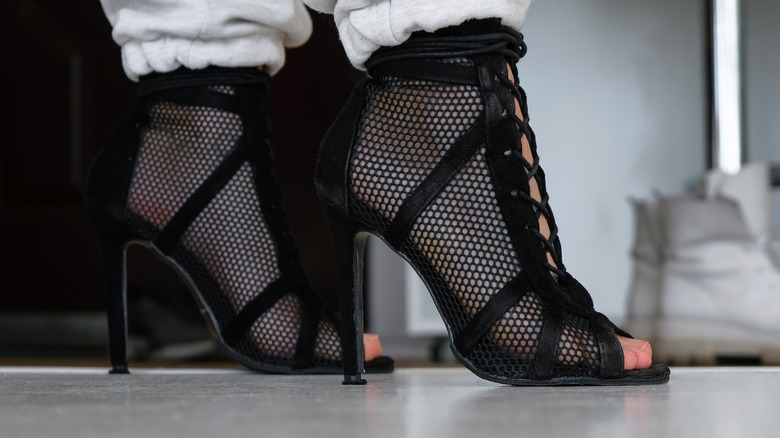 Ganna Zelinska/Shutterstock
If you don't already own a pair of mesh heels, spring 2023 is the perfect time to take the leap. Shein is simply one brand out of many that offer an assortment of mesh heels to choose from including a pair that has a pointed toe, a stiletto heel, and enough material to be pulled up over your knees. Wearing shoes made of mesh gives you an advantage since this material is lightweight and breathable.
Advertisement
It's safe to say that heels made of mesh bring their own set of benefits. One of the biggest pluses that comes with wearing mesh heels is that they can be worn with just about anything. Since they give off a sheer look, you can easily pair them with any outfit design that you might come up with. Mesh heels give you the freedom to get creative with the pieces in your closet, and spring is all about getting hands-on with every aspect of our life.
Floral sandals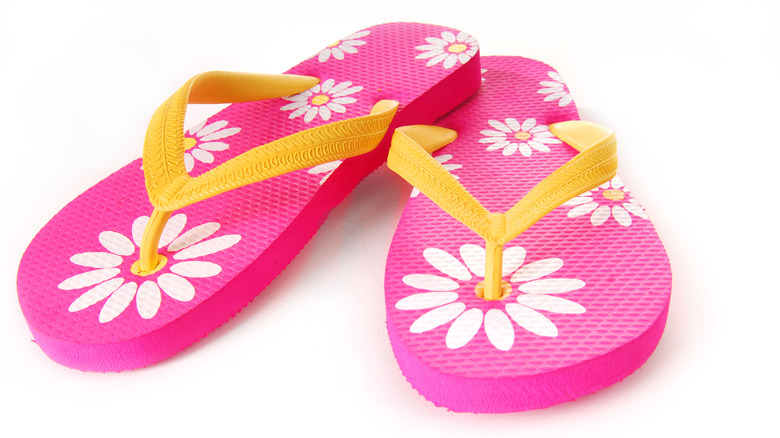 Cheryl Casey/Shutterstock
When you think of pieces of clothing that are covered in floral patterns, the first thing that comes to mind might be a typical sundress. For the spring of 2023, floral sandals are actually going to be the hot topic of conversation instead. Shop Style advertises loads of floral sandals, including a pair with white soles, pink petals, and yellow straps. They also show off a pair with black souls and a thick strap covered in yellow and orange petals that sort of swirl together. 
Advertisement
Etsy is another great place to search for handcrafted floral sandals that would look incredible with any outfit you might wear during spring. The most exciting thing about floral sandals is that they can be worn in casual instances and they can also be worn in more serious settings. There's something very chic and classy about the perfect pair of floral sandals when they're designed and decorated properly. Flowers in nature remind most people of growth, sunshine, and vibrant colors. If you have the chance to wear florals on a regular basis as the pattern on your sandals, it's a fashionable win.
Mary janes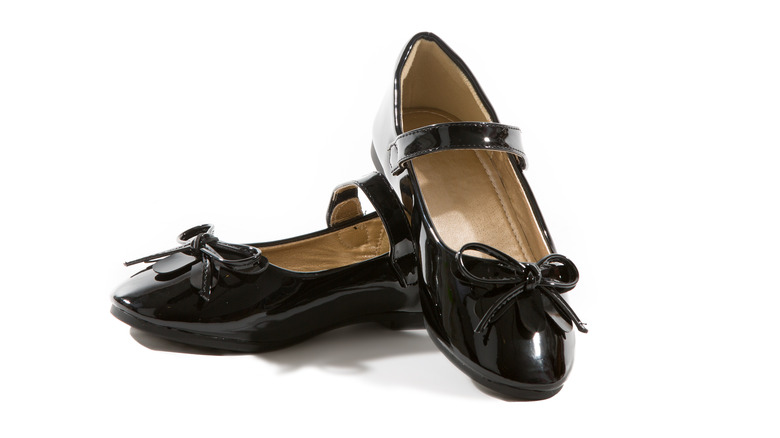 Ashley Podnar/Shutterstock
Mary janes are the perfect shoes to pull out of your closet during spring 2023 if you already own these amazing shoes. If you don't own a single pair of mary janes just yet, this is a great time to consider investing in a pair. In fact, Vagabond Shoemakers describes them as retro, playful, and contemporary. Happy Little Soles adds that Mary Janes have been around since the late 19th and early 20th centuries, so they're also tried and true.
Advertisement
At first, young children were the main demographic of people who would wear them. In this day and age, you don't have to be a small kid to pull off a lovely pair of mary janes. Most mary janes offer a little bit of lift in the back in the form of a very short and thick heel. If you're looking to be an inch or two taller for the day, these show will easily help you accomplish that.
Skinny-heeled boots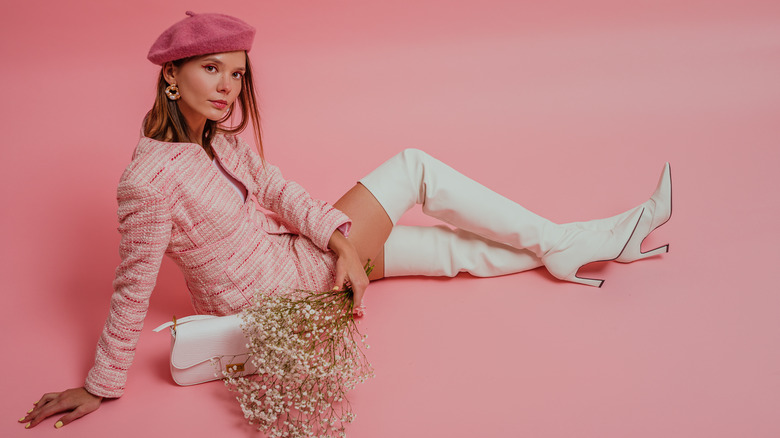 Victoria Chudinova/Shutterstock
It might be easy to assume that skinny-heeled boots aren't the most comfortable shoes to wear since they require a little more balance, but they are worth trying out at least a handful of times during spring 2023. Dolls Kill has a pair of skinny-heeled boots that are available in a hot pink shade with pointed toes and a zipper. Next Direct has a pair of skinny-heeled boots that cover the ankles with a stretchy portion of fabric along the sides. 
Advertisement
It just goes to show that skinny-heeled boots can come in all shapes and sizes for amazing outfits to come together. Thick heels aren't out of style whatsoever, but skinny heels still deserve their time to shine during the right seasons. There's something very elegant and chic about a boot with a skinny heel since these shoes add an instant pop of sophistication without much effort at all.
Bare satin heels
Bare satin heels are minimalist shoes, and it's not hard to see why. The reason they fit into a minimalist category is that they don't offer a ton of foot coverage or intricate detail, yet they still get the job done in the world of fashion. Strappy heels that are lined with satin with short heels are comfortable and visually attractive from the perspective of a true fashion-lover.
Advertisement
Net-A-Porter notes that bare satin heels are versatile in an endless way. They're considered versatile since they can easily complete any look. Some shoes are too eccentric or bizarre-looking to be worn with anything and everything. Bare satin heels, on the other hand, can be worn with nearly every staple you already own in your closet. Bare satin heels look stunning whether they come in a shade of gold, black, cream, or something else entirely. The slight shine that reflects off of the satin material adds the perfect amount of elegant style to your look.
Exaggerated heels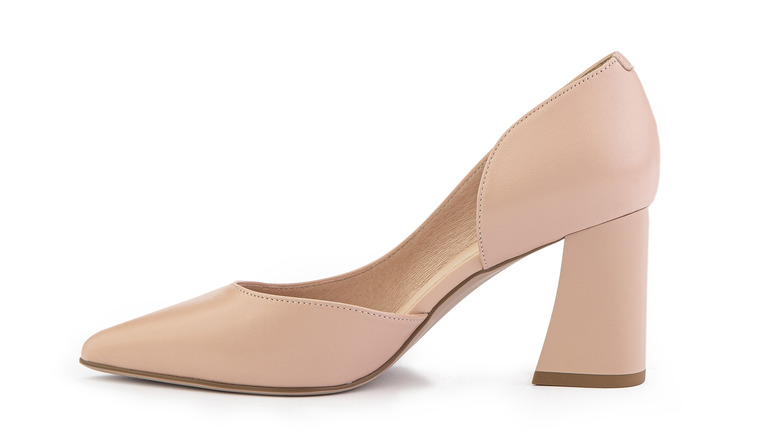 pausestudio/Shutterstock
Exaggerated heels are worth experimenting with if you're comfortable taking a fashion risk every now and then. TikToker @The.Art.Of shared a video highlighting her own personal experience with exaggerated heels in a viral video. She showed off a gorgeous pair of black heels made of shiny material with odd-shaped thick heels in the back. Her playful caption said, "The way exaggerated square toe heels have me in a chokehold," with a distressed face emoji and a flame emoji.
Advertisement
David's Bridal notes that shoes with exaggerated heels can give off a simple and clean look depending on the style you go for. They offer a pair that has an adjustable buckle, a three-inch heel, a quarter strap around the ankle, and an insole with slight padding. Exaggerated heels don't have to be reserved for outfits that are overly unconventional or outlandish. They can be worn with regular pieces from your closet that fit any occasion.
Ballet flats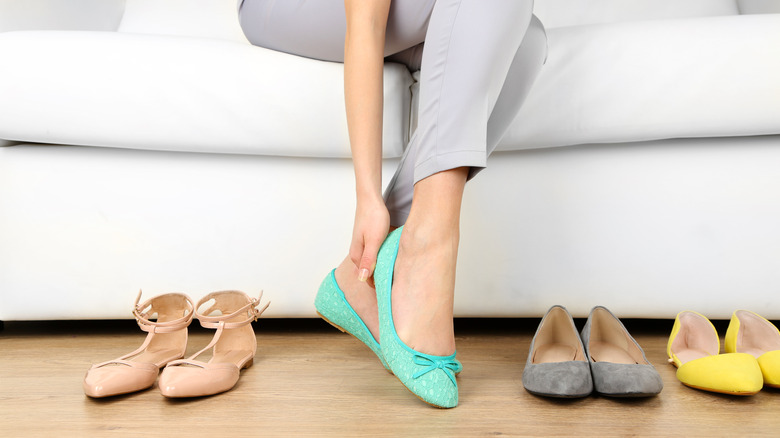 Africa Studio/Shutterstock
Ballerinas aren't the only individuals who have the chance to wear cute and trendy ballet flats. Ballet flats will be all the rage when spring 2023 rolls around — for just about everyone, including non-ballerinas. Vivaia explains that ballet flats offer fashion-lover a sense of casual elegance whether you're enjoying a fun shopping spree or you're headed off to date night. If you know you'll be on your feet for a while, ballet flats can save your feet from tons of excruciating pain caused by uncomfortable heels.
Advertisement
The popular brand advertises a pair of ballet flats made with square-toe wool, ribbons that detach, and a deodorizing insole that happens to be eco-friendly. Giesswein explains that ballet flats have been around since the 1600s, as they were worn throughout the unforgettable Renaissance era. Originally, they weren't even meant for ballerinas. In fact, ballerinas once wore heels during their performances. Now, anyone and everyone are welcome to try the trend.
Clear heels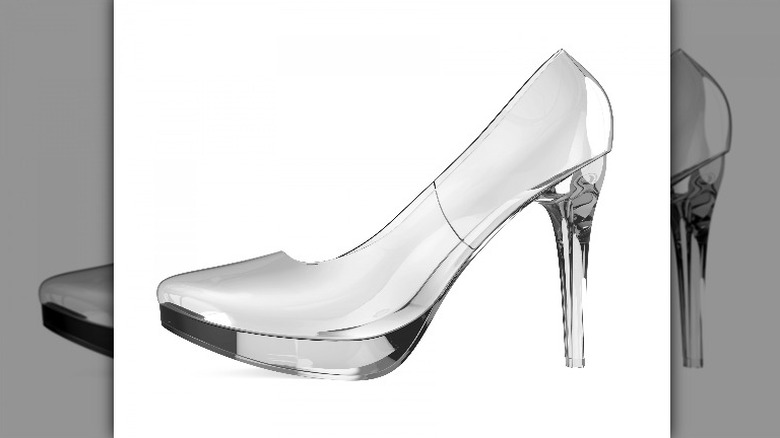 Nerthuz/Getty Images
There truly isn't anything more versatile than clear heels in the world of fashion. They go along with outfits better than white black, or any other neutral color because they don't include any color at all. Clear heels are even the best shoes to wear if you don't want to pull any attention away from your outfit. If you are completely dolled up in a dressy gown or trendy denim jeans, no one will be overly concerned with your clear heels when they have other stylish aspects of your outfit to worry about.
Advertisement
Clear heels can come in the form of wedges to stilettos. Whichever shape or size you opt for will undoubtedly be a winning decision for you during spring 2023. Clear heels are also known as transparent heels, Lucile heels, and perspex heels. Clear heels are generally made of plastic, and they can be totally plain or covered in gems and rhinestones. They are incredibly special because they can offer what a nude heel offers in a better way while giving off a futuristic vibe.
Soccer sneakers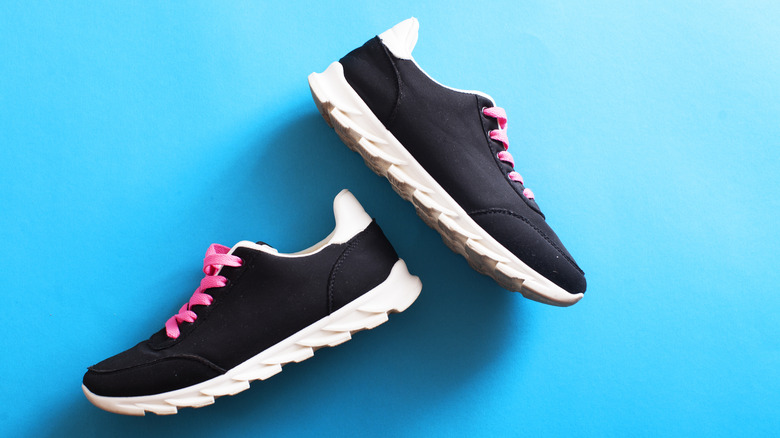 PhotoStockPhoto/Shutterstock
Wearing shoes that are predominately meant for soccer gives off the vibe that you're a sporty person. Regardless of how athletic you may or may not be, soccer shoes will look absolutely fabulous on you during the spring 2023 season. Sports Illustrated Showcase notes that soccer shoes from Adidas, Nike, Puma, and New Balance are some top-tier options. Soccer Maniak explains that soccer shoes have been around since King Henry VIII was getting his wardrobe organized in England during his reign.
Advertisement
His personal shoemaker designed the first-ever pair in 1525, and the rest has been history. Interestingly enough, soccer shoes cost what would equate to $100 in today's currency, which was about four shillings back then. Since soccer shoes are made with such sturdy and heavy material, you can rest assured in knowing that they will last a long time throughout any possible wear and tear. These shoes add a sporty twist to just about any outfit.
Metallic boots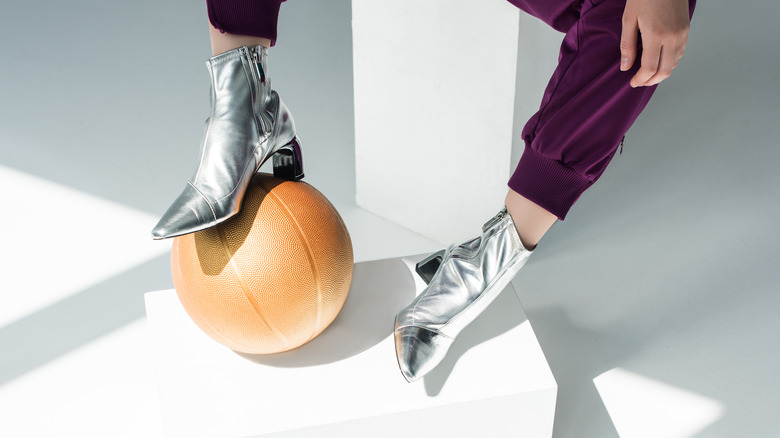 Lightfieldstudios/Getty Images
Spring 2023 is as great a time as any to get some metallic boots for your wardrobe. Metallics are currently trending due to the fact that they are beyond glitzy and glamorous. There's something very zesty about wearing a piece of clothing made of metallic material. For this reason, metallic boots should be at the top of your shopping list.
Advertisement
Rockport explains that metallic boots, and metallic shoes in general, definitely should be added to your wardrobe soon enough. In an interesting way, metallic boots can spice up any outfit you're wearing by adding a futuristic and space-like effect. Regular heels that don't offer any shine whatsoever simply don't compare when you are deciding which shoes to wear for a night out on the town. Metallic heels don't need to be reserved for special occasions or holidays, like Halloween, when they can be worn on a typical day during spring, or any other season for that matter.
Peep-show heels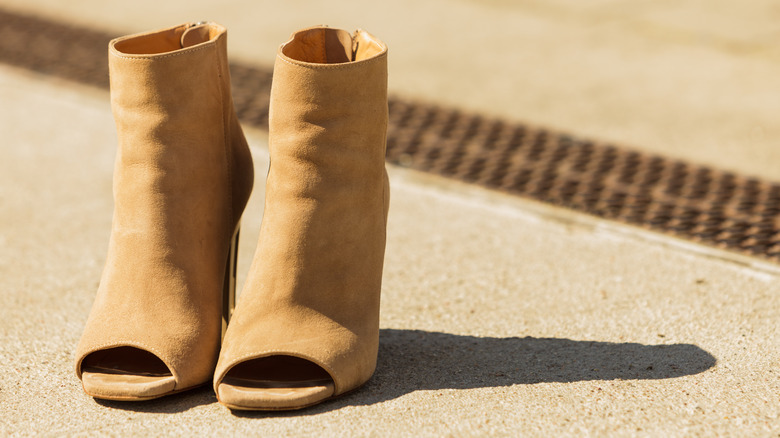 Voyagerix/Shutterstock
If you're the type of person who appreciates a great pedicure on a regular basis, then peep show heels might just be the best possible shoes for you to wear during spring 2023. The best thing about peep-show heels is that they give you a chance to show off whatever toenail polish you've opted for. Windsor Store offers a pair of incredibly trendy peep-toe heels that come with a closed ankle, an adjustable buckle closure, and a platform sole.
Advertisement
TikToker @hund0.p opened up about how much she loves her various pairs of peep-toe heels. Her baby blue toenail polish was on display as she rocked two different versions of the shoe style starting with a simple black pair that had medium-thick heels. The second pair was a little more special with a gold chain added as decoration over the front to add some sparkle and shine. Now, you're ready to rock.
Tall lace-up boots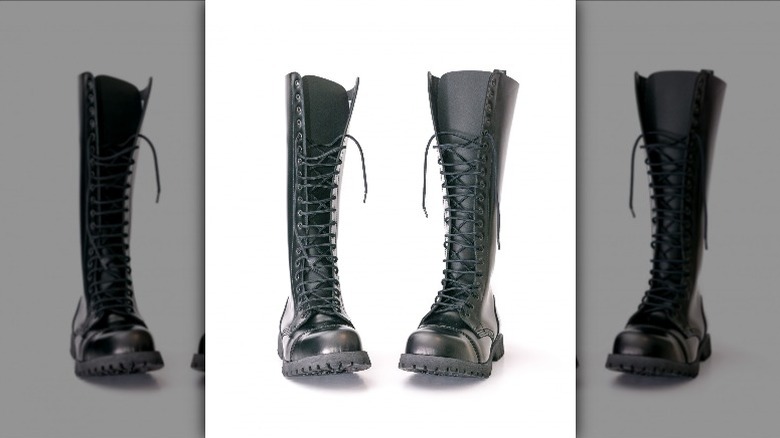 dnaveh/Shutterstock
Tall, lace-up boots are an incredible staple to add to your closet for fall 2023. The reason why is that they are cute, comfortable, and they have the ability to keep you warm if spring weather ends up being chillier than you thought. TikToker @eqlani showed off her own personal pair of knee-high, lace-up boots in a shade of brown. She started from the bottom and laced up the boots with the hooks that were provided on both sides going up the front. 
Advertisement
Finally, she tied the strings together in a perfect bow at the top. Fashion Shoes House offers a pair of tall lace-up boots that include the perfect amount of stitching, a square heel, and a rounded toe. If you love the idea of wearing boots made out of leather, this is a shoe style that looks amazing when it's made out of true leather. Tall lace-up boots look just as incredible with faux leather, though, so don't fret. You can rock a pair and still be environmentally conscious.
Denim heels
Denim heels are the way to go during spring 2023 due to their versatile flair and amazing appeal. According to Cotton Works. denim has been around in pant form since 1860 when Levi Strauss & Co. decided to make major waves in the world of fashion. People were looking for clothing that was a bit softer with less chafing potential. Denim ended up checking all the boxes. Although denim was popularly worn by farmers for a while, it eventually became a far more widespread thing to wear for everyone.
Advertisement
Denim has been hyped up for decades and has an incredibly rich history. The idea of denim heels simply makes sense when you take its background into account. The Jeans Blog notes that denim trends circulate every few years. Even though denim heels might not have been exciting or trendy last year, spring 2023 is the ideal time to give them the attention and clout they truly deserve.