This Affordable Perfume Is The Perfect Dupe For Prada Candy
When the smell of a beautiful perfume moves you, it can be hard to get it off of your mind. Is it not true that perfumes have the power to transform us and transport us to another place? Before we encountered that smell, we would never be the same. Conceived in 2011 under the supervision of Daniela Andrier (via Cision), the legendary perfumer who's created scents for Miu Miu, Valentino, Yves Saint Laurent, and more, Prada Candy has earned its place in the ranks of unforgettable perfumes.
Categorized in the warm and gourmand scents by Sephora, Prada Candy is one of those perfumes that makes you crave a sweet treat, like a caramel that melts in your mouth or a puff of pink cotton candy. And with all of the warmth of a vanilla candle, this fragrance is one that will wrap you in sweetness, but for a price — $96 for 1.7 fluid ounces, to be exact. Should you be hesitant to spend on a scent, warm vanilla perfumes are some of the most popular on the market, per Salon Today, and we have tracked down a few dupes.
The best dupes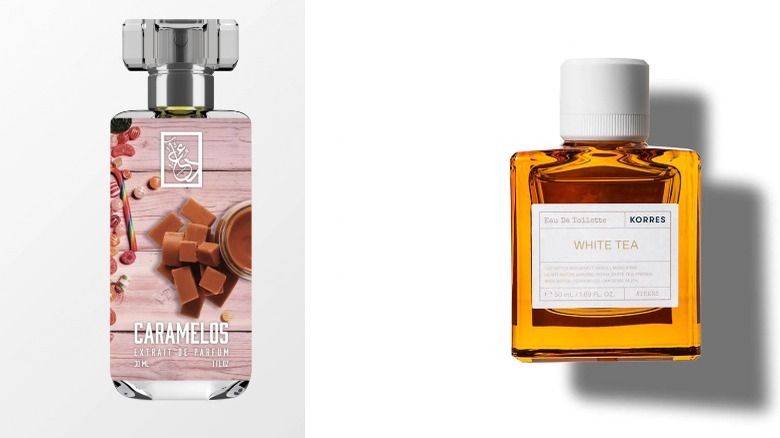 The Dua Brand/Korres
The main notes in Prada Candy are white musk, benzoin (a sweet-scented resin derived from tree bark per Carrément Belle), and caramel accord. The best dupes of the perfume should include these notes or some like it. Per Fragrance Review, one of the best dupes of Prada Candy is Caramelos by the Dua Brand, which retails at $50 for 1 ounce. While this dupe is just slightly less expensive than the original, according to its description, it was literally inspired by Prada Candy and made with the scent in mind, hitting each of its notes. It also boasts more longevity than the original.
Another medium price range dupe is Black Sugar by Korres, which retails at $54 for 1.7 fluid ounces. An eau de toilette, the scent will be slightly lighter than that of Prada Candy, an eau de perfume, but promises to be just as sensational. Per the website, Black Sugar has top notes of caramel and heliotrope (a sweet floral scent per Carrément Belle), heart notes that include rose and cotton sugar, and base notes that include vanilla bean and white musk. One way to make an eau de toilette last longer is to moisturize your body before spraying so the scent sticks to your skin, per Real Simple.
This perfume could be the one
And one last dupe for Prada Candy is Candy by Wicked Good. Priced at $49.95 for 1.7 fluid ounces, the fragrance even mentions Prada Candy in its description and includes notes of white musk, benzoin, and caramel accord, just like the original. This dupe also comes in a multitude of sizes, so if you are curious just how similar the comparison may be, you could test it out with a sample size first.
Per the description, the wearer of this perfume has never been one to hold back from going to extremes, always allowing their impetuous, childlike nature to flourish. So if you are a bold perfume wearer or simply looking to increase your sillage, this fragrance could be the one for you. There is no question that Prada Candy falls into the league of one of the most iconic scents on the market. Should you be looking for more dupes of iconic scents, we found that this affordable perfume is a perfect dupe for Chanel No. 5, and this fragrance is a perfect copy of Armani Si.