Sustainable Ways To Approach Gift-Giving This Holiday Season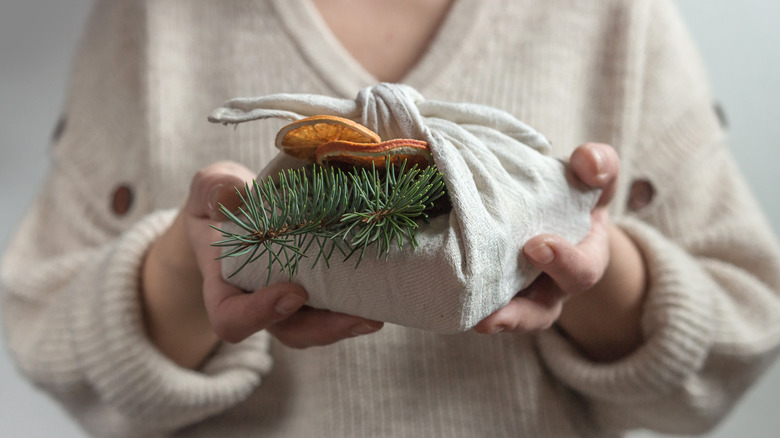 Shyntartanya/Shutterstock
As the public eye has increasingly turned toward environmental issues, sustainability has become a hot topic. From energy-saving appliances and light fixtures to a new emphasis on recycling and responsible sourcing, both individuals and organizations are looking for ways to lower their carbon footprint and enact green initiatives. Business Wire reports that more than a third of consumers worldwide are concerned with sustainability to the point that they'd pay more for eco-friendly options. And an overwhelming 85% have already started shifting to greener purchasing habits.
Advertisement
But these eco-conscious efforts often run into a major hurdle at the end of the year — namely, the holiday shopping season. Between Thanksgiving and New Year's, Americans throw away an extra 25 million tons of garbage, including such items as gift wrap and holiday cards (via Stanford). Factor in food waste, unneeded gift items, and all the other trappings of festivity, and the holidays can quickly get bogged down by excess.
Not only is this terrible for the environment, but it can also dull the shine of your celebrations. According to a survey conducted by OnePoll, 54% of people cited wastefulness as something that dented their holiday excitement (via Talker). And even the greenest nature lovers can struggle with this conflict between holiday abundance and wastefulness. After all, everyone wants to be generous to their loved ones. So how can you enjoy more sustainable holiday gift-giving without sacrificing your seasonal cheer?
Advertisement
Rethink your holiday gift wrapping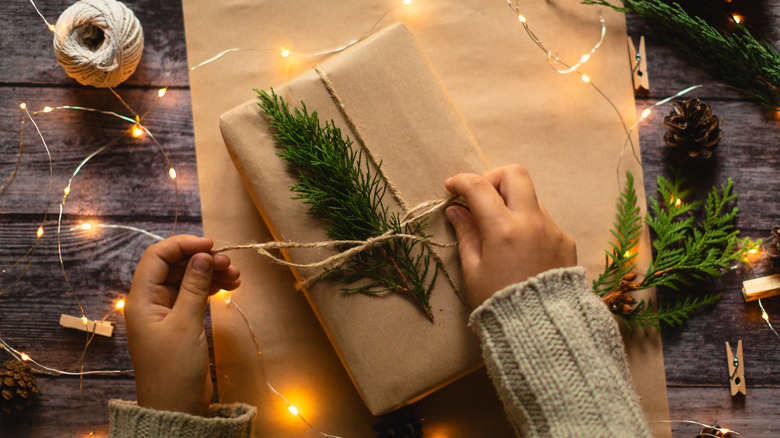 Natalia Lebedinskaia/Shutterstock
One of the easiest ways to become more sustainable this season is to reconsider your approach to gift wrapping. Instead of contributing to the waste of wrapping paper, try some cute alternatives. Newspaper, brown packing paper, magazine cutouts, or even kids' drawings and coloring pages can make for fun and festive gift wrap. Just layer your upcycled paper of choice and accent with a ribbon or bow — or, even better, a bit of gorgeous, eco-friendly greenery — to add a shabby chic twist to your pile of holiday presents.
Advertisement
Printful also suggests trying out the elegant Japanese tradition of furoshiki cloths. These swaths of beautiful, reusable fabric can be tied and knotted around gifts for a look that's vibrant and charming without creating unnecessary waste. And you don't have to buy these specially — as Ecocult points out, cute thrifted linens like handkerchiefs and tea towels make for eco-friendly and inexpensive wrapping.
You can even turn your favorite fabric into truly reusable gift bags. "In our family, we actually have cloth bags that I made years ago," Liesl Clark, co-founder of Buy Nothing, tells Yahoo Life. "They just have a little cinch tie at the top. And it's so easy. You pop your gift in there and put it underneath the Christmas tree. All these beautiful, multicolored holiday bags are under the tree — and there's no waste. After the whole day is done, you don't have a room filled with all the wrappings and trappings of the holidays. Then, we just fold them up and reuse them the next year."
Advertisement
Go for outside-the-box gifts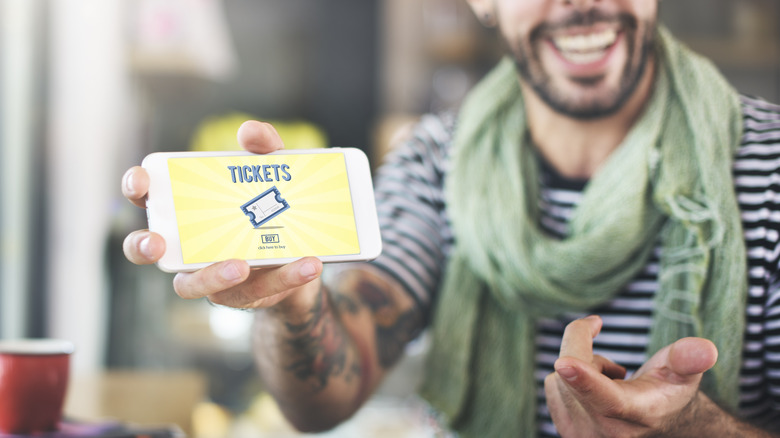 Rawpixel.com/Shutterstock
You can also embrace sustainability through the gifts themselves. We've been trained by capitalism and the siren song of Black Friday sales to associate gift-giving with store-bought merchandise. But you can give just as much joy, if not more, with presents that fall outside the box. For instance, experiences make fabulous gifts. Not only can they be very personal, but experiences allow the recipient to extend their sense of fun and anticipation (via AmazingCo). Whether you offer up a restaurant gift card, coveted concert tickets, scuba lessons, or even a tattoo voucher, gifting an experience will probably be much more memorable than yet another bath bomb or pair of fuzzy socks.
Advertisement
And what about shopping second-hand? While many of us may love treating ourselves to the bargain finds at our favorite thrift store or consignment shop, the idea of second-hand gifting often causes a knee-jerk reaction of horror. We're taught to think that choosing a pre-loved item as a present is stingy or insulting. But thanks to rising costs and inflation, this standard may be changing. A study by OfferUp reveals that 78% of Americans are likely to include pre-owned items in their gift haul this year, so now's your chance to break the stigma (via Cision).
If you're truly trying to make your holiday experience more sustainable, consider joining the majority and buying some items second-hand. Not only is this good for the environment, but it helps your budget go further — meaning you may be able to treat your loved ones to something special that would normally be out of your price range. From refurbished electronics to haute couture fashion or accessories, finding high-quality used goods can be a win-win for everyone involved.
Advertisement