How To Rock The Oversized Clothing Trend When You're Petite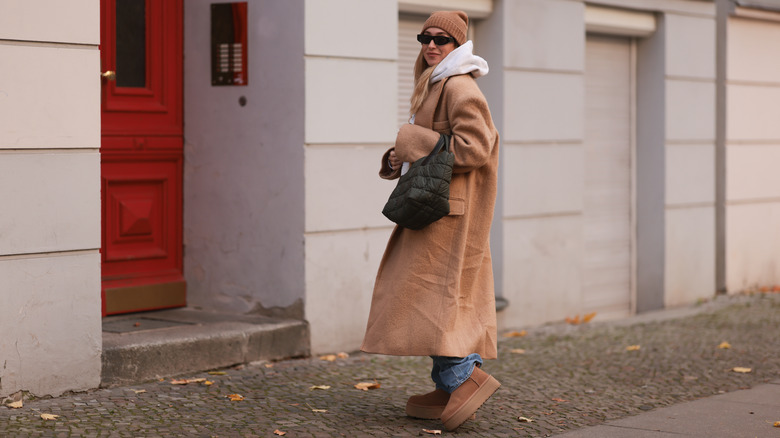 Jeremy Moeller/Getty Images
If there's one trend that isn't going anywhere in the post-lockdown world, it's oversized clothing. The comfort of wearing baggy jeans and oversized hoodies has become a staple in the fast-fashion industry and has even made its way to the high-fashion world. Various designers have created collections containing dramatically sized clothing as part of this continuing trend that favors comfort and volume over restrictive pieces. Oversized clothing is also part of the resurgence of '90s fashion, which saw baggy everything as the norm. Zadrian Smith, one of the stylists from Zadrian + Sarah, tells Vogue, "We're seeing a return of '90s trends in general, and we really love to see the re-emergence of hugely oversized pieces — they can be so fun to play with."
As Smith points out, playing with dramatically large pieces can be a fun experiment in creativity. But what if you are petite? Those who stand under 5'3" will discover that this is one of those trends that is simply challenging to pull off. Any petite person knows that one of their general style rules is to avoid oversized clothing that can drown the body. However, with the oversized clothing trend taking over, this seems harder to do. Harder, but not impossible, because thankfully there are ways you can pull off this look even if you are short-statured.
Balance is key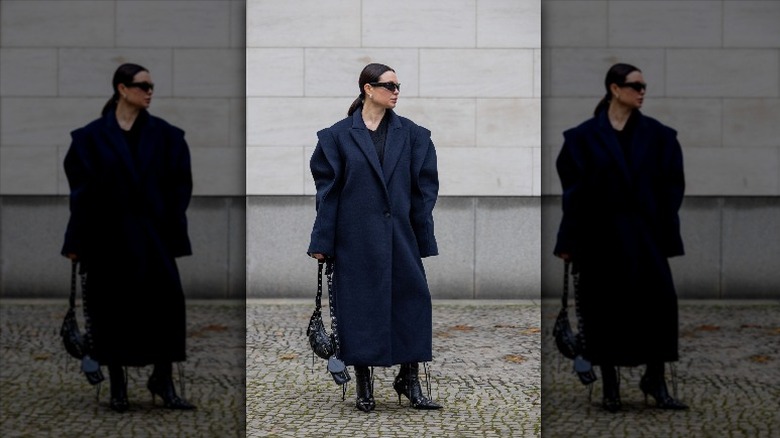 Christian Vierig/Getty Images
When it comes to trying the oversized clothing trend as a petite person, it can be overwhelming to find a way to rock multiple oversized pieces. Thankfully, you don't actually need to wear large clothing from head to toe to pull off this trend. According to Short Story, balancing out an oversized piece with a tighter one is the best way to prevent yourself from being drowned by clothing. If you plan to wear baggy jeans styles like flares, wide-legs, or straight-leg jeans, try pairing them with a tighter top and slimmer, pointed shoes. This combination of oversized and fitted will create a thoughtfully balanced look.
Petites' Department adds that there are other ways you can add balance to an oversized look. Besides going for a fitted piece along with an oversized piece, you can pair a masculine piece with a feminine piece. Try pairing an oversized coat with a feminine slip dress, for example. One of the best rules for petite people to follow when styling oversized pieces is to ensure the oversized piece looks like it was intentional and not like you picked out the wrong size.
Choose your pieces carefully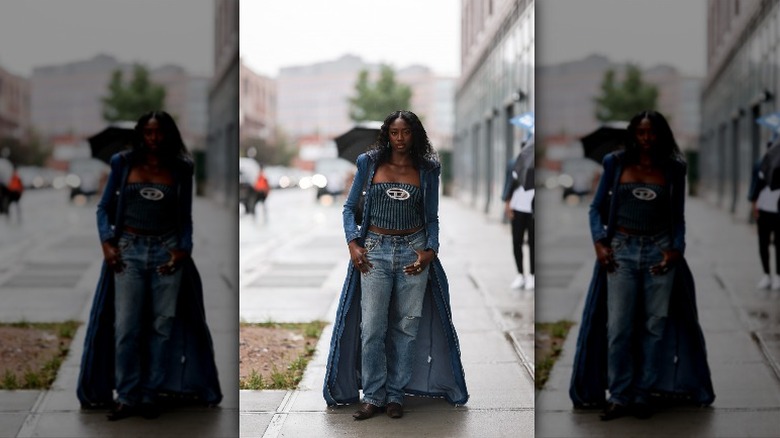 Jeremy Moeller/Getty Images
Wearing oversized clothing can be as easy as picking the correct pieces. As a petite person, you can't simply go up in size and hope to get the same effect. As Lands' End explains, the first option for buying oversized should always be with a piece made especially for petites. Going up in a regular-size garment isn't ideal as certain details might not hit your body the way it's designed. For example, going up in regular ripped baggy jeans might cause the rips to hit the wrong parts of your legs, making the entire outfit look sloppy. Certain details such as holes, slits, and stitching can make your outfit look ill-fitting.
Naushin, the fashion blogger behind So Fresh & So Chic, details how accessories can help create a stylish oversized look. Heeled shoes can give you extra height, making pieces look much more intentional on a petite body. Heels can also help when wearing wide-leg or flared jeans, as they create the illusion of longer legs. Accessories like belts on coats and dresses can also help define your waistline which creates the illusion of longer legs.