How To Rock The Bold LED Liner Trend That's Taking Over On TikTok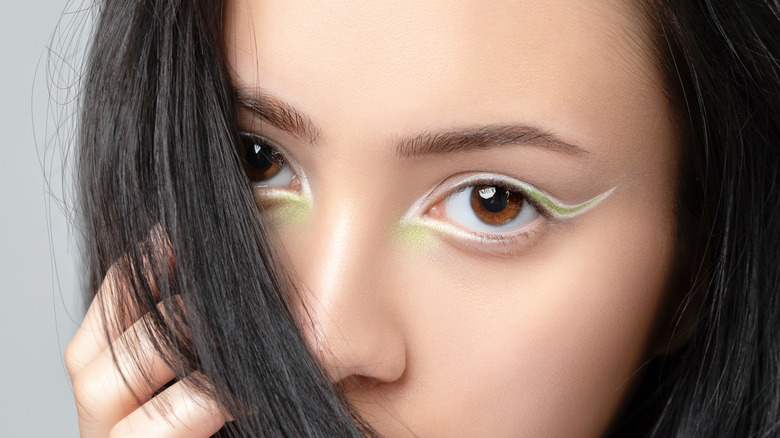 Dimid_86/Getty Images
We may receive a commission on purchases made from links.
Move over, barely-there eyeliner. Nights on the town are about to get a ferocious upgrade with the arrival of a hot new makeup look: LED liner. As much as we love a fresh face and the clean girl aesthetic, this irresistibly glowy, neon-inspired technique is not to be missed.
Speaking to Byrdie, beauty expert Beth Gillette explains that LED eyeliner offers maximum wow factor with minimal effort. "Colored eyeliner is a quick way to amp up my look, and it doesn't feel heavy on the eyes. ... For anyone who thinks they can't 'pull off' colored eyeshadow, try colored liner. It's definitely like dipping your toe into bright makeup."
And it seems the beauty world is taking notice. The hashtag #ledeyeliner already has over 140,000 views on TikTok and only continues to grow in popularity. But what exactly is the LED liner trend, and how can you get in on this fierce look?
What is LED eyeliner?
LED eyeliner is a quick and effective way to incorporate colorful makeup into your routine without breaking the bank. Contrary to what the name might imply, there are no lighting tricks or stick-ons involved with the LED makeup look. Rather, the LED eyeliner aesthetic uses careful layering of brightly colored eye products to create a luminescent finish that seems to leap off your skin.
The key to this show-stopping vibrance? To make richly pigmented eyeshadows blaze even brighter, they are applied over a stark white base. "That contrast gives off a colored LED-light look," makeup artist Ehlie Luna tells Popsugar. Painting color over a white undertone makes it "appear brighter and with more dimension, like that of a neon sign."
Fearlessly bold, the LED eyeliner look is perfectly suited to special events where you want to make a statement — whether that means hitting the club with the girls or glamming up a New Year's Eve party. So how can you tackle this trend and make it your own?
How to get the LED liner look
In a sassy yet easy-to-follow TikTok tutorial from makeup artist Monica Ravichandran, who goes by the username @makeupbymonicaa, she breaks the LED liner look down into a few crucial steps. First, she suggests laying down an optional layer of dark eyeshadow to help your neon liner really pop. Over that base, Ravichandran advises drawing the desired outline in white liquid eyeliner or eyeshadow base. In this case, she creates a hollow cat eye using P. Louise Eyeshadow Base in the shade Rumour 00, a pure white tone.
Once the white outline is in place, Ravichandran goes over it with her neon eyeshadows. While she uses a variety of colors like orange, yellow, and green pigments from Makeup a Murder, any vivid, high-saturation shadow will work well here. For instance, the perennial fan favorite Nyx Ultimate Shadow Palette in Brights would probably give a great bang for your buck.
For extra brightness and dimension, you can also go over the aesthetic with repeated layers of white liner and eyeshadow as Ravichandran does in her final look. Result? An eye-catching effect perfect for any night out.