Astrologers Say These Are Luckiest Days To Have A Wedding In 2023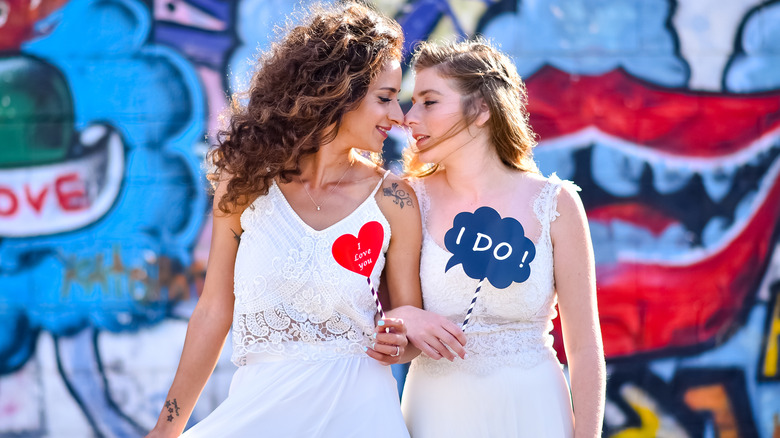 Lital Israeli/Shutterstock
For those who are really into astrology, deciding when to get married is all about the stars. If the stars aren't aligned perfectly so as to bestow the best of luck, then it's better to choose another day. Considering the average wedding will set you back about $28,000 or $34,000 if you include the engagement ring, it only makes sense that people choose dates that are most likely to bring the best fortune their way.
"The date of a wedding can actually underlie the overall tone and energy surrounding a marriage," astrologer Julia Arielle Modorsky tells Brides. "Although there are a plethora of wonderful dates to get married, here are some astrologically-significant dates to consider when looking to tie the knot in 2023."
If you're planning on getting married in 2023, get ready to take notes. Remember, the wedding may be one day, but marriage is, well, supposed to be for a lifetime, so if astrology is where you put your faith, then you want to get it right.
The luckiest dates in the winter and spring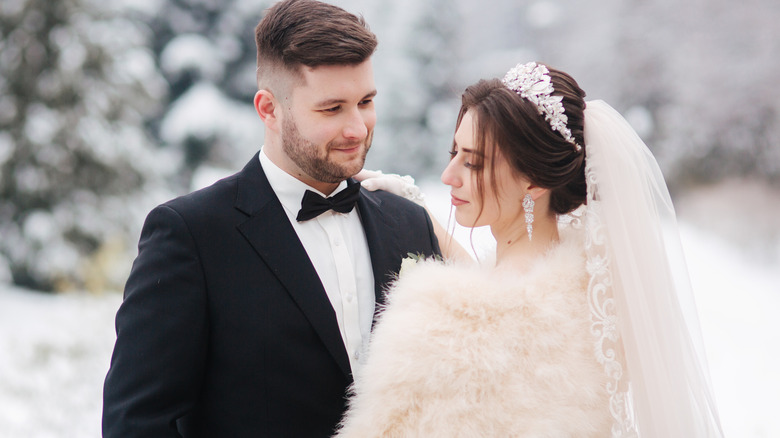 Oleksandr Hrytsiv/Getty Images
If you'll be tying the knot in the winter or spring of 2023, you want to look at January 22, March 21, April 11, or May 19.
But before you stress out about moving your wedding date, these aren't the only lucky days for winter and spring — there are more! As wedding expert and author of "Lucky in Love: Traditions, Customs, and Rituals to Personalize Your Wedding," Eleni N. Gage tells The Knot the following are also considered extremely lucky, so mark your calendars now: January 9, 12, and 21; February 2, 8, and 26; March 2, 14, and 19; April 1, 9, and 26; May 6, 12, and 21.
If you're looking for further proof that these dates are the dates, the Chinese Calendar will offer you the confirmation you need. The Hindu calendar, too, notes when Shubh Muhurat is throughout the year if your beliefs are more aligned with the Hindu religion and culture. Basically, sticking to any of the noted dates will find you the best of luck for your wedding date. 
The luckiest dates in summer and fall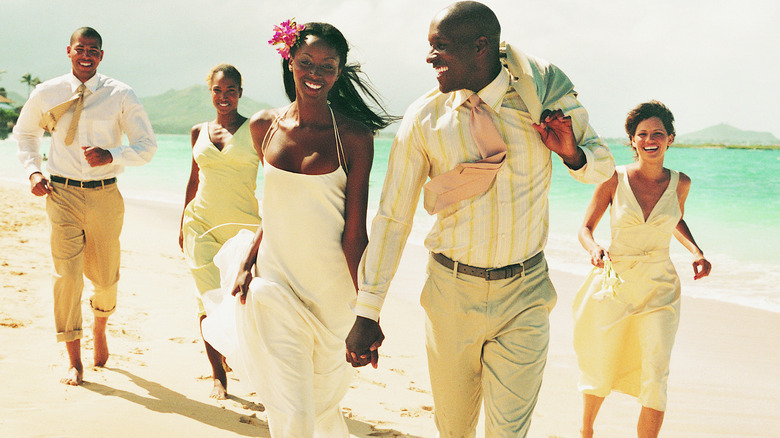 Digital Vision./Getty Images
If you're planning a summer or fall wedding, then these are the dates you want to try to get that dream venue for June 17 and June 21.
"On both dates, active Mars and loving Venus will be aligned in vibrant, expressive, and fun-loving Leo, and seriously committed Juno will be aligned with the Sun," astrologer Julia Arielle Modorsky tells Brides. "While the Moon joins the Sun for a fresh, new beginning on June 17, the Moon will join Venus and Mars to bring in more feeling and emotion to the Venus-Mars duo on June 21."
But hold on before demanding your deposit back from that aforementioned dream venue because there aren't just two dates to choose from. According to The Knot, these, too, are simmering with good fortune for a long and happy marriage: June 3 and 8; July 1, 7, and 20; August 1, 7, and 28; October 3, 12, and 28; November 5, 17, and 29; December 2, 13, and 21.
The unluckiest dates for a wedding in 2023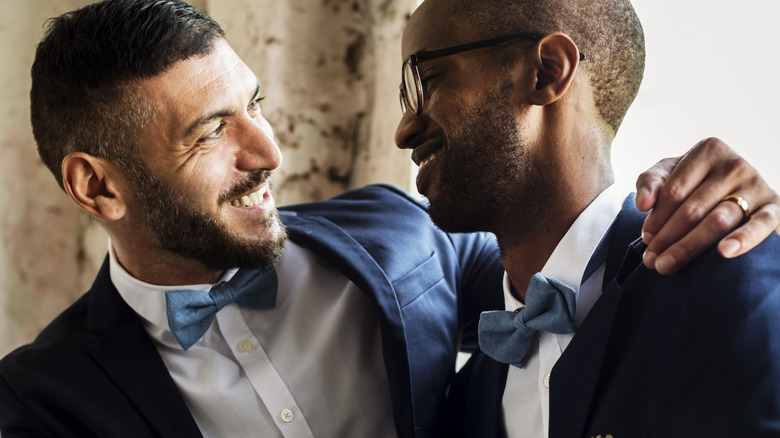 Rawpixel/Getty Images
If you're going to let the stars dictate when you do major things, like getting hitched, you might as well have a clear idea of what dates you should avoid like the plague.
"Considering auspicious dates is just one more way of being intentional about planning your wedding," wedding expert and author of "Lucky in Love: Traditions, Customs, and Rituals to Personalize Your Wedding," Eleni N. Gage tells The Knot. "On a practical note, no one can argue with luck (or sentimental value). So, if you want to get married on the anniversary of the day you met (because how lucky was that day?), then no one can be annoyed if it falls smack in the middle of a holiday weekend or on a Wednesday night."
So, what are the worst dates to get married on in 2023? All of September, most notably September 3.
"[In September,] the only planet free to do its own thing is Mars, the planet of war," psychic and astrologer Inbaal Honigman tells Hello. "The sun is in fastidious Virgo on [September 3], and the moon is in stress-ball Aries."
Starting off a new marriage under a planet of war and when Mercury, Venus, Saturn, Uranus, Neptune, and Pluto are all retrograde is probably not a very good beginning. Not only will communication be a mess thanks to Mercury retrograde, but with Venus, the planet of love, and Saturn, the planet of karma retrograde, that can be a recipe of disaster — if you believe 100% in astrology. If you don't, then close your eyes and put your finger on the calendar. Mazel!