How To Nail Monochromatic Eyeshadow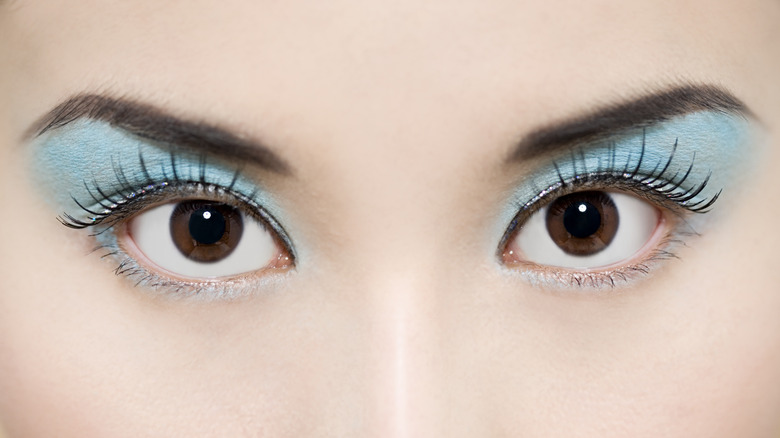 Image Source/Getty Images
Not everyone is a pro when it comes to applying eyeshadow. If you happen to fall into this category, you might be relieved to know that monochromatic eyeshadow is a trend, and it's here to stay. Monochromatic eyeshadow is exactly what it sounds like — one shade of eyeshadow worn on both lids. A spinoff of this trend is the more general monochromatic makeup look, which simply involves wearing one hue on your eyes, cheeks, and lips.
If you're more adventurous with your makeup, you might already be bored by the idea of only rocking one color on your eyes. However, Into the Gloss notes that using monochromatic eyeshadow doesn't necessarily mean you're going to end up with a flat look. "When it comes to a monochromatic eye, you can make it look more exciting and three-dimensional by playing with different textures and finishes within the same color family," makeup artist Benjamin Puckey told the outlet. Perhaps the best part of the monochromatic eyeshadow look is that it's beginner-friendly. This means that if you've only recently begun experimenting with eye makeup, this is an ideal place to start.
That being said, even experienced makeup wearers can benefit from taking a few tips and tricks into account. Here is how you can nail the monochromatic eyeshadow look, whether you're headed into the office or on your way to the party of the season.
How to nail the monochromatic eyeshadow look
To nail your monochromatic eyeshadow, you'll want to ensure you have the right tools. Grab the eyeshadow you intend to you use in the color of your choice, an eye makeup brush, a fluffy makeup brush, and eye primer. To start, apply your eye primer liberally to your lids. Not only will it give you an even palette to work with when you apply your eyeshadow, but it will extend the longevity of your makeup. As Makeup Tutorials points out, you might want to opt for a primer with a mint green tint if you need to mask blemishes or scars.
Next, use your eye makeup brush to apply your single-tone eyeshadow. Don't be afraid to add a few layers, especially if you're working with a lighter hue that you want to pop. Finally, grab your fluffy makeup brush, and lightly blend around the edges of your eyeshadow. Now, you're ready to flaunt your gorgeous eyes.
To take your monochromatic eyeshadow look to the next level, you might consider using dark eyeliner along your top and bottom waterlines. If you're feeling bold, don't hesitate to apply some volumizing mascara to your lashes. Doing so can help you draw more attention to your eyes and show off the hard work you put into applying your monochromatic eyeshadow. Top it all off with a makeup setting spray, and you'll be able to rock your look all day long.
Adding dimension to monochromatic eyeshadow
As previously noted, just because you're wearing one hue on your lids doesn't mean your monochromatic eyeshadow look is bound to fall flat. Monochromatic can be interpreted as working with tones within the same color family. "Playing with subtly different matte tones in the same color family creates much-needed depth," makeup artist Benjamin Puckey explained to Into the Gloss. If you're not afraid to venture beyond one eyeshadow for your monochromatic look, seek out other types, such as shimmery eyeshadow. By mixing and matching different types, you can add more depth — this is especially helpful if you're anxious about your monochromatic eyes looking too bland.
If bold colors aren't exactly your thing, keep in mind that it's perfectly acceptable to go neutral. In fact, you can select an eyeshadow in a warm hue that complements your skin tone. For example, those with lighter skin might want to opt for peach. If you have a more olive complexion, try a shade of pink. Those with deeper skin tones can benefit from bronze, as well as darker pink and red shades. In the end, the hue you choose for your monochromatic eyeshadow look is totally up to you. Just remember to rock a shade that makes you feel confident as well as glamorous.