The Lipstick Colors That Will Make Your Teeth Look Whiter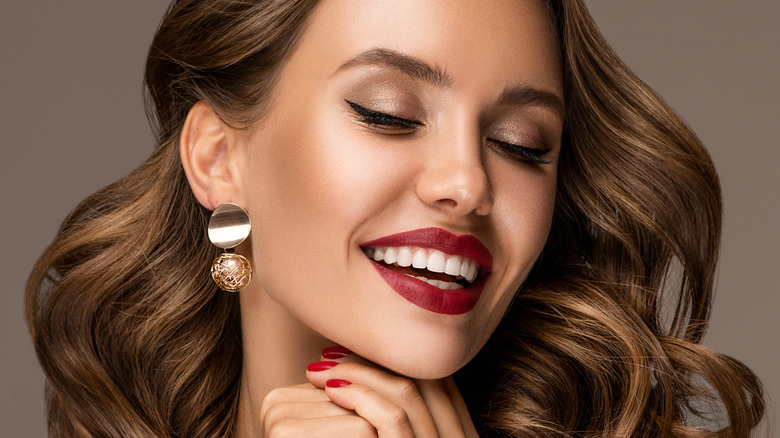 Sofia Zhuravetc/Shutterstock
We've all been there: you're on a night out, snapping photos of yourself and your girls and having the time of your life. Eventually, you take a peek at the pics, only to notice a dull, off-white smile. Sure, a quick touch-up with a photo editing app can fix that, but those pearly whites deserve to be shown off in person, too. Before you panic and rush to the drugstore for teeth-whitening strips, rest assured, it's probably not you — it's most likely your lipstick shade.
Advertisement
That's right. Your lipstick shade can create a rude illusion, making your teeth appear yellow even if they're not. Conversely, according to Dr. Rebecca Koenigsberg, who wrote a blog post for Gallery 57 Dental, choosing the correct lipstick shade can actually make your teeth appear brighter and whiter than they truly are, too. Let's face it: blindingly white teeth aren't natural, and you could have excellent oral hygiene and still lack a stark-white smile.
So, while it's normal to have off-white teeth, you may be interested in what you can do to make them appear brighter. And that's where lipstick comes in! There are lifesaving shades that will make your teeth look whiter so that you can laugh at all your best friend's jokes confidently and take as many selfies as you want without wondering if your pearly whites are actually looking pearly yellow.
Advertisement
Reach for a cool-toned lipstick shade for whiter-looking teeth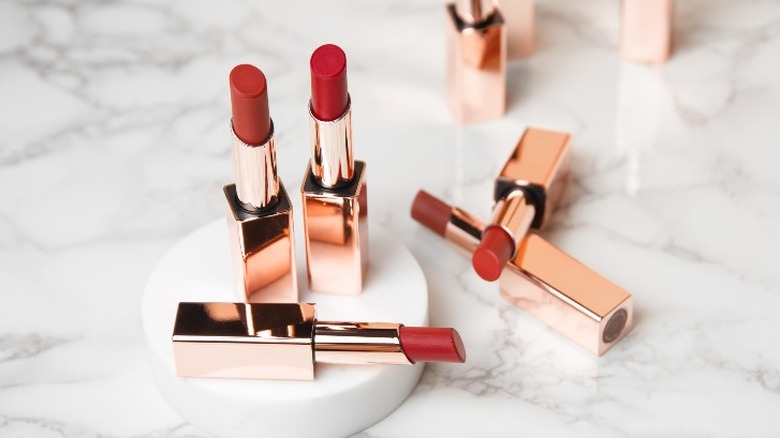 PearlWinchester/Shutterstock
If you're familiar with the color wheel, you may understand why a cool-toned lipstick shade is the best option for those who want whiter teeth. Professional makeup artist Nick Lujan best describes this when he spoke with Who What Wear, saying, "You want to move directly across the color wheel from yellow to spot colors that would work to brighten up when partnered with your smile. In makeup, the goal would be to choose shades of lipstick that contain a bit of blue/purple in their base."
Advertisement
Therefore, a cool-toned red lipstick color with a tint of blue undertones may be the best option for making your teeth look white. But if you aren't into red shades, you can go the dusty pink or mauve route as well, as long as the undertones aren't orange or warm-toned. Maybelline New York also recommends "berry lipstick" shades, keeping in mind its cool undertones of blue. You want to stay farthest away from warm shades on the color wheel directly next to the yellow.
For those who love a dark lip, we have sad news. You may want to hold off, at least on the ones that have brown hues. Very dark shades have a habit of spotlighting yellow teeth, as most tend to be on that warm-shade side. However, if you can't stay away from vampire-esque shades, reach for a dark purple, as long as, you guessed it, the undertones are cool.
Advertisement
How to tell if your lipstick is cool toned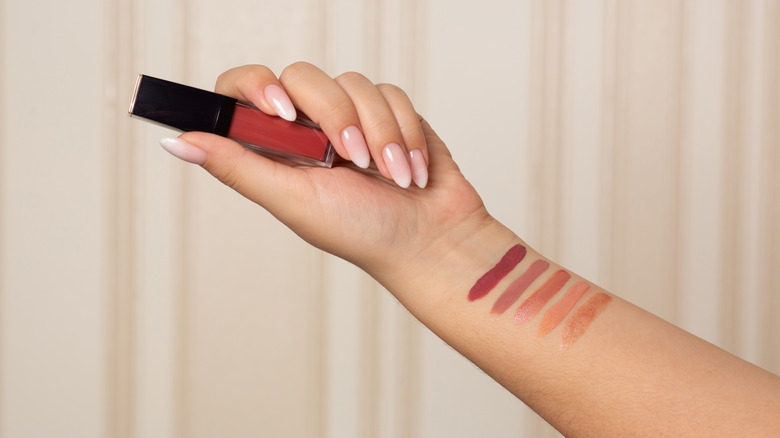 Viktoriya Pavliuk/Shutterstock
Now that you know the best colors to reach for when seeking a pearly white smile, you may be left with another lingering question: how do I know my lipstick is cool-toned? Beauty expert Tracey Brown revealed in a YouTube video posted by eHow how you can spot a cool-toned lipstick. According to Brown, it may be obvious once you swatch it on the back of your hand. Then, you can compare other similar shades in your collection to narrow down the best cool-toned shade.
Advertisement
It may also be helpful to apply some of the lipstick on a white piece of paper. Does it wash the paper out and make it appear more yellow? That may be an indication of how it will look when compared to your teeth. Or, grab something blue near you and compare the lipstick swatch to it, as recommended by Maybelline New York. Pay attention to the way the lipstick color compliments (or doesn't compliment) that blue object. It may be too warm-toned if it looks off-putting next to the blue.
Color theory is complex. While it's easy to feel overwhelmed and discouraged when figuring out your perfect lipstick shade, remember that lipstick is meant to be fun, and it's totally temporary. Try different shades in your collection and hold a piece of white paper next to your smile to see which ones closely match. And if it turns out you're way too in love with a warm-toned color, rock it anyway!
Advertisement