How To Lay Edges Straight From The Pros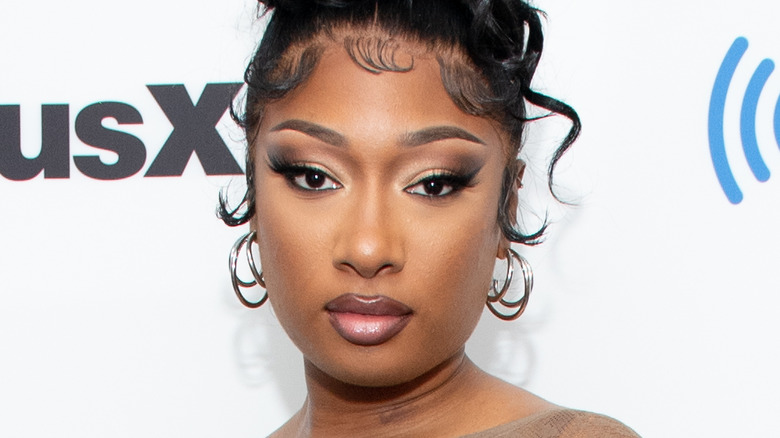 Noam Galai/Getty Images
We've all seen it on the red carpet — baby hairs front and center on the faces of beautiful celebrities. While it has technically been trendy for decades, Nylon notes that styled edges are making a big comeback. "The baby hair look has definitely made a huge comeback because it's an easy way to dress up just about any hairstyle," hairstylist Jamie Brice explained to the publication.
In many cases, edges or baby hairs have been styled to help frame the face. Different stars have sported varying looks over the years, with some women going as far as to even play up their sideburns. If you're lucky enough to have these delicate wisps of hair, you might want to style your own edges. However, the use of one wrong hair product can lead to a lot of regret and a fear of trying to lay your edges again in the future.
As it turns out, styling your baby hairs can be just as challenging as getting the rest of your locks to cooperate to achieve a specific look. The products you use play a role in this, such as your choice of brush. If you want to flaunt a new look by the means of your hairstyle, here is how to lay your edges like a pro.
How to lay your edges like a professional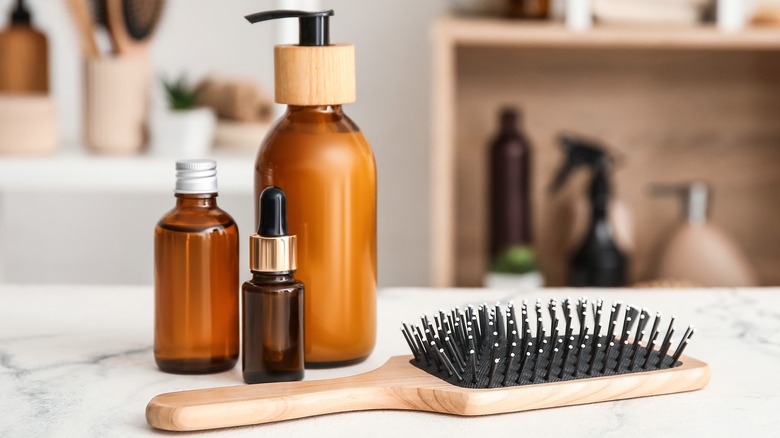 Pixel-Shot/Shutterstock
To lay your edges like a pro, it's important to begin with damp hair. If you haven't just rinsed or washed your locks, use a spray bottle to lightly spritz your baby hairs. Then, it's time to gather the tools and styling products you need to create a look that will last.
While some choose to use a boar-bristle brush, using a finer tool, such as a clean, unused toothbrush is even easier. It might sound strange at first, but the small bristles of a toothbrush will give you all the control you need to style your baby hairs. Dampen the toothbrush, and then brush your edges forward, down the front of your forehead. Now, you're ready to style.
The most popular products for styling baby hairs are gel and pomade. Regardless of which option you choose, look for a product that is specifically designed for edges. Those that contain less alcohol are also ideal if drying out your hair is a concern. Apply the styling product to your brush, and begin to shape the edges. You can either curl them toward your hairline for a more natural look, or play with waves and curls. Once you've finished styling your edges, set them in place by wrapping a satin or silk scarf against your hairline. A narrower scarf is best for some extra security. Keep the scarf in place for at least a few minutes — the longer, the better.
Tips and tricks for styling your edges
If you're still relatively new to styling your edges, there are a few tips and tricks you can try to take your look to the next level. While dampening your baby hairs is an essential first step during styling, moisture is critical in general. Many styling products, for example, contain ingredients like alcohol, which sap moisture from hair. If your tresses tend to be dry, don't hesitate to moisturize your edges with a lightweight hair lotion or milk. This can give your hair a helpful moisture barrier. Just remember to work the product all the way through your edges to reap the full benefits.
Maintaining the overall health of your hair can also do wonders once it comes time to style your edges. While speaking to Oprah Daily, hairstylist Susy Oludele recommended cleansing your hairline every night with a damp cloth. Doing so can prevent any buildup along your edges that might make it more difficult once it's time to style them. Finally, if you feel like you're going too hard while trying to accomplish the perfect look, take a step back. Overusing products, applying too much heat, and over-styling can all result in damage to your tresses. By caring for your hair before, during, and after styling, you can maintain its health and beauty over time.