How To Do The 'Twist And Clip' Method For Perfect Air-Dried Hair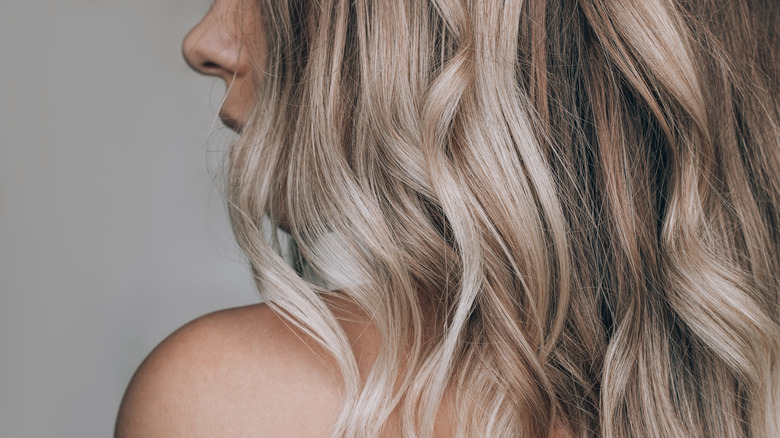 Marina Demeshko/Shutterstock
If you're a loyal fan of your blow dryer, always reaching for it on hair wash day, we get it. Blow-dried hair, especially with the proper technique, provides that bouncy volume many people prefer when styling their hair. But sometimes, you may need to give your hair a much-needed break away from heat, as too much can be detrimental to your locks.
"If direct heat is put onto the hair, that targeted heat can be too much for the hair to handle," Ro Johnson Wilkerson, senior manager of scientific communications in beauty care at Procter & Gamble, told Well + Good. "As a result, the outer surface of your hair can be destroyed." This may lead to those ever-so-common damaged hair issues, such as breakage, dryness, and brittleness.
Even though blow-drying your hair is relatively safe and healthy to do, there are days when air-drying is a better option. And before you cringe at the idea, rest assured that air-dried hair is not synonymous with fizziness and dullness. And according to hair care brand Abyssian, there are significant advantages, like maintaining moisture and keeping breakage at bay. But if your hair is often lifeless when you air-dry it, we have good news! You can implement techniques to give you perfect air-dried hair, one of which is the "twist and clip" method.
Twist your damp hair to produce the perfect beachy waves
The twist and clip hair method is brought to you by TikTok (shocker!) and created by the founder of the hair care company Crown Affair, Dianna Cohen. In the TikTok video, Cohen releases her freshly-washed locks from a towel and continues with essential hair care steps. After gently combing through her hair with a wide-tooth comb, which she advises is the best tool to use on wet hair, she applies a leave-in conditioner and oil to "lock in moisture and enhance shine."
Then, Cohen sections her hair down the middle. She takes the framing bits at the top, one section in each hand, and twists them away from her face. Then, she secures the twisted bits together on the crown of her head with a small claw clip. She takes the bottom section of her hair and does the same, only this time twisting toward her face, securing the twisted bits together with a clip beneath her chin. She goes about her day while her hair dries. Once she takes the clips out, she is left with gorgeous and natural waves.
If you don't have claw clips on-hand, secure the twisted bits into your bra strap or clip them to your shirt to ensure they stay perfectly in place while drying. Any hair type can benefit from this technique, whether naturally curly, straight, or wavy, as twisting the hair gives each hair type something it needs, such as added texture or definition.
Tips for sprucing up air-dried hair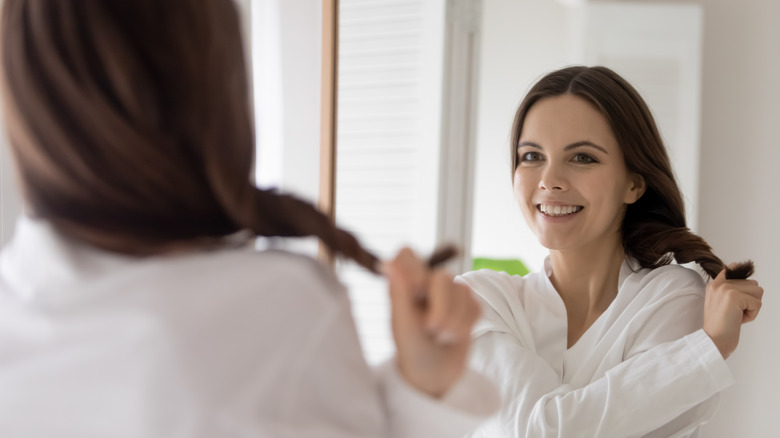 fizkes/Shutterstock
After you remove your twists, you may notice it's still a little flatter or frizzier than you'd like. This is normal, especially depending on your hair type and texture. However, you can take steps to remedy this issue, and a few of them should be implemented before you even get out of the shower. According to The Cut, don't skip on conditioner, and turn the water temperature down when rinsing. Shampooing with warm water will thoroughly remove dirt and oil from your hair, while the cold water locks moisture into the cuticle.
When you get out of the shower, the products you apply to your hair before twisting is also essential, especially if you are prone to dry, flat, and frizzy hair. Function of Beauty recommends running some leave-in conditioner through your strands and reaching for a mousse for that extra volume. You can also apply some root-lifting spray to give your roots a little pick-me-up.
Once your hair is dry, reach for a shine spray or light-hold hairspray to decrease any leftover frizz and flyaways. Avoid running a paddle brush through the hair, as that can cause those beachy waves to frizz. Instead, try a wide-tooth comb or even your fingers to smooth out any tangles if present. Then, say hello to natural, healthy, and gorgeous-looking waves.