We've Found The Key To Dopamine Dressing This Winter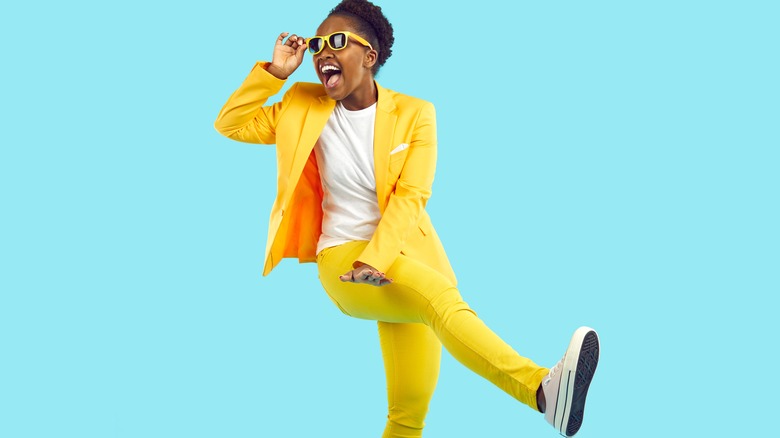 Studio Romantic/Shutterstock
For a long time, fashion has been one of the best ways to express the current state of the world. Amid global events, fashion trends have long been one of the ways we can track the overall state of mind of the global population. While this concept has always existed in some form, the onset of the COVID-19 pandemic made the very idea of dopamine dressing more appealing. After all, dopamine dressing is simply wearing clothes that make you feel happier. Although everyone's definition of what makes them feel good is different, it's generally equated with bold colors and prints. The idea is to wear what makes you happy and bright, even if your surroundings aren't as joyful.
Many have researched the correlation between wearing specific colors and the emotions they can create in humans. This dynamic between emotions and colors is one way that people can maneuver a cold and dark winter season. As simple as it may seem, wearing vibrant colors or prints can be one way to curb low moods and stress while building one's confidence and esteem. This winter, dopamine dressing has evolved and become even more mainstream.
How to use dopamine dressing this winter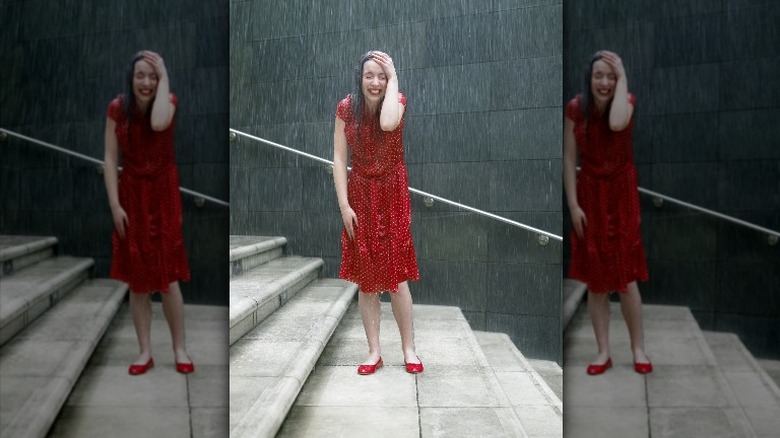 Michael Blann/Getty Images
Although wearing head-to-toe might not be everyone's style, this winter is taking a cue from richer colors and prints that might appeal more to the masses. According to Pinterest's Trend Report, some of the most popular colors to add to your dopamine dressing are fuchsia and electric blue. Other top dopamine dressing trends include gradients and rainbow patterns, as well as vibrant outfits in general. While a bold color like fuchsia may be overwhelming to handle from head to toe, you can slowly incorporate these two colors into your look. For winter, simply pair a sweater of fuchsia and electric blue over your favorite denim jeans and under a coat for a hint of dopamine dressing.
Fashion influencer @tessavmontfoort shares on Instagram another simple way to add fun and happiness to your outfit. Something as simple as a bold-colored coat can help add a splash of brightness against a winter's dark sky. Tessa shows how a two-piece loungewear suit in a fun print can also be used in winter to bring a smile and to keep warm in cold weather. The purpose of dopamine dressing is to use whatever clothing makes you happy to help navigate a season that usually brings about mental health issues, including seasonal affective disorder. 
If you or someone you know is struggling with mental health, please contact the Crisis Text Line by texting HOME to 741741, call the National Alliance on Mental Illness helpline at 1-800-950-NAMI (6264), or visit the National Institute of Mental Health website.
Styling ideas for dopamine dressing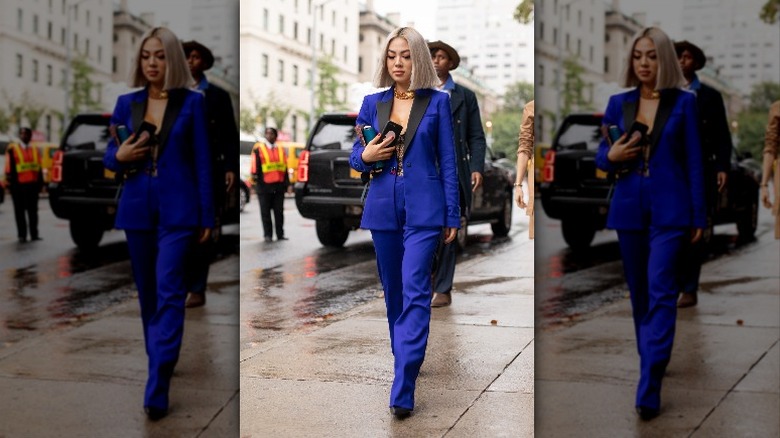 Matthew Sperzel/Getty Images
If you plan to use the dopamine dressing trend this winter, there are many ways to go about it. Recently, Pantone released its choice for color of the year for 2023: Viva Magenta. Pantone explains that this shade of magenta is the perfect base for experimenting and releasing creativity. With it being a darker statement color, magenta is an ideal pick to incorporate into your dopamine-dressing wardrobe, if neon colors are not your fashion choice. Coming from the red family, magenta also shares the common characteristic of exuding power and royalty. To style magenta into your wardrobe, try adding various accessories in the shade like bags, jewelry, or shoes.
On this, Dr. Dawnn Karen, a fashion psychologist and professor at the Fashion Institute of Technology, explains to Byrdie, "I'm giving you permission, as your fashion psychologist, to wear prints, to wear textures, to wear bright colors in the winter. Do what you have to do to uplift your emotions to activate that dopamine." Karen explains that dopamine dressing doesn't necessarily need to only be colors or prints. Knits and cashmere are two textures that can perfectly embody the feeling of coziness and warmth. Adding these two textures to your look can also qualify as dopamine dressing. However you plan to use dopamine dressing is up to you, but know that the purpose is to help bring some sunshine to a cold season.