Party Girl Fashion Is All The Rage Right Now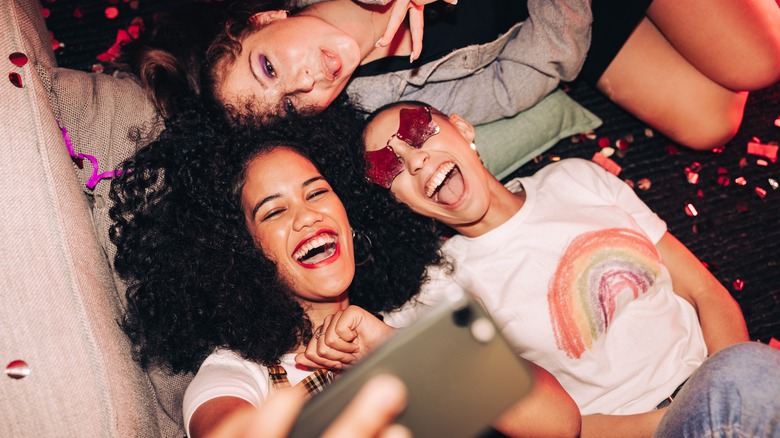 Jacob Lund/Shutterstock
You know TikTok's "clean girl" aesthetic and lifestyle that's all about eating healthy foods only, using countless face sheets/masks, drinking citrussy water instead of alcohol, and dressing in minimalistic, chic pieces? In other words, it's a lifestyle focused on trading wild late nights out for productive early mornings. Yes, it's healthy. Sure, it's cute. And it's every party-loving night owl's worst nightmare. But "clean girls" aren't the only people trending on TikTok.
Meet the clean girl's ultimate opposite: the "feral girl," a lifestyle-turned-aesthetic that embraces partying so hard that the antics seem, you know, feral. Thanks to TikTok's "feral girls," partying all night is trendy again, so there's no need to make excuses about why you were out so late last night — embrace the party-girl lifestyle if you like it, because it's back with a bang. Plus, Y2K fashion is back in 2022, and no one knows how to party like the girls from the early 2000s, so Y2K-inspired outfits are all about night-out looks. Now's the time to let out your inner party girl!
Show as much skin as you want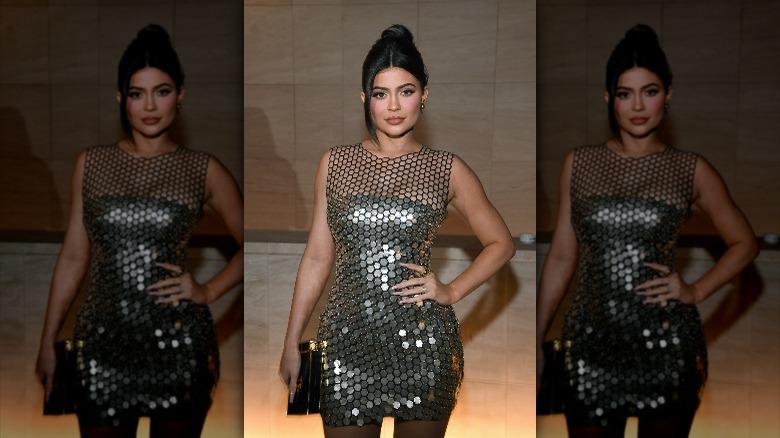 Kevin Mazur/Getty Images
No matter what colors, patterns, and designs you wear, most party-girl-inspired outfits have one aspect in common — they show a lot of skin. After all, party scenes like nightclubs, raves, and bars get crowded and hot fast, so revealing outfits often allow for the most comfort on a night out. Plus, many of today's fun-loving celebrities aren't afraid to show off some skin, leaning into the party-girl fashion trend while keeping it hot. One of those sexy-dressing celebrities is Kylie Jenner, who's never afraid to flaunt her body in provocative bikinis, sheer garments, and bold costumes that leave little to the imagination. Regarding her seductive ensembles, the celebrity said, "I'm still a mom, but these are the years that I'm supposed to be naked, with my t*****s out, a** out, f*** yeah" (via TikTok). The audio has become trendy on TikTok, so much so that actor and singer Lea Michele of "Glee" fame posted a video of herself in a revealing outfit with Jenner's audio in the background.
Another relevant celebrity who embraces the sexy look is Emily Ratajkowski. In mid-October, the supermodel poked fun at her provocative outfits by posting a TikTok in a see-through, netted piece, dancing in a party scene, with background audio that ironically talks about wearing casual fashion. If you want to wear party-girl-inspired ensembles like Jenner and Ratajkowski, invest in some sheer pieces, bra-tops, and bikinis.
Think back to iconic party girls and look on Instagram
Steven Lawton/Getty Images
As much as we adore Kylie Jenner and Emily Ratajkowki, many of the most unforgettable party-girl outfits we've ever seen come from Kate Moss, the supermodel whose '90s looks were sexy, striking, and party-ready. After all, who can forget about her famous see-through dress paired with black underwear and no bra (via Who What Wear)? So, why not go sheer for a Moss-inspired look for your first night out in 2023? And we can't forget about Paris Hilton, the Y2K icon famous for her revealing and low-rise pieces featuring bright hues and sparkles (via Instagram).
It's so much fun to see celebrities flaunting party-girl fashion, but you don't have to be famous to rock the trend. You just need to be comfortable in your skin with no fear of attention. For more relatable inspiration regarding this trend, you can find many outfits inspired by the party scene on Instagram, such as ensembles featuring sparkly low-cut tops, short shorts, and colorful hair. Bright pink and red pieces are perfect for this loud trend, too!
So, are you ready to show off your bright, bold, and sexy sides as you explore the party girl fashion trend?