What Should A Male Bridesmaid Wear To The Wedding?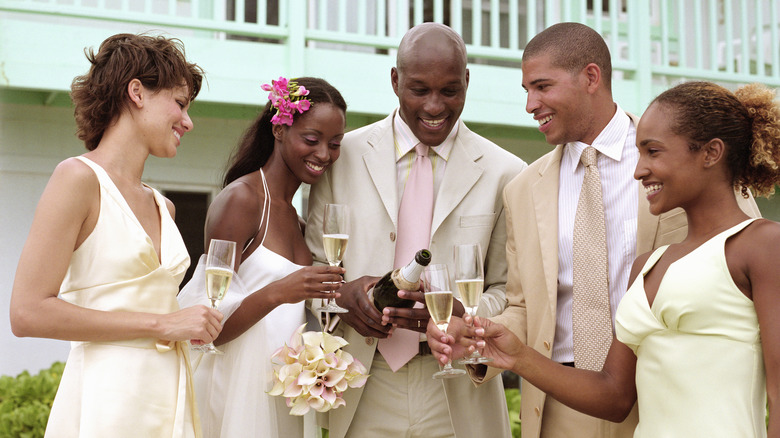 Digital Vision/Getty Images
No written rule requires all the men in your wedding party to stand next to the groom. And remember — for women-loving-women relationships, there may be no groom at all! While some etiquette and traditions have continued their hold on society for decades or centuries, some brides-to-be may want to depart from the status quo. For upcoming brides with dear male friends or family members, you will be happy to know that bridesmaids are not your only option.
While most of us have seen wedding images of bridesmaids all dressed the same and standing next to the bride, a younger generation of newlyweds have begun to downplay the gender roles associated with traditional wedding ceremonies. In fact, mixed-gender wedding parties are growing more popular than ever before. 
Some weddings featuring a bride and groom have not forced friends of the opposite sex to stand on the other side of the aisle. For instance, a bride's brothers or male friends stand among bridesmaids, and vice versa for a groom with sisters or female friends. Likewise, for same-sex marriages, mixed-gender wedding parties keep friends of each bride and bride or groom and groom on their best friend's side of the aisle. But, of course, that leaves one question after deciding to depart from tradition: What should your bridesman wear?
Here's how to plan your bridesman's outfit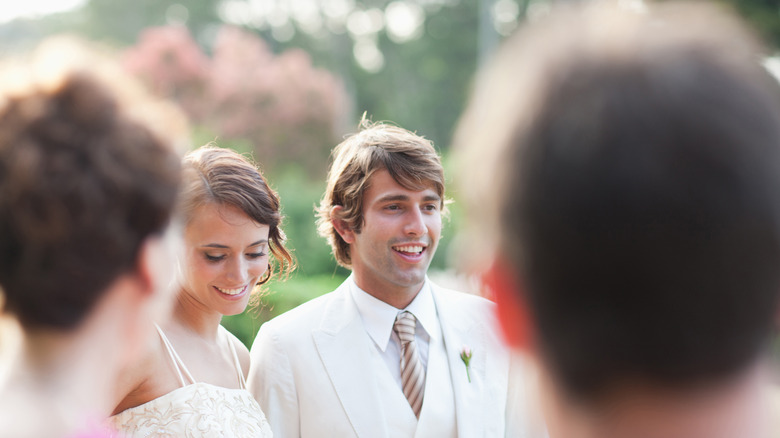 Paul Bradbury/Getty Images
Years of tradition have given brides-to-be a clear idea of what bridesmaids typically wear. However, the rising popularity of inviting close male friends into the bridal party has left some wondering what their bridesmen should wear. The most important part of planning your bridal party's outfit – for male or female members – is ensuring everyone feels confident and comfortable. Be open to having genuine conversations while letting your bridal party know the colors and aesthetics you have in mind. Just as all bridesmaids don't have to wear the exact same dress, the same can be said for bridesmen. A List survey found that many brides are opting for mix-matched bridal dresses that range in either color or style, with jumpsuits and dresses as options for bridesmaids.
That said, consider what your bridesmen would be comfortable wearing. Many choose to wear suits similar to the groomsmen. However, if you want to change up the look to indicate that these guys are your friends, you could match bridesmen ties to the bridesmaids' dresses. According to Wedding Shoppe Inc., this is a simple way to achieve an elegant look for your mixed-gender bridal party while complementing the bridesmaids' attire. 
Accessories perfect for a bridesman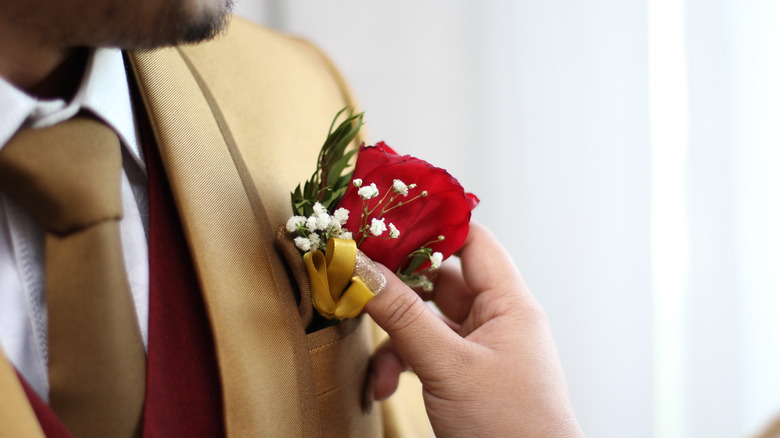 Riocool/Getty Images
If you want your bridal party to stand out, consider diverting from the usual black-and-white suit-and-tie look that has been seen at so many weddings. Once you have the color scheme picked out for your wedding, you can plan outfits for both your bridesmaids and bridesmen. Pairing complimentary colors can keep your wedding party from being confined to only neutrals, according to The Knot. This may be especially fun for women-loving-women relationships when both have mixed-gender bridal parties, with each bride choosing a color or shade specific to her friends. For instance, sage green is one of the biggest bridal trends of 2022. A range of colors compliments sage green, including pastel pink for a more traditionally feminine look, deep olive greens, or oak-inspired browns.
Taking our example, let's imagine "Bride A" chooses sage green for her bridal party and "Bride B" opts for a deep olive green for hers. Bridesmaids can wear jumpsuits and dresses styled in ways that flatter their body types in the respective colors for their side of the aisle. And for bridesmen, a color-coordinated vest or boutonniere can liven up the solemn look of a suit and tie. For those who are even more adventurous, suit jackets in the respective colors could be an option for a bolder look.