What's The Difference Between Bronzing And Contouring?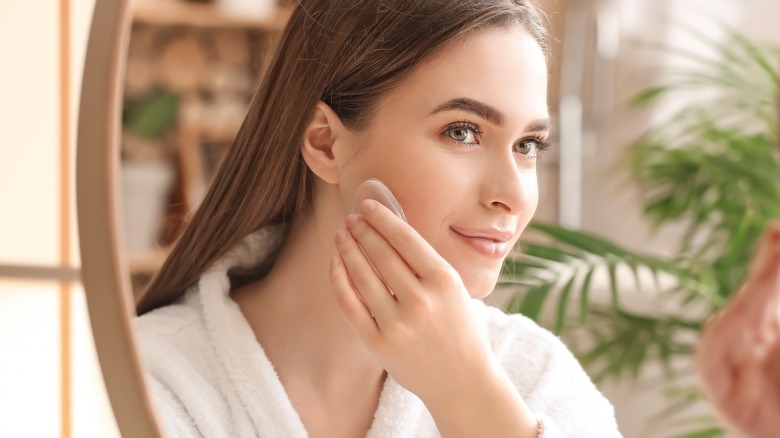 Pixel-Shot/Shutterstock
We may receive a commission on purchases made from links.
Anyone who is a beauty lover has definitely heard of and used bronzer and contour products. These products are usually found next to each other at any beauty store due to their similar offerings. However, bronzing and contouring aren't the same thing. While many products offer to do both, bronzing and contouring are different beauty practices and deliver different results. Because of this, bronzer and contour products require different colors and tones to do their jobs. Even though multi-tasking products are ideal for saving money, time, and space, they might not deliver the best results.
Although you may not want to spend money on various makeup items, having the right product for each technique is essential. The right color and tone is the key to perfect bronzing or contouring. Like the difference between spot correctors and under-eye concealers, each product has to have a different color to serve its purpose. Once you know the difference between them, you will be amazed at the results of your new makeup looks.
What are bronzers?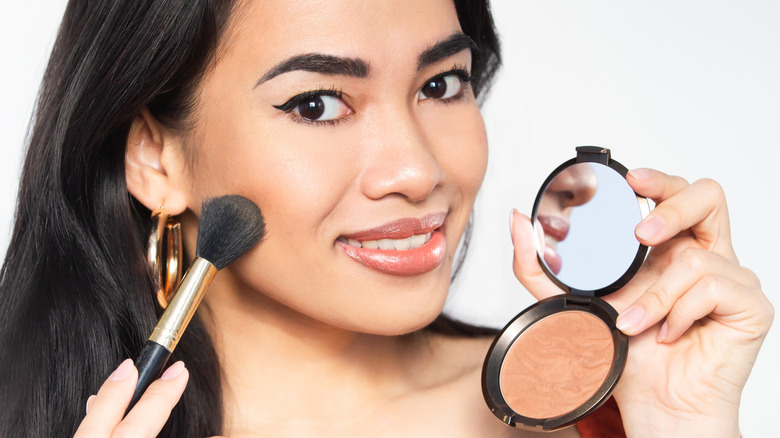 Tiwiplusk/Shutterstock
While bronzing and contouring add depth to the face, bronzing is more about adding warmth to the skin. In fact, bronzer mimics the same time of glow that you get when the sun hits your face. A good bronzer will give you a sun-kissed glow even if you aren't on vacation. Because bronzer gives you this glow, these products tend to be warmer in tone. You'll usually find bronzers with an orange, red, or yellow undertone. Moreover, bronzers tend to have a shimmery finish to give a highlighted, sunkissed sparkle.
Some ideal places to add bronzers are high points that get directly hit by the sun. These places include the cheekbones and the outer corners of your forehead. You can even add bronzer to the tip of your nose to get the appearance of a tropical vacation. If you plan to show off your chest, you can include a bit of bronzer to your collarbones. When applying bronzers, remember to hit all the high points where you would also add products like blush and highlighters.
What is contouring?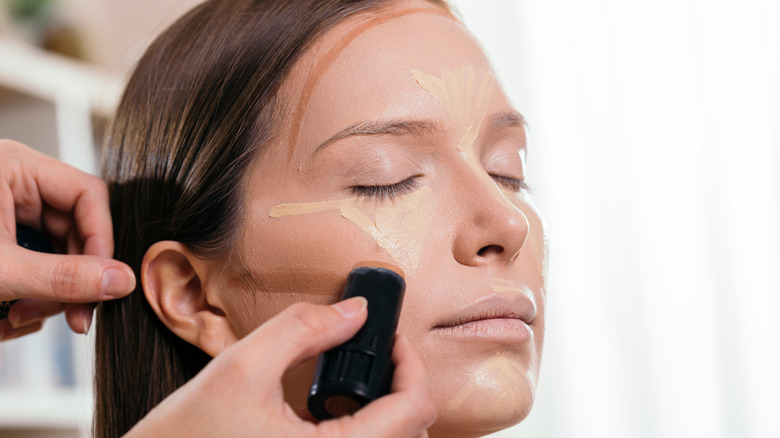 Impact Photography/Shutterstock
Like bronzing, contouring can add depth to the face. However, the principal purpose of contouring is to add dimension to your face. Contouring helps you define your face shape and uses shadows to create more depth. Unlike bronzers, contour products emphasize shadows to create the appearance of chiseled cheekbones and a stronger jawline. Contour products can also help make the appearance of significantly fuller lips.
Charlotte Tilbury adds that contour products typically come in cooler tones than bronzers. The best contour shade for you will be close to the color of your natural shadows. These tones mean that your shade is more specific to your skin tone rather than the type of warmth you want to add. For contouring, you need to place the product in the hollows of the face. Unlike bronzers, the placement of your contour needs to be exact to get a better sculpt. Use the natural shadows on your face as a guide to accurately place your contour. Ensure that you blend out the product to get a natural finish and avoid a streaky application. No matter the formula, you should contour in a straight line for a targeted application.