Embrace Gorgeous Locks With Minimal Upkeep With The Low-Maintenance Tiramisu Hair Trend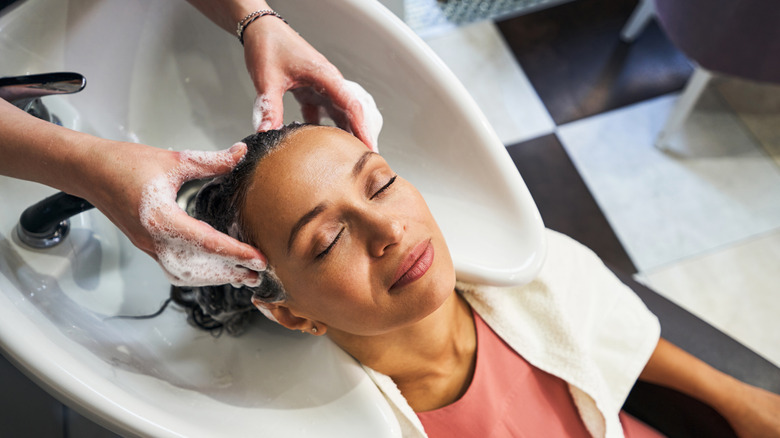 Yacobchuk/Getty Images
When it comes to hair trends, there's always a new color becoming popular and shaking up salons. Recently, we saw various shades of brown become some of the top trending colors of 2022. Shades like expensive brunettes or blended bronde become some of the most sought-after colors at the salon. In fact, Cassondra Kaeding, a Redkin ambassador, explained the 2022 hair color trends to Behind The Chair, saying, "Brunettes are going strong for this year. All shades from warm to cool tones and also [dimensional] brunettes with movement like babylights and some beautiful balayage pieces." These hair colors have ample blending, leaving you with a beautifully dynamic hair color.
Advertisement
While brown shades may have ruled 2022, blond will always be in style. The newest hair trend is an example of how it's possible to turn your hair into a delicious mix of browns and blonds. Its name? The tiramisu hair trend. This trend is the next up-and-coming hair color that will have you booking your next hair appointment. Already a favorite among celebrities, the tiramisu trend is named after the dessert for its unique take on colors. Even though it may be odd to ask for tiramisu-inspired hair color, rest assured that it is quickly becoming a common phrase among hair lovers.
What is tiramisu hair?
Thanks to actor Emma Roberts, tiramisu hair is the newest hair color trend to take over. Roberts' new hair color, which mixes in blond with the addition of a few darker hues, was created at the Los Angeles-based salon Nine Zero One. Co-owner and hairstylist at Nine Zero One, Nikki Lee, tells Byrdie, "Holiday hue tiramisu is a great switch up for all the blondies out there. Instead of feeling like you need to tone down for fall/winter, add some rich depth at the root and a few lowlights like I did on Emma here. It allows you to keep all the rest of your bright blonde pieces. It's a fun, subtle change and gives your hair a little break too." So while you might be on the fence about dying your hair a darker shade, tiramisu hair gives you the best of both colors without the hair damage.
Advertisement
The tiramisu hair color also serves as an easy way to maintain your roots if your base is dyed. If your base color is blond, like Roberts, the soft but darker shade near your roots will conceal any roots that might be growing out. Instead of having to repeatedly head to the salon for a touch-up, tiramisu hair will conceal the roots for a longer time. This low-maintenance color is a great way to pull off a natural-ish hair color while maintaining the depth of having shades of darker layers.
Hair color trends similar to tiramisu hair
If you're still not convinced about tiramisu hair, there are plenty of other variations that might suit your style better. Root shadowing is a low-maintenance hair technique that could be your solution for rich, easy hair. Root shadowing, like in the tiramisu trend, involves leaving your roots in their natural color while the rest of the hair is a contrasting shade. If you want to stick with a blond shade, try a platinum or bright blond hair color with ashy-toned roots and strands. This combination will give you the same concept as tiramisu hair but with a cool tone throughout the hair.
Advertisement
One of the more complicated hair colors to add depth to would be darker shades. Unlike blond, black and dark hair has to lighten up to add depth and movement. To add a dynamic touch, incorporate highlights or babylights to create this contrast. On this, hairstylist Jason Lee tells The Zoe Report, "Anyone can be an expensive brunette but the healthier the hair, the shinier it will appear. With this shade, varying tones from warm to golden hues will add multi-tonal elements throughout the hair." While you might not get the same effect of tiramisu hair, you can combine brown and black shades to your hair to get the same depth.