14 Best Curling Wands For Every Hair Type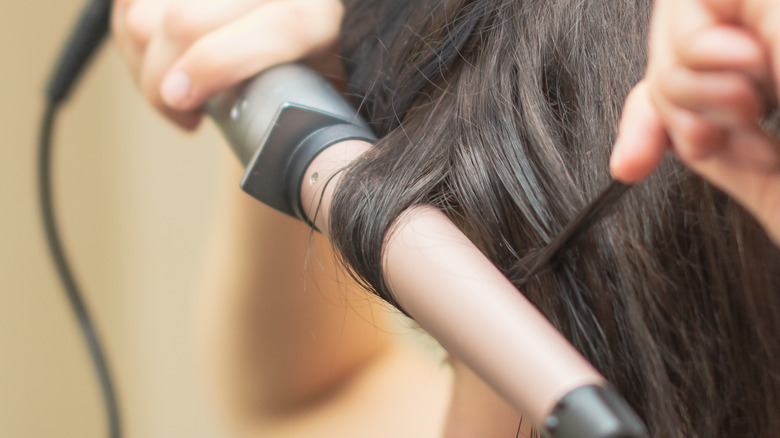 Vladimka production/Shutterstock
Perfectly curled locks have been a popular hairstyle for all genders for many years. In fact, according to Curling Diva, hot tools to temporarily curl hair have been traced back as far as 1500 B.C. to when Ancient Egyptians used curling tongs made of bronze heated over a fire. Thankfully, today curling irons are much more regulated, easier to use, and widely available to buy. One type of curling tool that has risen in popularity is the curling wand. All wands have similar handles without a clamp. For some, this makes it easier to use compared to a normal curling iron because you simply wrap your hair around the hot barrel which removes the risk of kinks and hair caught in the clamp.
Curling wands can vary by diameter, material, and shape of the barrel. Tighter curls can be achieved with thinner barrels while beachy waves can be created with thicker ones. The material of the barrel itself can also affect the longevity of the curl and the health of your strands. Many curling wands today are made with Teflon, titanium, tourmaline, or ceramic rods. Innovative wands can even be infused with things such as keratin, argan, and coconut oils for shinier locks.
Read on for our favorite curling wands for every type of hair.
How we selected products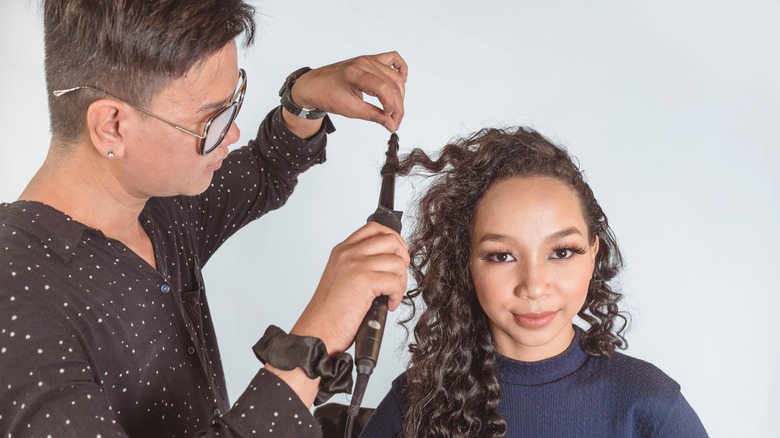 Mdv Edwards/Shutterstock
Today there are countless ways to achieve beautiful waves, soft ringlets, and tight curls. From the cult-favorite and brand-new Dyson Airwrap model that dropped last summer to the influx of how-to TikTok videos that show how to create perfect heatless curls, it's hard to know where to start when finding the right method for you. Knowing your specific hair type and hot tool preference can help narrow your options down, however, with so many different appliances out there, you'll likely need to consider a few more factors.
Obviously, for this list, we decided to focus on curling wands. We considered buyer reviews and social media trends, as well as brands' statements about the materials, science, and achievements behind their curling wands. In considering these descriptions, with the prices, styles, and, of course, hair types, we found many incredible options that shouldn't disappoint. We hope that you'll find at least one curling wand on this list that will suit your hair type and give you the perfect waves or curls that you've been searching for.
Best overall curling wand
The NuMe Classic Curling Wand is available in six different colors and three different barrel sizes. The wand has quickly become one of NuMe's best-selling products, and for good reason. This curling tool provides salon-quality waves every single time. It features the unique technology of an infrared light strip built into its plates. The wavelengths from this light allow the infrared heat to go even deeper into the hair shaft for better moisture retention and extra-quick styling.
Purchase the NuMe Classic Curling Wand at NuMe Hair for $83.
Best affordable curling wand
Hot tools for your hair are not often wallet-friendly. Many of the best curling wands are well over $100. However, the Curlipops Tourmaline + Ceramic Curling Wand made by Bed Head has stayed at a reasonable price for more than a decade. This trusted curling wand is best used to create hairstyles with looser curls that add texture and volume to your mane. It is known to be easy to use, quick to heat up, and very good for its price.
Get Bed Head Curlipops' Tourmaline + Ceramic Curling Wand at Ulta Beauty for $32.99.
Best luxury curling wand
The Dyson Airwrap has had its moment since it came out in 2018. If you've been on social media since its release, you've seen the beauty community go crazy over it. In 2022, there are many cheaper dupes for this curling wand, however, there might be nothing as good as the original. It is notorious for two things: creating the perfect blow-out curls and being difficult to use. However, user @alexamcmanaman on TikTok shows beginners how to use it and gives some helpful tips
Buy the Dyson Airwrap Multi-styler at Sephora for $599.
Best curling wand for thick hair
When you have thick hair, curling can be a chore. It takes a long time to curl, and when you're done, half of it has fallen flat. Drybar's The Wrap Party Styling Wand could be what you need to help. An Amazon reviewer said, "This is my new favorite hair tool! This coming from someone who has thick, naturally curly hair and doesn't often have the time or motivation to fool with her hair. I love how my curls look when I restructure them with this wand."
Get Drybar's The Wrap Party Styling Wand at Sephora for $169.
Best curling wand for thin hair
Thin or fine hair can have trouble holding a curl too. Thankfully, the NuMe Magic Titanium Ion Wand with a 19mm, 25mm, or 32mm barrel is here to help. This curling wand which heats up to 450 degrees Fahrenheit in a matter of seconds, and features a 360-degree swivel cord is recommended for hard-to-curl hair. One Amazon reviewer said, "This thing gives curls that last literally all day. With a good hairspray, I can stretch my curls 2 full days."
Get NuMe's Magic Titanium Ion Wand on Amazon for $96.75.
Best curling wand for extensions
The ghd Curve Classic Wave Wand is recommended for many different types of hair, including hair that is enhanced with extensions. As told by @Godblessjess on TikTok, the Wave Wand is preset to 185 degrees Celsius or 365 degrees Fahrenheit, which is the perfect temperature to curl your hair quickly and not damage it. Still, you should use some sort of heat protectant on your hair while using ghd's wand, just as she does in her video.
Purchase the ghd Curve Classic Wave Wand at Sephora for $199.
Best curling wand for textured hair
Those with natural curls will enjoy the Baby Curls Mini Wand by Herstyler. This wand uses a tapered barrel that is 9/18 mm. Whether you want to curl your entire head or just do touch-ups, this works wonders. An Amazon reviewer said "It can really organize messy curls. I have curly hair, but sometimes during the day or after waking up in the morning it's all messed up ... I like this Curling iron because it's ... easy to use."
Buy the Herstyler Baby Curls Mini Curling Iron at Walmart for $27.99.
Best curling wand for long hair
Those with long hair can have trouble curling it with some curling irons and wands because the barrel is too short. If this is a problem you've encountered, you might consider giving the Le Spirale Titanium Digital Curling Wand by L'ange a try. YouTuber Cheltsie Allen, who has waist-length hair, reviews the wand on her YouTube channel noting, "Their wands are my favorite tool out of everything they sell. That and the brush dryer are my favorite two."
Buy the Le Spirale Titanium Digital Curling Wand at L'ange for $79.
Best curling wand for short hair
The shorter your hair is, the more difficult — and dangerous — it can be to curl with a wand. You must get your hand close to the barrel to hold the hair, and the barrel must be nearly touching your scalp to achieve a good ringlet. The Remington Shine Therapy Tapered Curling Wand makes the process much easier with its cool-touch tip. It also comes with a heat glove to wear during styling to prevent burns.
Buy the Remington Shine Therapy Argan Oil & Keratin Tapered Curling Wand at Target for $24.99.
Best curling wand for beginners
At first look, the Bed Head Tourmaline Ceramic Bubble Curling Iron Wand can be intimidating. It doesn't look like your average curling iron as it features a unique, bubble-like shape. However, it is thought to be one of the best hot tools for beginners. A reviewer on Walmart wrote, "I've never really curled my hair, and when I did it looked bad! I've used this bubble wand 3-4 times and I love the result. Easy to learn how to use."
Bed Head's Tourmaline Ceramic Bubble Curling Iron Wand is available at Walmart for $27.56.
Best multi-purpose curling wand
Sometimes your trusty curling iron you've been using since high school can't create the trendy waves and hairstyles we see on social media today. It creates one curl pattern that might be good, but it's not new. The T3 Whirl Trio Interchangeable Styling Wand fixes this problem. With "one base, three barrels, endless styling possibilities" according to T3, this multi-purpose wand can create beachy waves, spiral curls, glamorous waves, and more depending on the barrel and technique you use.
Buy the T3 Whirl Trio Interchangeable Styling Wand on Amazon for $325.
Best pivoting curling wand
You don't know what you're missing until you've tried a pivoting curling wand. Our favorite is Kristin Ess' Soft Wave Titanium Pivoting Wand which has a handle that rotates between 180 and 90 degrees. On YouTube, influencer Aglitterylife tried it and said, "This is awesome! ... I can't tell you how hard I've struggled with this side of my hair. I always have great curls on this side and then wonky curls on this side. .. Is that the struggle or is it just me?"
Kristin Ess' Soft Wave Titanium Pivoting Wand is available at Target for $70.
Best curling wand to achieve tight curls
If you want gorgeous Taylor Swift "Fearless" era curls, the Chi Lava Ceramic Tapered Hair Styling Wand is what you need. This wand makes for small to medium-sized smooth curls and waves. An Ulta Beauty reviewer described it saying, "All Curling irons and wands I try, my hair is flat 20-30 min after curling. NOT THIS ONE. I'm on day three ... with zero product in my hair. I love the super touchable curls. ... This is a GO TO product!"
Get Chi's Lava Ceramic Tapered Hair Styling Wand at Ulta Beauty for $89.99.
Best curling wand for achieving bouncy waves
On TikTok, user @Basicallysharpy shows off the '80s-inspired locks that she created with Sultra's The Bombshell Rod. For wispy and bouncy curtain bangs, she uses the 1-inch barrel beneath her bangs and curls them under for maximum volume. The rest of her hair she curls normally but holds each section in her hand to let it cool every time she removes the iron. This curling wand can be used to create several looks, all with equally voluminous and bouncy waves.
The Bombshell Rod Curling Iron by Sultra is on Amazon for $99.