Le Labo's Iconic Scents Now Come In Haircare Form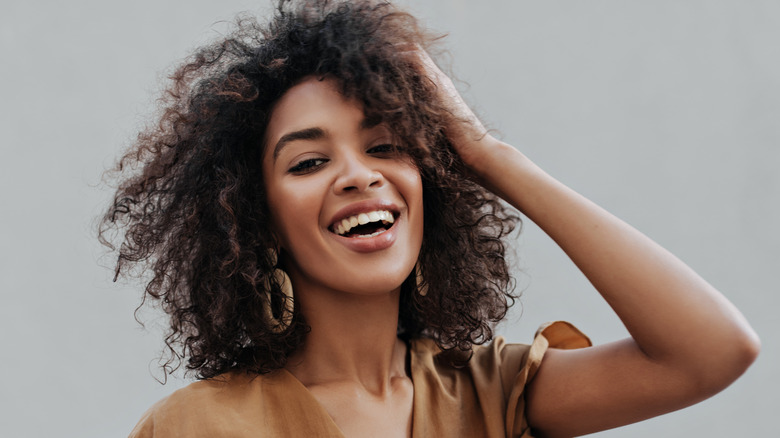 Look Studio/Shutterstock
Whether it's a classic fragrance or a trending one, everyone has a preferred scent that they would happily wear daily. While people will typically have differing opinions, there's one brand that seems to get universal approval. Le Labo has become one of the most popular brands for its scents and products that everyone just seems to enjoy. Since the release of the first scent in 2011, Le Labo has made its mark and can now pride itself on having cult status. Many fragrances we know and love today have become iconic due to the company's long-standing history. However, Le Labo has shown that despite its young history, it's one of the most sought-after brands.
When speaking about the creative process of making new scents, Le Labo's co-owner Fabrice Pinot told Fashionista, "I imagine the pleasure someone will have by spraying this perfume I am working on, or smelling it on someone else."
If there's one thing Le Labo knows how to do, it's break the mold and bring life to different aroma blends. These carefully formulated scents are now transcending perfumes and arriving in haircare form. Many scents that have made this brand a must-have item have now come to add richness to the hair industry. 
Which Le Labo scents can you buy as haircare?
If its candles and fragrances are any indication, Le Labo's new perfuming shampoo and conditioners collection will be your new go-to haircare range. Recently, the scent experts at Le Labo announced the arrival of their new haircare products that embody some of their most known scents. Available directly from Le Labo, this new collection is composed of the brand's four popular scents: Santal 33, Thé Noir 29, Rose 31, and Bergamote 22 are your options for amazing-smelling hair. For $60 (as of December 2022), you can take home a bottle of your favorite scent to add to your hair routine. 
While these shampoos and conditioners will ultimately make your strands smell delightful, they are also beneficial for your hair's health. Each shampoo contains B5 and aloe, that can help soothe irritated skin and improve hair texture. The conditioners contain vitamin B5, olive oil, and chamomile extract. These ingredients will help moisturize and soften the hair to give you smooth locks that smell incredible. These perfuming shampoos and conditioners are a great way to embody Le Labo's scents and get the hair you've always wanted.
How is this range different from Le Labo's Body-Hair-Face collection?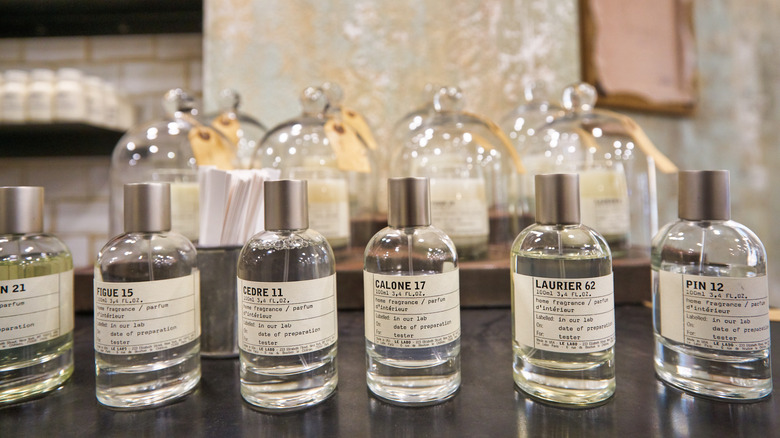 Sorbis/Shutterstock
Before the launch of its perfuming shampoos and conditioners, Le Labo released its Body-Hair-Face collection, dedicated to fortifying hair. The main difference between this collection and the brand's new perfuming products is the available scents. The Body-Hair-Face focuses on improving the hair, while the perfuming collection focuses on its signature scents.
The Body-Hair-Face collection is both plant-based and cruelty-free, per Cruelty-Free Kitty. According to Le Labo, these products come in hinoki and basil scents and are available in various sizes. Along with shampoos and conditioners, the collection includes scalp scrub and hair masks.
The Body-Hair-Face collection is the perfect place to start if you are looking to test out the hair collection from Le Labo. While the perfuming shampoos and conditioners will give you the scents you know and love, this collection comes in a variety of sizes and price ranges to get you to test out the products. Available online now, Le Labo has you covered on all of your hair care needs.