100 Years Of Fashion: Women's Bathing Suits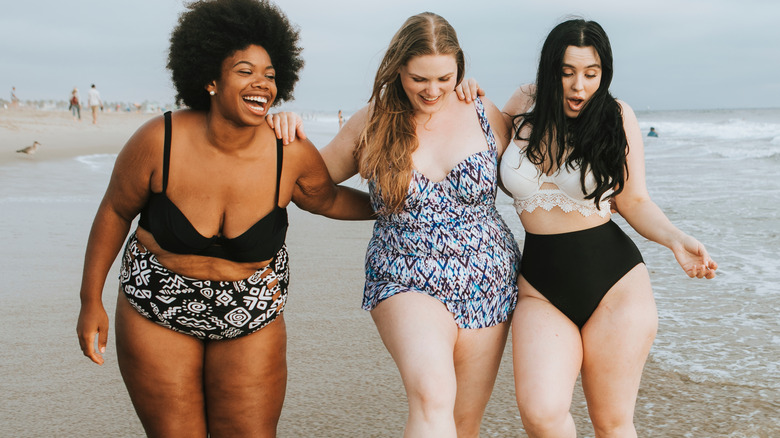 Rawpixel.com/Shutterstock
Women's bathing suits weren't always fashionable. In fact, the first swimsuits were somewhat of a drag — literally. According to the Hancock Historical Museum, women's bathing suits were designed to basically cover the entire body until around 1910. A knee-length skirt, elbow-length or long sleeves, and modest necklines were a requirement. That's not all: in order to ensure no skin was showing, women were also required to wear stockings under their swimwear so their legs would be completely covered throughout their swim session.
Advertisement
Bathing suits at the time were made from wool or cotton (and sometimes a mixture of these fabrics). If you're wondering how the ladies of the early 20th century managed to stay afloat, you're not alone. Thanks to the water-absorbent materials bathing suits were made from, they could weigh up to twenty-five pounds when women braved the water. Yikes! And there's more: Women went as far as to sew small weights to the hems of their bathing suits so the skirt wouldn't float in the water and reveal any skin, according to Insider. Bathing slippers were also incredibly popular during the 19th and the beginning of the 20th century. Usually made from felt or twisted straw, these slippers were worn to protect the feet from any shells or glass on the beach.
Advertisement
It's safe to say that bathing suits have come a long way since the beginning of the 20th century. (And we're super thankful for that!) Now, let's take a look at the past 100 years and how bathing suits have evolved over time.
1920-1929: modesty matters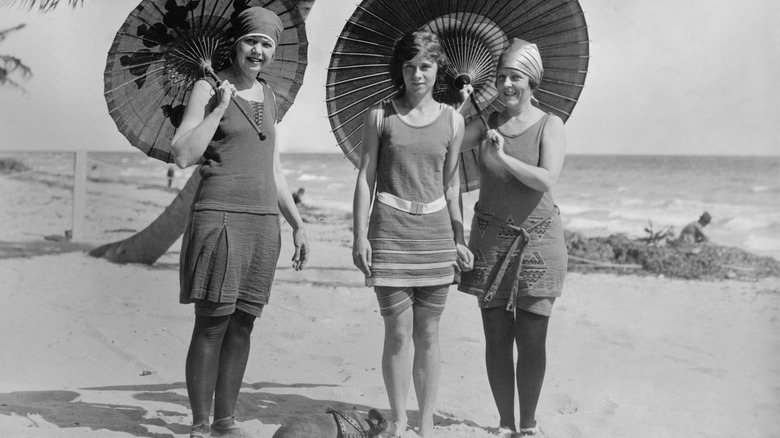 Everett Collection/Shutterstock
The 1920s saw bathing suits evolve and become more practical. The swimming gowns of earlier years gave way to a one-piece suit that consisted of a long top and shorts (via Victoriana Magazine). Wearing stockings was still a requirement, however, but as the years progressed, more of the leg was revealed. Necklines also started to plunge.
Advertisement
This decade saw Speedo introduce the first swimsuit made of material other than wool (via StyleCaster), and Jantzen, a swimwear company that still exists today, also started to introduce some of the first swimsuits made of stretchy material. This changed the way swimsuits fit and made them much more comfortable to wear. During this era, swim caps were incredibly popular as well and were worn to keep hair dry during dips in the ocean. These caps came in various styles and colors, and some even had a strap that you could fasten under your chin to ensure it stays in place.
While swimsuits were becoming more practical, city governments were scrambling to ensure women didn't lose their modesty completely. Swimsuit short lengths were heavily regulated — 6 inches or more above the knee was unacceptable — as well as the size of the arm openings and necklines. Police forces were present at certain beaches to measure any swimsuits that appeared to be breaking the rules, and some women were forced to leave the beach while others got arrested if their swimsuits didn't meet the requirements.
Advertisement
1930-1939: bathing suits become a little more streamline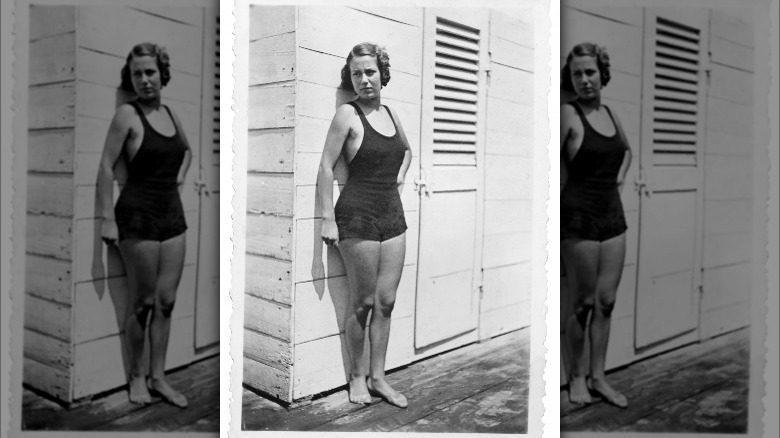 ladyphoto89/Shutterstock
The 1930s saw swimsuits becoming more practical and a tad more revealing than what was allowed during the 20s. The one-piece still reigned supreme, but now they were all made from rubber-based materials that were much lighter and a whole lot more comfortable than the woolen garments of the past (via Insider).
Advertisement
Bathing suits of the 30s revealed women's backs and also sported shorts that were much higher above the knee than what was allowed during the 20s. The 30s also saw the introduction of thinner straps. With styles changing to reveal more skin, tanning also became very popular, and fashion designer Elsa Schiaparelli took it upon herself in 1932 to design a swimsuit that had an open back complete with a sewn-in bra to allow women to tan without dealing with any swimsuit lines, paving the way for future swimsuit styles (via Fashion History). Thanks, Elsa!
1940-1949: the bikini finally makes an appearance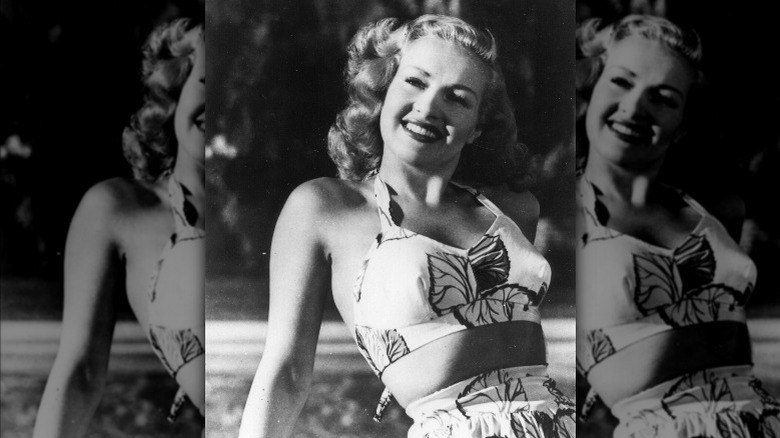 Keystone/Getty Images
The 1940s continued to see the evolution of the classic one-piece. According to Insider, this classic bathing suit was reinvented to look more feminine and resembled a fitted dress complete with a V-neck and thin, feminine straps. The skirt still allowed for some modesty, covering the hips, buttocks, and upper thighs. Skirt styles varied; some were loose-fitting (referred to as swing skirts), while others hugged the legs and hips.
Advertisement
The 40s ended up being the era that would be remembered for the invention of the very first bikini. Louis Reard, a French designer, is the reason the bikini we all know and love exists today. He designed the first bikini in July 1946, naming it after Bikini Atoll, an island in the Pacific Ocean that at the time was used to test nuclear weapons. While Reard's design was still a pretty modest garment, it set the stage for later designs. The first bikini still covered quite a bit of skin, only revealing a glimpse of women's midriffs. It included a halterneck top paired with cheeky shorts. American actress Betty Grable was known for sporting the bikini (and looking incredible while doing so). At the turn of the decade, bikinis became even more revealing, with some designs forgoing straps altogether, setting the stage for the 50s.
Advertisement
1950-1959: bathing suits continue to change and transform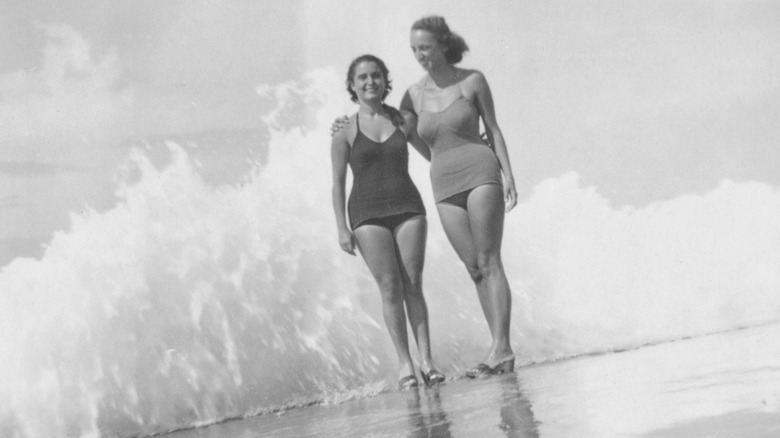 ladyphoto89/Shutterstock
The 1950s saw the arrival of swimwear that was more structured and geared towards offering some support. Some swimsuits even mimicked the style of the corset, Fashion-Era reports. One-piece swimsuits were still very popular, with only the very brave daring to sport a bikini. Bathing suits in this era had zippers stitched into the back or the side seam, which contributed to the classic corset look.
Advertisement
Swimsuits of the 1950s also started to incorporate removable straps, and designers began to experiment with various fabrics, such as nylon, Lastex, and even lined cotton. In an article author Norma Hillyer Shephard wrote for LinkedIn, she explains that some of the most common characteristics of 50s swimsuits are "their sturdy fabrication, inner corset-like construction, and modest bikini-line coverage" as well as the cut that emphasizes an hourglass shape. Many swimsuits also sported flaps at the bustline that could be styled to either emphasize smaller breasts or make bigger breasts appear smaller. Accessories like sunhats, sunglasses, and sarongs also became popular.
The popularity of 50s swimsuits soared as the Hollywood film industry started to take off. The first woman to ever appear in a bikini on-screen, Bridget Bardot, made revealing swimsuits all the more popular (via Fashion History). Other stars like Marilyn Monroe and Bettie Page also contributed to the popularity of 50s swimsuits among women.
Advertisement
1960-1969: breaking all the rules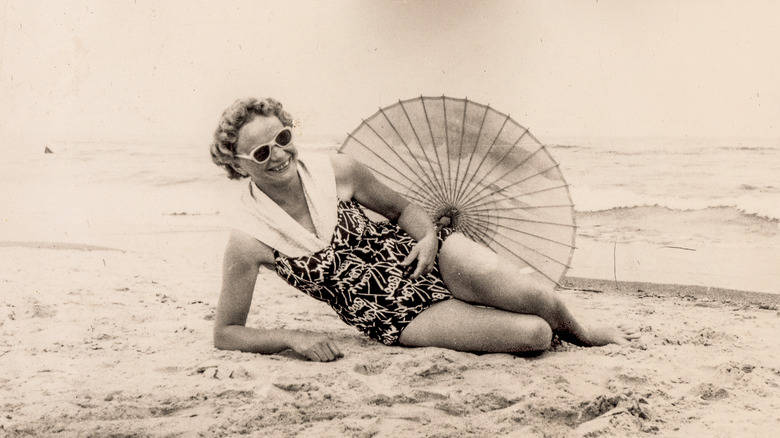 Elzbieta Sekowska/Shutterstock
The 1960s saw swimsuits go wild. Most notably, designer Rudi Gernreich decided to design the most risqué bathing suit yet — a one-piece that consisted of bottoms and straps. Known as the monokini, this bathing suit shattered the modesty that swimsuits up until that point had tried to maintain. It was the first swimsuit that allowed women to go completely topless (via Fashion History). Other designers that entered the scene during this time with swimwear were Calvin Klein, Giorgi Armani, Emanuel Ungaro, Oscar de la Renta, and André Courrѐges.
Advertisement
The 60s was the decade during which swimsuits started to become less taboo. This was mostly thanks to the film industry; actress Ursula Andress, who starred in the first James Bond film in 1962, sported a bikini, and the rest of the world followed suit. Actress Brigitte Bardot also had a hand in making the bikini more acceptable.
During this era, swimsuits of all varieties were seen on beaches. One-piece swimsuits were still in, but now many of them had round cutouts around the midriff to show off some skin. String bikinis were also popular, as well as swimsuits sporting patterns designed by Italian designer Emilio Pucci. Metallic fabrics were also popular, along with terry cloth swimsuits.
1970-1979: risqué swimsuits become popular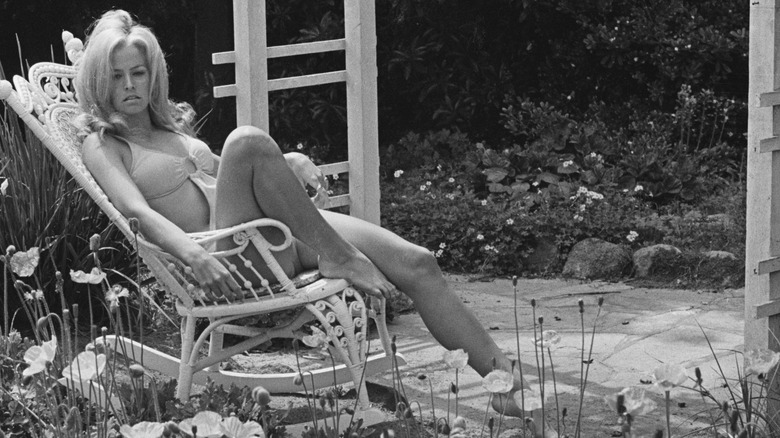 Harry Benson/Getty Images
The 60s set the stage for more revealing bathing suits, so naturally, the 70s continued this trend, with swimsuits showing more skin than ever. String bikinis were super popular, and most swimsuits sported a cheeky high-cut leg. This was also the era that saw the rise of the thong and sheer fabrics that left little to the imagination, according to Brio.
Advertisement
Many 70s swimsuits were designed to move with women's bodies instead of restricting them, so the structure that was so popular in the 50s was quickly starting to dwindle. Swimsuits that hugged women's bodies and sported low necklines were in, along with super small bikinis that showed off as much skin as possible (via Good Housekeeping). Stars like Carrie Fisher ensured that metallic fabrics remained popular. Thanks to Fisher's iconic portrayal of Princess Leia in "Star Wars," silver and copper swimwear were one of the staples worn on beaches during the 70s. Another star that influenced swimsuit styles during the 70s was Farrah Fawcett, who sported an iconic red one-piece in 1976. Fawcett's swimsuit became one of the styles that defined the 70s and had such a big impact on fashion that it ended up at the Smithsonian Museum, where people can see it on exhibit to this day.
Advertisement
One-piece swimsuits in toned-down, earthy colors became popular in 1979. These swimsuits were known for sporting asymmetrical necklines. Fun patterns also continued to make an appearance.
1980-1989: let's be dramatic!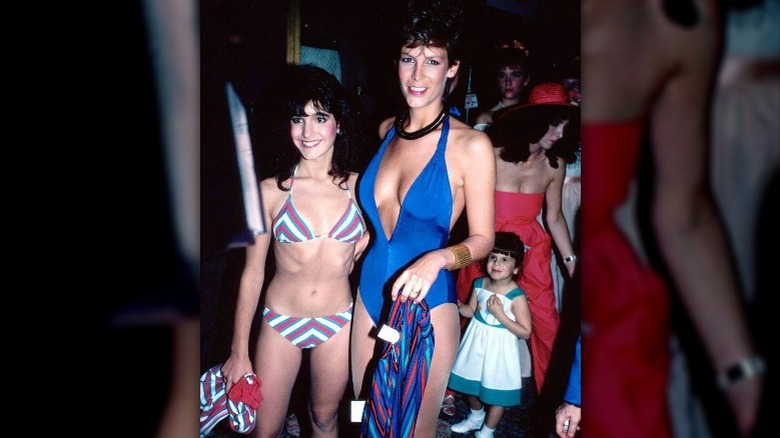 Silver Screen Collection/Getty Images
When you think of the 80s, bright colors, high-waist pants, and great music come to mind, and swimsuits of this era embraced the fun, sporty, over-the-top trends that dominated this decade.
Color-blocking was incredibly popular during the 80s, adding a splash of color to nearly every swimsuit (via Good Housekeeping), and thanks to bikinis still reigning supreme, women could mix different tops and bottoms to create their own unique color combinations. Funky prints were still cool, and neon colors were everywhere. This era also saw designers starting to experiment with more types of fabric, and soon swimsuits were made from material that protected the wearer against the sun's harsh UV rays. Some bathing suits even had rash guards for some extra comfort and protection.
Advertisement
Aside from sporting various colors and patterns, swimsuits of the 80s continued to build on the styles that were popular during the 70s. Plunging necklines remained popular, and stars like Jamie Lee Curtis ensured they stayed in fashion. High-waisted bottoms were also stylish and were often paired with a tankini-style top, mimicking the popular sporty fashion of the time. Swimsuits were also designed to make a bold statement, and some sported dramatic back detail to accomplish just that. Needless to say, beaches were a wild mix of color during the summer holidays in the 80s. If you wore a swimsuit during this time, you were bound to be noticed.
1990-1999: bolder and brighter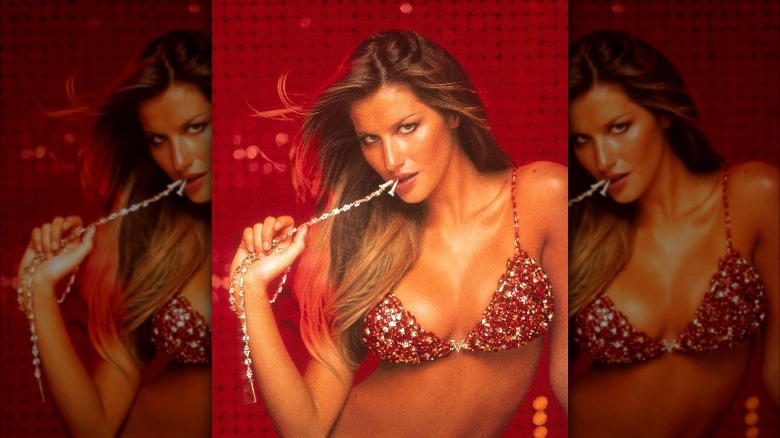 Getty Images/Getty Images
When you think of 90s swimsuits, the popular show "Baywatch" probably comes to mind. Bathing suits made of bright red fabric along with super high-cut legs were wildly popular, and low necklines continued to be in fashion, according to Insider. Another show that had a big impact on the swimsuits of this era was "Saved by the Bell." The show's actors embodied the surf culture of the time, sporting neon swimsuits as well as bikinis with fun patterns.
Advertisement
Helmut Lang, who was one of the most influential designers during the 90s, set the trend for the decade when he designed a super simple bikini that consisted of boyshorts and a bandeau top. When Danish model Helena Christensen took to the catwalk with this design, it set a new trend that continued to be stylish throughout the decade. Low backs were also cool, as well as creative necklines, zips, and athletic designs.
By the time 1994 rolled around, swimsuits featuring sparkling studs started to appear on catwalks, and 1995 saw grunge becoming cool. Bandeau tops paired with bottoms that were just a tad oversized took the world by storm. In 1996, swimsuit designs started to draw inspiration from the iconic swimsuit Salma Hayek wore in "From Dusk Til Dawn," which featured a padded top. The late 90s saw polka dots becoming cool, with stars like Gisele Bündchen sporting swimsuits with this pattern.
Advertisement
2000-2009: sporty is cool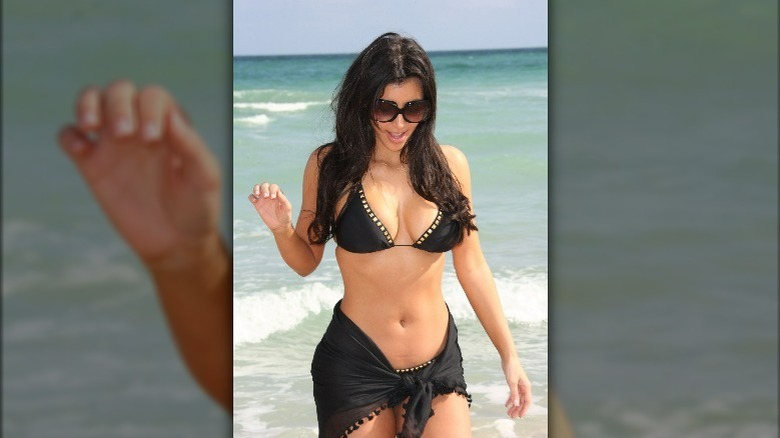 Troy Rizzo/Getty Images
When the 2000s hit, the tankini, originally designed by Anne Cole, became a staple at the beach. It featured ordinary bikini bottoms paired with what looked like a tank top, according to Insider.
The tankini didn't reign supreme, however. Other styles soon made an appearance, most notably the sporty designs introduced by Speedo, which led to designers taking a more minimalistic approach. Soon, high-end swimwear was super simplistic as well. With the arrival of the film "Blue Crush," sporty swimwear became even more desirable, and mixing and matching tops and bottoms became popular once again.
Advertisement
The 70s metallic colors made a comeback in 2003, and in 2006, the 60s monokini became popular once again. It was not, however, a completely topless swimsuit this time around, but instead focused on baring as much of the wearer's skin as possible — sounds about right. Chevron patterns dominated catwalks in 2004, while halter neck swimsuits were all the rage in 2005. 2008 saw studded swimsuits making an appearance, and stars like Kim Kardashian took to this trend almost instantly. As for accessories, the sarong was incredibly popular and worn with both bikinis and one-pieces. By the time 2009 rolled around, the 80s color-blocking trend made another comeback.
2010-2019: the decade of experimentation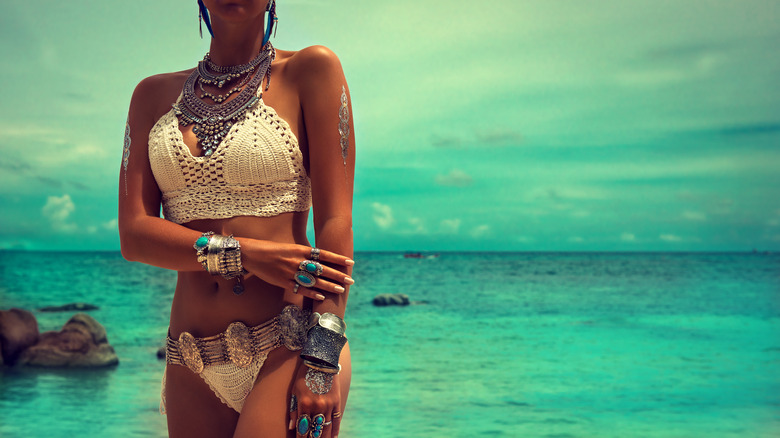 Sofia Zhuravetc/Shutterstock
The 2010s saw the rise of the body positivity movement and a slew of new swimsuit styles — some new and some old. In fact, 2010 kicked off with bikini bottoms getting some added detail in the form of straps or strings, while designers in 2011 took a whole other approach and brought back some of the metallic fabrics that were popular in the 70s and 00s.
Advertisement
Celebrities had a big impact on the styles that were popular, and thanks to Kate Upton's appearance in the "Sports Illustrated Swimsuit Issue" in 2012, designers went back to designing bikini bottoms that sat extremely low on the hips. At the same time, simple designs were also making a comeback, playing around with neutral colors and creative cutouts (via Harper's Bazaar). 2013 saw swimsuits being adorned with beads and sequins, while scalloped trim became cool in 2014. Stars like Kendall Jenner made this look popular, and various swimsuits sported this design. 2015 saw another major trend emerge that had people saving up for yet another swimsuit: The crochet bikini. Thanks to the Tommy Hilfiger show that year, these swimsuits became massively popular. Models like Bella Hadid, Kendall Jenner, and Gigi Hadid sported these bathing suits, and the rest of the world followed suit.
Advertisement
The last half of the 2010s saw the 80s neon colors return as well as polka dot patterns. Swimsuits with knotted tops became all the rage, and 2019 saw puka-shell-trimmed swimsuits taking the world by storm.
2020 - present: back to basics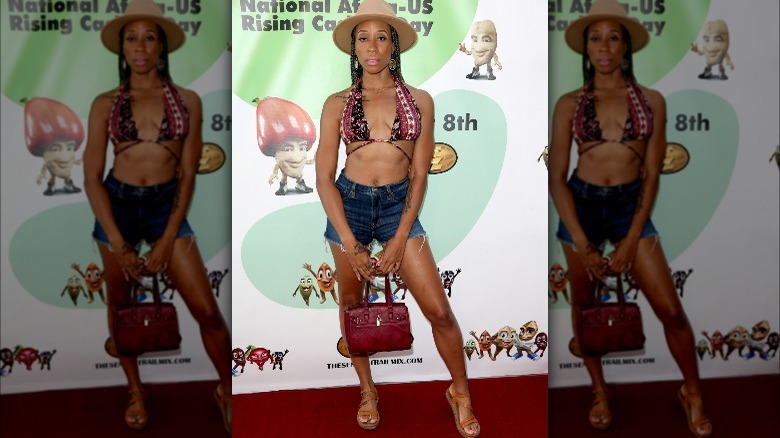 Maury Phillips/Getty Images
With the arrival of the 2020s, swimsuits went back to basics and once again borrowed from other eras. 2020 was famous for the small bikini that consisted of a skimpy ruched top paired with equally skimpy bottoms. As for 2021, you might remember that tye-dye became cool again, and this trend made its way over to swimsuit designs as well. Once model Winnie Harlow wore a tye-dye swimsuit to the beach, it was officially back in style and people started to buy into the trend.
Advertisement
Flash forward to 2022, and one-piece swimsuits are back in style (not that they were ever really out of fashion). This time around, however, designs sport a one-shoulder strap, creating an asymmetrical look. Cutouts are back as well and adding gold accessories completes the look. Summer 2022 also saw a rise in swimwear worn as everyday clothes, allowing you to strip and jump into the pool at a moment's notice. Stringy bikinis were also back in style, and this time around, the strings were adjustable, making these swimsuits suitable for all body types. Ribbed swimsuits also made a comeback along with the monokini.
Needless to say, the 2020s are borrowing a slew of styles from decades past, and we're here for it.
Advertisement