Sweaters With A Little Hint Of Skin Are Trending For Winter 2022-2023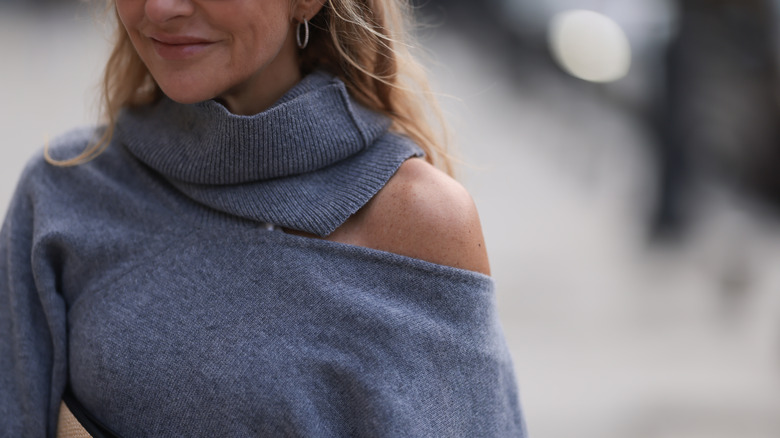 Jeremy Moeller/Getty Images
Sweaters have been around since the 15th century (via Brittanica), but even with all of their millions of iterations throughout the years, they're a cozy, seasonal look we just can't seem to get enough of. This winter, however, trend forecasters are predicting a foray away from tradition — a fresh reimagining of the well-loved classic that can take you straight from caroling in the snow to date night at your favorite wine bar.
Although a sweater might not be the first thing that comes to mind when you think "sexy," this season is all about showing a little skin, even in your winter wardrobe. This winter's trends include fun cutouts, loose knits, and sheer weaves that offer a new twist on the traditional turtlenecks and cable knit of the past. Before you head off to the mall, we're here to break down the distinct styles popping up in stores and how to incorporate them into your cold-weather outfits.
What this trend means for consumers and designers alike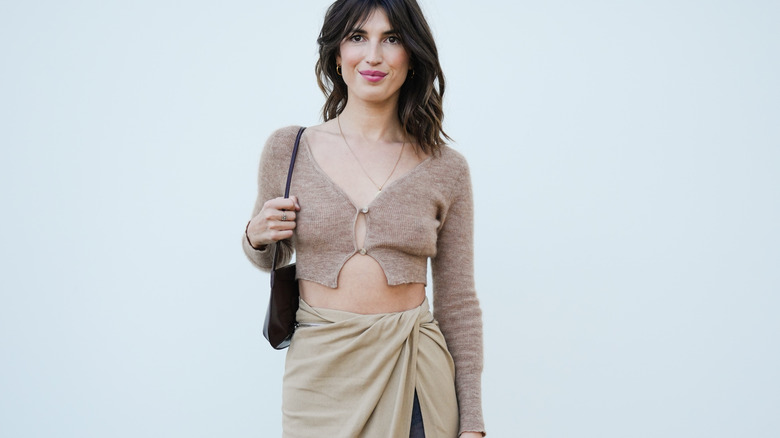 Edward Berthelot/Getty Images
With recent trends focusing heavily on bold textures, inventive layering, and precise tailoring, it's no surprise that these themes are translating into our knitwear as well. See-through, loose weave knits give you the chance to play with color and pattern in your other layers, and sleek cutouts, like an exposed collarbone, are fun subversions of the sharp tailoring typically seen in winter. According to Marc Rofsky, buying expert at Moda Operandi, these trends offer a new kind of freedom when it comes to typically buttoned-up winterwear.
"This trend is all about what someone chooses to conceal and reveal," Rofsky tells Marie Claire. "Knitwear offer designers technical attributes to explore various forms of the trend, including graphic cutouts on elevated essentials and sheer knits." Instead of the typical flurry of black turtlenecks on shelves this season, you're more likely to see a veritable playground of inventive twists on the classics, and who wouldn't want to switch things up for once in a time of holidays rooted in tradition?
How to style this trend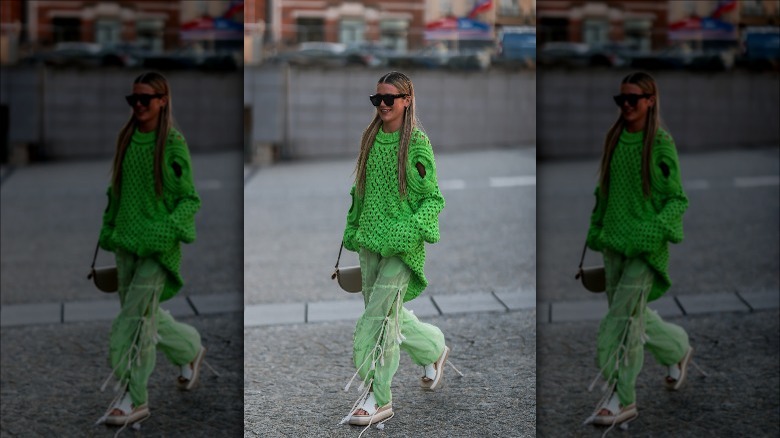 Jeremy Moeller/Getty Images
If you live somewhere warmer, the skin-bearing knitwear trend is a no-brainer. Throw on a funky sweater to fend off Los Angeles' average winter lows in the 50s, and you're good to go. Even a sheer knit or a piece with large cutouts should still give you a solid amount of protection from the chilly night air. 
If you're working with colder temperatures, however, this trend might seem a little out of reach. Luckily, there's a solution: layering. Use the loose knit to show off a flash of a colored undershirt peeking through, or layer a more daring sweater underneath your favorite coat for a date night reveal that still keeps you cozy. Once spring rolls around, you can easily transition your pieces into slightly warmer weather by wearing them alone. The trends of experimental pattern and texture don't seem to be fading any time soon, so your favorite pieces should still be popular throughout the warmer months, too, meaning this won't become an outdated sweater trend you'll regret.