How Dry Shampoo Can Help Set Your Curls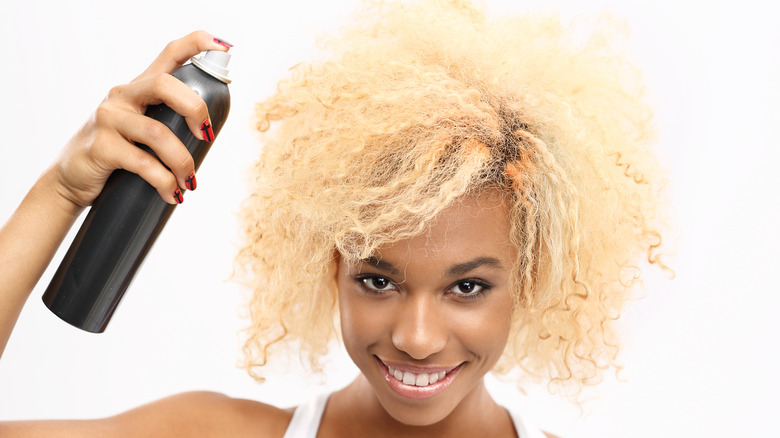 Robertprzybysz/Getty Images
Those of us who have discovered dry shampoo already know the hair miracles it can create, especially when you're pressed for time and can't undergo a full wash. Most dry shampoos come in a spray bottle, and the formula usually has an alcohol or starch base. It's these active ingredients that allow it to work its magic, sopping up excess oil and dirt from the scalp. While the process itself doesn't sound pretty, the results can certainly be beautiful, assuming the product is used properly.
For starters, the bottle should always be shaken before use to ensure that the formula is adequately blended. Then, it should be applied about six inches away from the scalp. Colorist Gio Bargallo tells Good Housekeeping that it's best to only use dry shampoo on areas that appear particularly oily or greasy, like the scalp. Adding dry shampoo to the tips of your hair may dry them out and create a rough texture. After massaging the product into your scalp and waiting a few minutes, you can use a hairdryer (set to cool) and a hairbrush to remove it.
What you might not know, however, is that dry shampoo isn't just for those days when you don't have time for a thorough wash. In fact, many people use it for styling purposes. If you love rocking curls, for example, here is how dry shampoo can help you set them.
How to set your curls with dry shampoo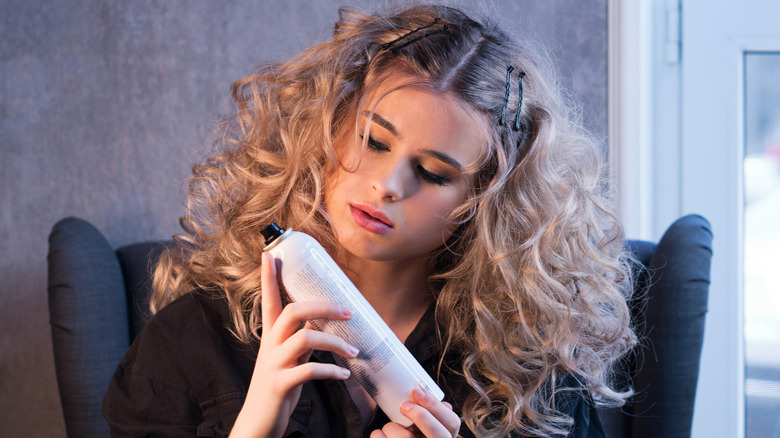 Vagengeim/Shutterstock
Because dry shampoo contains ingredients, such as alcohol and starch, it's naturally drying (as the name implies). This can be a big benefit if you're looking to maintain the style of your hair, especially if you're flaunting curls.
When it comes to maintaining curls, the name of the game is avoiding anything and everything that can potentially weigh down your tresses. This means even skipping conditioner in the shower (if you intend to wash your hair at all) prior to curling your locks. To begin the curling process, most turn to an alcohol-based styling product, such as mousse. This begins the curl fortification process, if you will, extending the longevity of the style.
Once the curls have been created, dry shampoo can be used in place of a texturizing spray. Many people use a texturizing spray to keep their curls bouncy while adding volume. However, dry shampoo can do just the same, and as an added benefit, it'll eliminate any lingering oil that may weigh down your locks over time. Dry shampoo is also typically lighter than hairspray, which some people mistake as a must-have finishing product for curls. While hairspray can be effective, you may need a lot of it to hold your curls, depending on the formula. This will ultimately weigh down your tresses and eliminate the bounciness of your curls. Dry shampoo can be the perfect alternative.
Using dry shampoo for more than just cleansing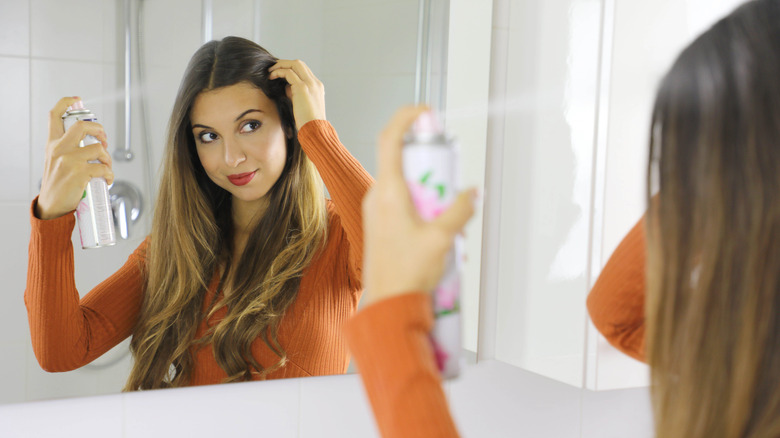 Zigres/Shutterstock
In addition to using your dry shampoo to set your curls, there are many other ways you can incorporate this styling product into your daily routine. If you dye your hair, for example, you can go longer in between root touch-ups, thanks to the availability of dry shampoo in a wide array of colors. This product is also perfect if you want to rock the "bedhead" look before you rush out the door. Simply flip your hair over, give your locks a few spritzes, and massage the product into your scalp. When your flip your hair back into place, it will have a natural "messy hair, don't care" appearance that's sure to turn heads.
Finally, don't underestimate this product's potential to add both volume and texture to the style you're rocking. Dry shampoo has become synonymous with skipping hair washes, but its benefits extend well beyond its ability to soak up excess oil and dirt. For instance, it can be used to quickly give your hairstyle a matte appearance. When lightly applied to your hairline, you can even use your dry shampoo to help you style your edges. It can be particularly helpful if you want to create free-flowing waves or curls. Whether you're new to the product or you've only been using it for certain occasions, now is the time to broaden your horizons.