Is A Textured Bob The Right Haircut For You? Here's Why We Love It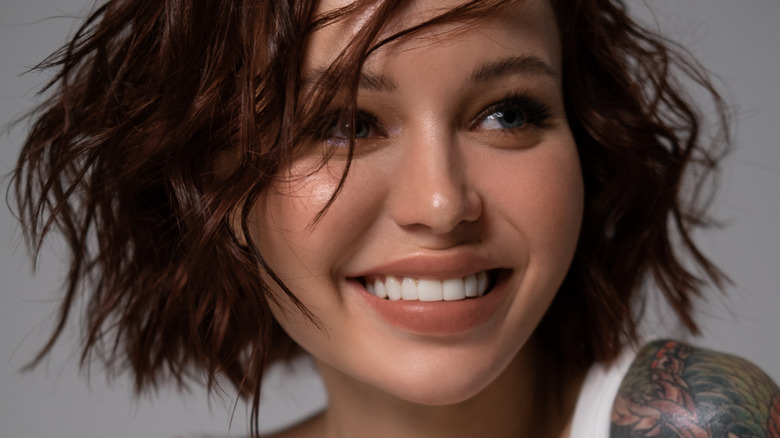 Sofia Zhuravetc/Shutterstock
If you woke up today and decided it was time for a change, you came to the right place. Since we're major advocates for living your best life and doing whatever makes you happy, we won't steer you away from making such a change, even if that means chopping your hair into a bob. In fact, we love a good bob haircut. And there are so many options, from an A-line bob to an inverted bob and everything in between. One of our favorites? The textured bob.
And honestly, we aren't alone in loving the trendy cut. In 2021, the bob hairstyle was Googled around the world over 200,000 times each month, and a whopping 52 countries placed the bob cut as the most popular hairstyle, according to Google trends (via Stylist). Gone are the days of needing long, luxurious hair to feel beautiful, as the textured bob hairstyle definitely turns heads.
Still, you may have questions about whether a textured bob is the right haircut for you. Will it work with your face shape and hair texture? What about styling it at home? Rest assured, we're here to give you the full rundown so you can visit the salon with confidence that you made the right decision with your new 'do. Spoiler alert: we're pretty positive you'll fall in love with the hairstyle, too.
A textured bob is the perfect cut for all face shapes and hair textures
A textured bob has all the makings of a classic, above the shoulders cut but with a sexy and sultry twist of texture and fullness. And the length doesn't have to be specific, either. The textured bob haircut can be anywhere from right below the ears to the jawline or even right above the shoulders. The key to achieving the textured bob, though, lies within, of course, the texture.
"This bob style is meant to be a tousled, imperfect look," Oregon-based hairstylist Olga Karacheban told Latest Hairstyles. We aren't talking sleek and clean-cut here! This means that many different hair textures can pull off this look, whether you have straight hair or a gorgeous curly mane. A texturizing spray or dry shampoo is your best friend with this particular cut since both products are excellent for adding the volume and dimension needed to pull off the look.
Plus, the textured cut works well on many face shapes, especially since various lengths work with this hairstyle. Whether your face shape is oval, round, or square, you can rock it! A super short textured bob looks gorgeous on oval faces, and for those with round and square faces, try not to go shorter than chin-length. If you find chopping your locks to be nerve-wracking, you can always start with a long bob, which looks stunning on all face shapes, and go shorter if desired.
A textured bob is super low maintenance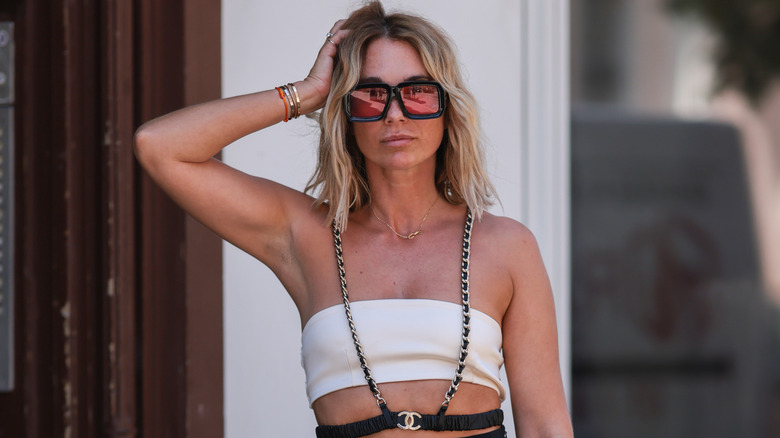 Jeremy Moeller/Getty Images
When you feel brave enough to sport a new hairstyle, a prominent concern is whether you have the time, tools, and knowledge to style it at home. It's one thing to leave that salon chair with a perfectly styled head of hair, but achieving it yourself can be daunting. A huge plus to the textured bob, and why we love it so much, is that it's incredibly low maintenance and easy to style yourself. Since the hairstyle relies on the unpolished look, there's no need for extreme styling, straightening, curling, etc.
For those with natural texture, you may find that a simple run through your hair with your fingers or a wide-tooth comb in the morning is all you need. For others who need extra help, try using a sea salt spray on damp hair and giving the strands a good scrunch. For those with pin-straight hair, you may want to grab a curling iron and create a few small waves in different directions to add dimension, ensuring you leave the ends straight for a natural texturized look. The next day, you'll have the good kind of "bedhead" that will look absolutely gorgeous with your bob.