How To Dress For Your Flight When You're Traveling To A Totally Different Climate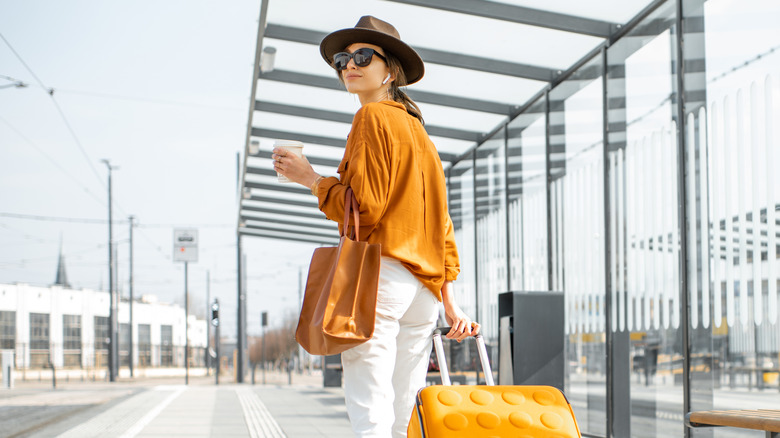 RossHelen/Shutterstock
There are a lot of considerations when preparing for travel, especially if you're going on a trip somewhere far away. Your head is probably spinning with flight confirmations, hotel accommodations, and packing lists. And on the day of your departure, you may be busily plotting out tips and tricks to avoid catching a travel bug or to stave off jet lag after your flight.
But there's another important factor to keep in mind, particularly if you're traveling between very different climates — namely, what should you wear to the airport? On its face, this may seem like a silly question. But no one wants to show up in Tahiti wearing a thick wool sweater and winter boots. Not only will you feel out of place, but you'll probably end up sweating buckets by the time you get to your destination and change clothes.
Plus, shocking your body with abrupt temperature changes can leave your immune system vulnerable to pesky vacation illnesses, especially if you're unprepared for the move from warm to cold (per Greatist). With this in mind, it certainly can't hurt to prioritize wearing the right clothing to maintain a healthy core temperature.
Fortunately, you can employ some easy strategies to stay temperate and comfortable at both your departure point and your destination. Here's how to dress for your flight when you're traveling from one climate to another.
Embrace layering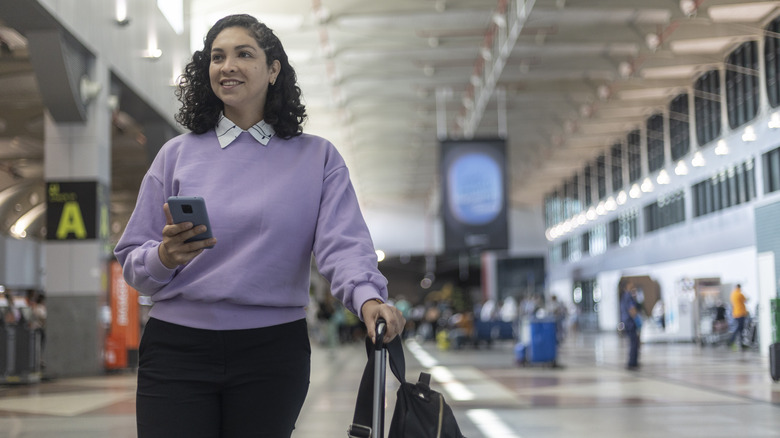 Anderson Coelho/Getty Images
For the easiest shift between warm and cold (or vice versa), lightweight layers will be your best friend. Instead of piling on your thickest sweater or heaviest coat, try strategically combining basics like a camisole, long-sleeved shirt, and cardigan to accomplish warm weight that can still be tucked away or tied around your waist at the hot end of your journey.
To make the most of layering during your trip, Travel Fashion Girl suggests a few tricks. Firstly, carry a large handbag or satchel that can accommodate jackets or scarves when you're not wearing them. For leg coverage, consider pairing tights and shorts instead of donning warm trousers — the tights will barely take up any bag space if you want to take them off as you travel.
On a similar note, Encircled espouses an airport outfit featuring leggings, a light top, a scarf, and a rain jacket or windbreaker. These pieces will help trap your body heat in cool environments without weighing you down.
Keep a change of clothes handy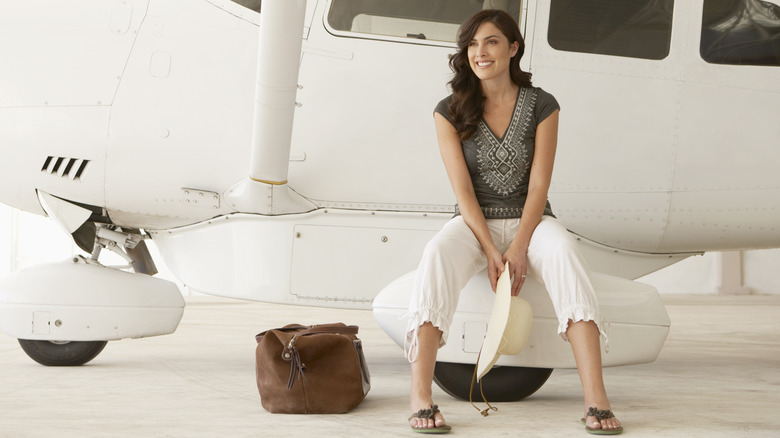 Siri Stafford/Getty Images
If the climates you're transitioning through are wildly different, you may end up with a lot of layers at one end of the trip and very few at the other. In this case, you may have to break down and actually change part of your outfit mid-travel — say, in the airport bathroom.
"I had a puffy coat that folds up really small," Lifehacker health editor Beth Skwarecki tells the site about her strategy for traveling from chilly Pennsylvania to steamy Liberia. "When I got inside the Pittsburgh airport I stuffed that in the bottom of my suitcase. On the plane, I wore a tank top, hoodie, lightweight jeans, and sneakers. As soon as I landed I went into the bathroom and changed into shorts and sandals. I took my hoodie off and applied my sunscreen."
If this sounds like a maneuver you may need to employ on your travels, make your life easier by keeping your destination outfit close to hand. Ideally, pack it at the top of your carry-on bag, so you can easily access it without having to repack your belongings or manage your checked luggage while you get re-dressed. As Skwarecki points out about her airport quick-change, "I had my shorts and sandals packed at the top of my suitcase where they'd be easy to reach."
On the upside, packing a destination-ready outfit in your carry-on kills two birds with one stone. Not only are you prepping for a temperature change, but you're following a best practice for savvy travelers. As U.S. News recommends, it's always wise to keep at least one change of clothes in your carry-on bag in case of unexpected hiccups like a spilled drink or checked luggage delays.