Is It Ever A Good Idea To Go On Vacation With Your Ex?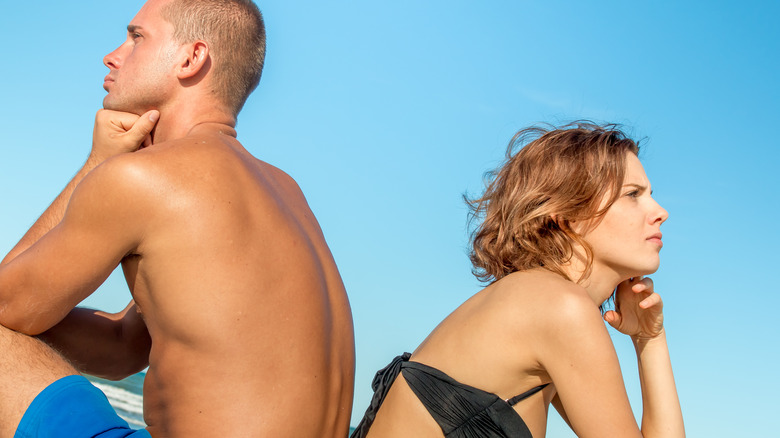 pixelrain/Shutterstock
If you're anywhere near lesbian TikTok, you've probably heard a thing or two about the JoJo Siwa and Avery Cyrus situation. Without going into an immense amount of detail about their relationship, basically, the former "Dance Moms" reality star got together with a famous TikToker, Cyrus. They recently went on a breakup cruise, as Gawker reported, and seemed on good terms post-split. But now Cyrus and her ex, Soph Mosca, are going to Europe together because of nonrefundable tickets they purchased eight months ago, according to their TikToks. And JoJo is upset, complaining about being used for "clout," which is allegedly pointed at Cyrus.
So, if this little saga has you wondering anything — other than what the heck is happening over on lesbian influencer TikTok? — it's probably, "Is it ever a good idea to go on vacation with your ex?" Are breakup vacations even a thing? What if you're begrudgingly put in a scenario where you have to vacation with your ex, even if you don't want to?
Nothing is the same for everyone. What might be a good idea for one ex-couple would not fly for another. Plus, there's the question of where you're at in your breakup and how long you've been exes. Thankfully, some relationship experts have good advice on how to handle vacations with your ex.
If you're newly single, wait a month and then reevaluate
Tom Merton/Getty Images
Sabrina Alexis, a relationship coach, told the Independent that new singles should go "no contact" with their ex for 30 days, and this means no vacations or trips with them, either. "Love is a drug and creates chemical reactions in the brain, just like someone who is detoxing on drugs, they crave a hit," Alexis said. This means no checking on your ex-partner in addition to not talking to them. You really want to find yourself again and do things that you enjoy, along with realizing if you crave the person or their affection. Alexis recommends connecting with loved ones and finding "something that makes you feel alive" to divert your attention. This includes traveling, but again, that vacation should be alone if you're within the 30-day no-contact period.
Interestingly, though, relationship expert Shomit Mitter told Metro that a "breakup holiday" might be good for you, not bad. He said that even though you want to "be strong enough to detach emotionally and part ways," you can still do that while having empathy for your ex. "We can love and detach at the same time," he said. "You don't have to hate someone forever because you once broke up with them." Vacationing with an ex to get closure might be good, especially if you're on the same page. It can be a trip to strengthen your new friendship, which can help you heal through the breakup, or it can be a way to really close those doors for good.
Be careful and respectful, especially if you have a new partner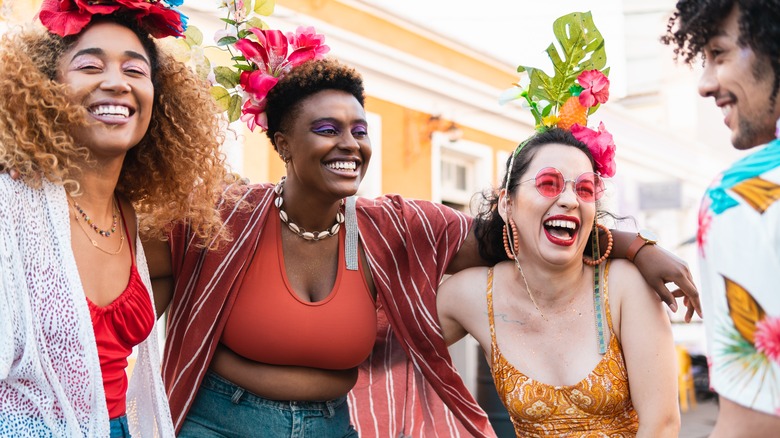 Vergani Fotografia/Shutterstock
In a situation where you didn't choose to go on a vacation with your ex, you have to remember to have boundaries and stick to them. Dating and relationship coach Crista Beck told Bravo that you need to listen to yourself first. Settling things with your ex before the trip is a good idea and allows you to set boundaries. If it's a friend group trip, and the group includes your ex, Beck said it's "fine" to go.
If you're not freshly broken up, you're going to have a better perspective on your ex and the past relationship. Hopefully, you've grown since then and have a clearer head about where you stand. If you have a new partner, you can still go on the group trip but have "honest communication" with them about it. Beck said they should trust you if it's a relationship worth a future, but that doesn't mean they won't be uncomfortable. That's why it's important to respect your new partner and their boundaries. For example, Beck said you shouldn't be alone with your ex while on the trip if you have a partner or if you're single and enjoy it. Traveling with your ex "can be a trigger," according to Beck, so don't blow off your partner's feelings about this trip.
Ultimately, while the true answer to vacationing with your ex might be subjective to each couple, the resounding answer is that it's not the best idea. Wanting the trip to repair your bond is potentially a fool's errand, and the growth of a friendship from it is risky. Take the time for personal growth first, and then you can reassess if a trip with your ex is smart.