Tips For Styling A Mixed Gender Wedding Party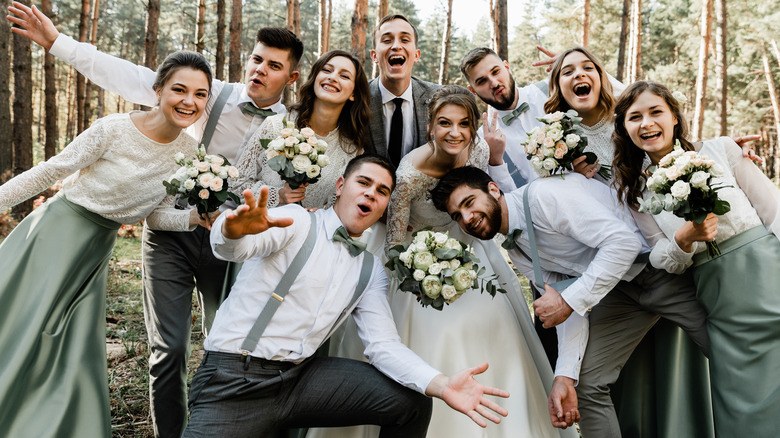 Vadym_Hunko/Shutterstock
Wedding planning is definitely one of the most stressful things a person can do, especially when you're bogged down by centuries-old traditions. From color schemes to complex seating charts, it can feel like there are a million things to get done. Luckily, you have a village waiting for you to pass the baton and help get you down the aisle: your wedding party! Most engaged couples enlist a few special people to stand beside them on their big day and assist with any tasks leading up to the wedding.
Advertisement
If you start to make your wedding party shortlist and realize you don't have a ton of close girlfriends to be your bridesmaids, don't worry. Break away from tradition and make your wedding your own by including whoever you want. Your wedding party can be as large or small as you want and can consist of anyone you wish, no matter their gender.
Mixed-gender parties are growing more popular in recent years, and for good reason. If you're a bride on the fence about letting some of your best guys stand by your side on your big day, let us reassure you that it is a great idea, and can be styled to look incredible.
Your wedding party should consist of your favorite people, regardless of their gender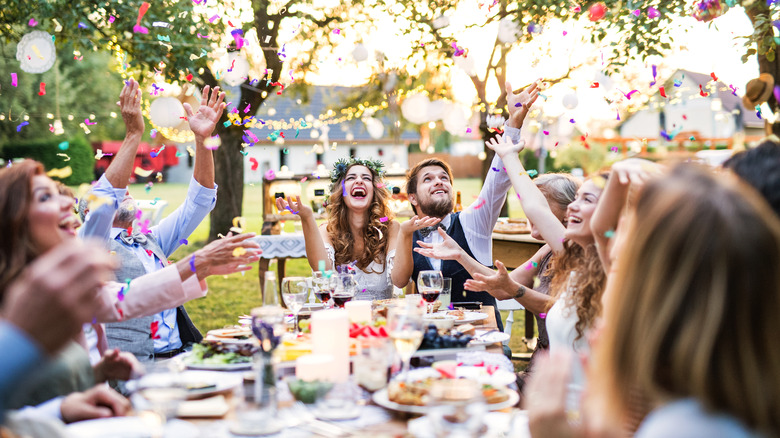 Halfpoint/Shutterstock
There are plenty of wedding trends that are no longer cool in 2022, but having a mixed-gender party isn't one of them. If you're still a little hesitant, Wedding Shoppe Inc. breaks it down perfectly, reminding us that "it's okay to break tradition." Having a mixed-gender party allows for the freedom to include the people who mean the most to us. Invite your siblings, family members, or a childhood best friend to stand by your side while you get married, unbothered by what gender they are. It also limits the awkwardness of asking your partner to include one of your people on their side just to keep the party binary.
Advertisement
According to Refinery29, having a mixed-gender wedding party also welcomes multiple perspectives and experiences on everything from the engagement party to the post-reception brunch. Making these gatherings co-ed will breathe new life into the celebration and give you a perspective you may not have had if it was just you and your girlfriends.
Having a mixed-gender wedding party is a way to be more inclusive for your loved ones who don't abide by a gender binary. Wedding parties can be polarizing for many trans and non-binary people who are put in the difficult position of having to choose sides. By opening up your wedding party to a variety of genders, your party members can be at your side without any barriers or discomfort.
Advertisement
Don't stress too hard over the logistics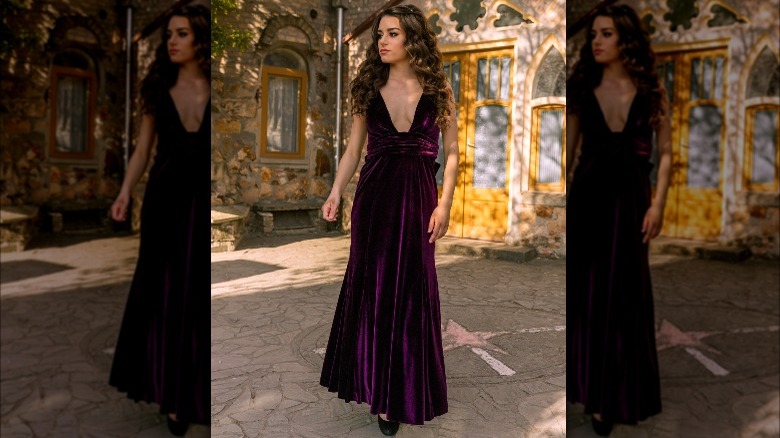 noemi.bukosi/Shutterstock
Many people have loved ones of all genders that they'd love to include on their special day, but they are hesitant to stray from tradition because they're worried about logistics. Who will walk whom down the aisle? What will the photos look like?  Bridal Guide notes there are tons of fun configurations for your blended group: you can have everyone process down the aisle individually, or pair up you and your partner's side with people you think will click. Your processional doesn't have to be boy-girl to be a good time. And when it comes to capturing the moment, the best photos are the ones with all the people you love in them, so don't worry about symmetry: there are plenty of cute poses that will highlight the joy on everyone's face.
Advertisement
When it comes to styling your mixed-gender wedding party, you actually have a ton of options to choose from. Typically, bridesmaids all dress the same, but that doesn't mean they have to. One Fab Day recommends asking your wedding party what they might like to wear, being sensitive to their comfort levels. There are a ton of ways to create a seamless look for your wedding party, whether you're going for a timeless look or a more eclectic mix.
Color coordinate for a cohesive look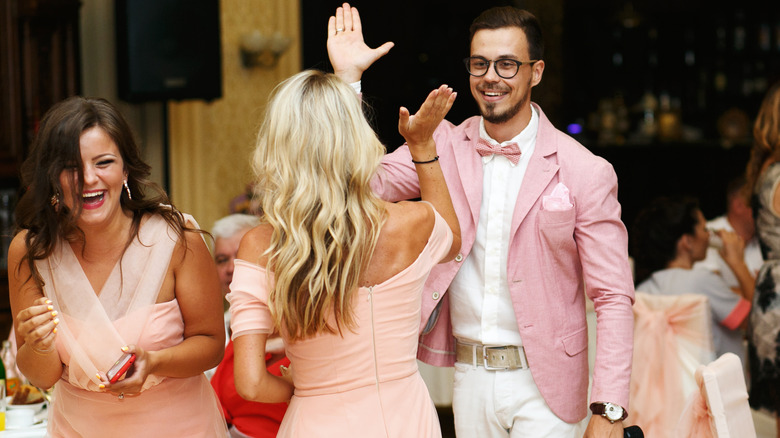 IVASHstudio/Shutterstock
When it comes to styling a mixed-gender wedding party, color coordination is your BFF. Once you settle on a color scheme you want for your wedding, find a few styles in both dresses and suits that match your vision. Just like a traditional wedding party, have the guys on your side wear suits that match the women's dresses. Your partner can also choose a color to coordinate the dresses and suits for their side of the wedding party.  
Advertisement
Have fun with funky prints and patterns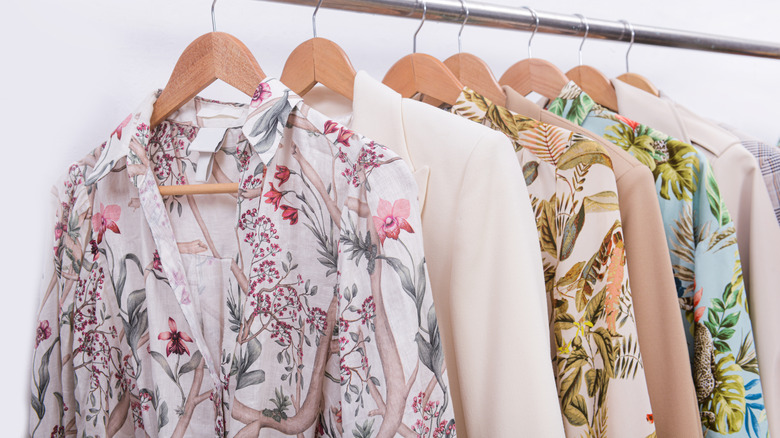 bloom/Shutterstock
Who says that bridesmaids dresses and groomsmen suits have to be boring? Finding fun prints that all of your party members can wear is a great way to create a sense of uniformity without sacrificing individuality. Give your party members the freedom to choose what style or dress they like best with the particular pattern you've chosen. You can coordinate even further with matching accessories and floral arrangements. Everyone loves a statement piece, so give your party members an outfit they're sure to repeat. 
Advertisement
Go bold with a gender-neutral style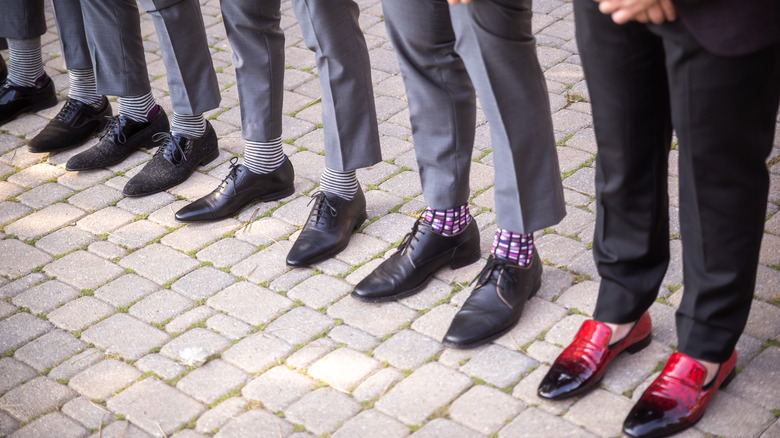 Johnathan Ball/Shutterstock
Fashion is all about pushing boundaries and elevating looks, and your wedding day is no exception. If you love the look of every party member in one outfit, why not opt for pants for all? No matter how they identify, each of your loved ones will look incredible in a chic, tailored pantsuit. Not only will your wedding party look incredibly fashion-forward, but we also guarantee they'll be on the dance floor all night long in their comfortable new pair of pants. 
Advertisement
When in doubt, wear black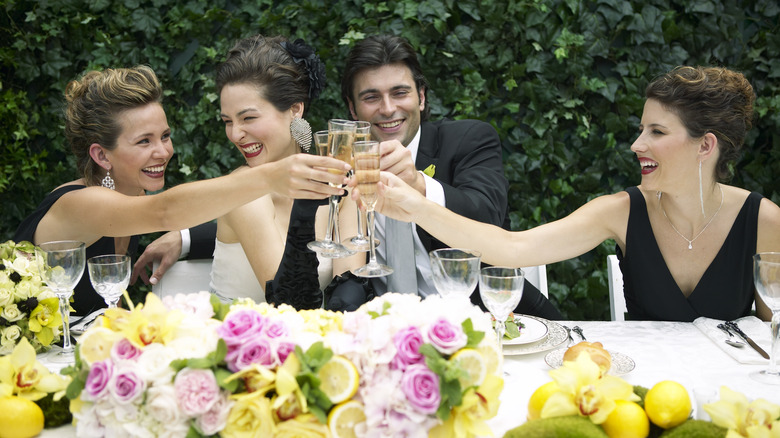 Burke/triolo Productions/Getty Images
Long ago, it was considered taboo to wear black to a wedding. People associated black with funerals and grieving, and saw weddings as an inappropriate time to adorn such a color, per Brides. But for all our modern brides and grooms, black might be the answer to all your wedding party worries. A classic LBD or a three-piece suit flatters every figure imaginable, your wedding party is sure to thank you. Opting for this classic pairing not only creates a cohesive, monochromatic visual across your entire wedding party, but it allows the white wedding dress or suit to really pop. 
Advertisement
Or shake things up with mismatched styles for all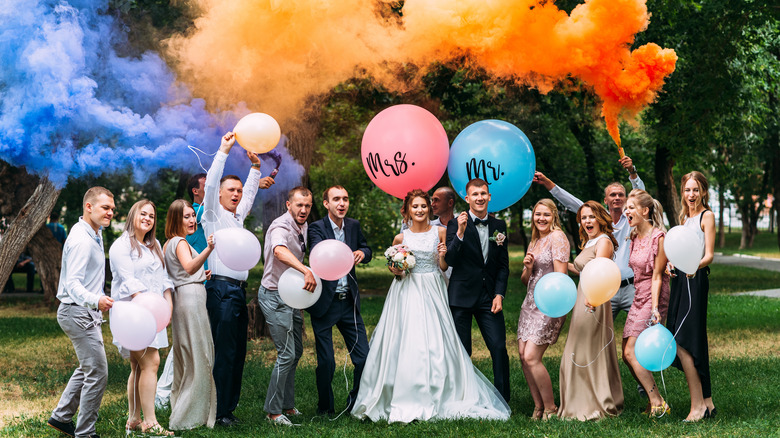 Sotnikov Misha/Shutterstock
Let each member of your bridal party's personal style shine through by letting them wear what they feel most comfortable and beautiful in. It might feel weird to let go of the reigns when it comes to the fashion choices on your special day, but these are your closest loved ones for a reason — trust that your bridal party will know what suits them best. It's still a good idea to let them know what styles or colors they should avoid — don't wear white or definitely no funky print — depending on the couple's preference.
Advertisement
If you still don't want to completely give up control, give your party a color palette with multiple options to make sure they are still coordinated and not clashing. But who knows, you might be surprised at how much you like the mismatched styles altogether when the day finally arrives. Besides, no one can overshadow the couple on their big day!