We Have The Secret To Pulling Off Dreamy Lilac Eyeshadow Looks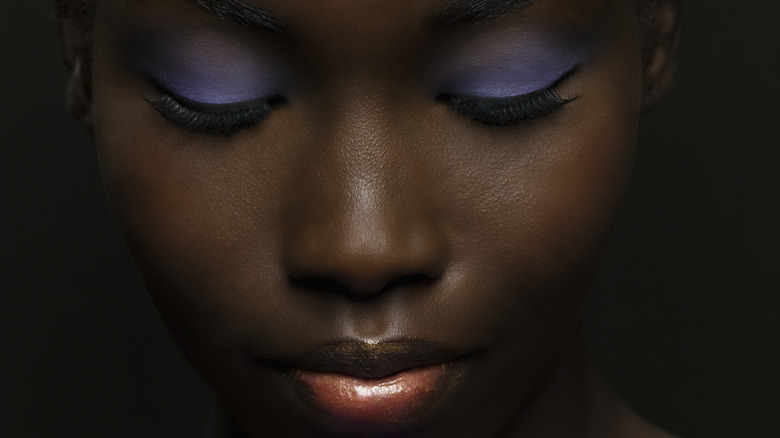 Ralf Nau/Getty Images
We often think of eyeshadow trends in terms of seasons. For example, darker looks for fall and winter and lighter looks for spring and summer. Even though this is usually the case, new trends have forgotten about saving your light and bright makeup for the warmer months. With trends like dopamine dressing becoming more popular, it's time to bring out the fun eyeshadow colors year-round. One of the popular choices for a fun makeup look is the color lilac. Lilac is a dreamy and light shade of purple that can serve as a pop of color without being too intense.
A lilac eyeshadow shade perfectly brings an ethereal touch to your makeup without feeling overwhelmed. While some may still feel apprehensive about wearing a lighter eyeshadow shade, many celebrities are already jumping on the trend. Model Hailey Bieber was among the first to go all in with lilac eyeshadow when she rocked the shade during the 2021 VMAs. Bieber's makeup artist, Mary Phillips, shared a glimpse of her look on Instagram. Bieber's glossy lilac eyeshadow look is one example of how there are always different variations you can do to make the color work for you. Whether you're into mattes, shimmers, or a glossy look, lilac eyeshadow is the new must-have in your beauty drawer.
How to wear lilac eyeshadow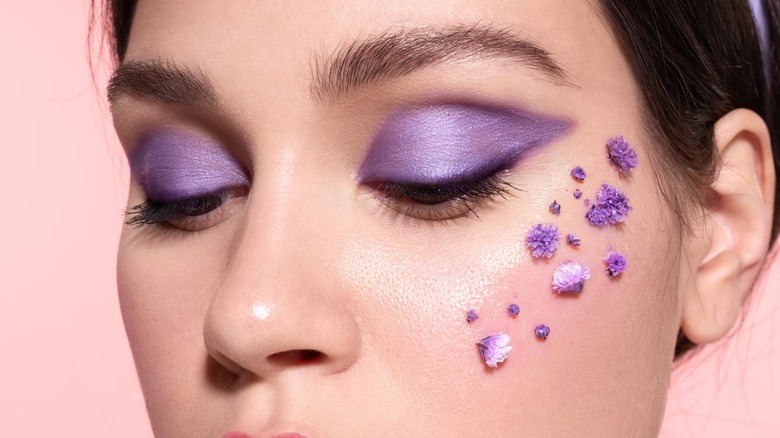 popcorner/Shutterstock
If you're looking to start dipping your toes into wearing colorful eyeshadow, you will want to start with smaller steps. L'Oréal Paris recommends wearing lilac eyeliner along with lilac mascara. Whether you choose a liquid eyeliner or eye pencil, these options are perfect if you want to incorporate color into your look. When picking the best shade of lilac, there are typically lighter and darker shades that can complement whatever look you wish to create.
You can also use a light, airy lilac eyeshadow to brighten your everyday look. To get a chic look with lilac eyeshadow, start with lilac eyeliner covering your entire lid. Use a darker shade of lilac to emphasize your crease. Add a lighter shade of lilac into your inner corner and finish with more lilac eyeliner in your waterline. Use various shades of lilac to get a dynamic and chic look. This lilac look is easy to create but can easily suit your daily activities. With minimal products, this makeup look is as easy as any neutral eyeshadow look.
How to choose the right lilac shade for you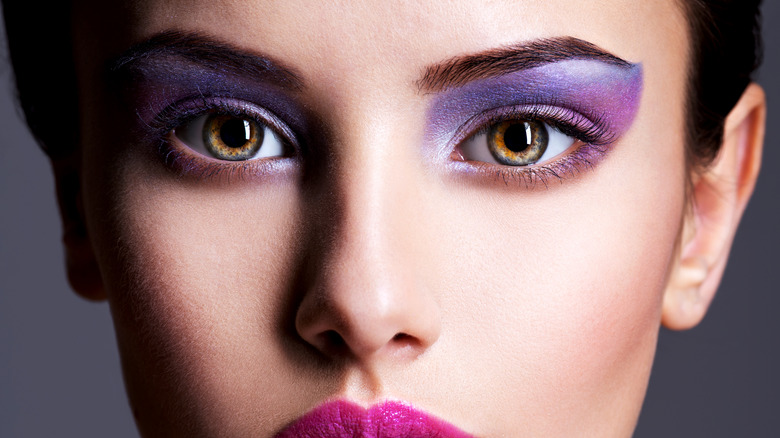 Valuavitaly/Getty Images
While lilac might be a universal color, certain shades will help your eyes pop out even more. Dominic Skinner, a global senior artist for MAC Cosmetics, tells Harper's Bazaar, "Purple can vary in tone depending on the amount of red and blue in the mix. If there's more red, this will make the purple rich and warm – complementing green and brown eyes. If there's more blue in the mix then this will make the purple cool which looks beautiful with blue or grey eyes." Because lilac is a combination of warm and cool colors, you can be certain there is a shade that will favor your eye color.
If you are still debating which kind of lilac shade to reach for, Simple Beauty Minerals has a simple way of knowing which is your ideal lilac shade. If you are warmer-toned, reach for a lilac shade containing more red than blue. These redder shades will be closer to the pink family but still within the lilac color family. If you are cooler-toned, any shade of lilac will suit you perfectly, but the bluer lilacs will be the best shade for you. Those with neutral tones can wear all shades of lilac and still get the perfect match. Regardless of the shade, lilac is a universal color that will make a statement out of your day-to-day beauty look.