Is It Safe To Use Intimate Lubricant As A Face Primer?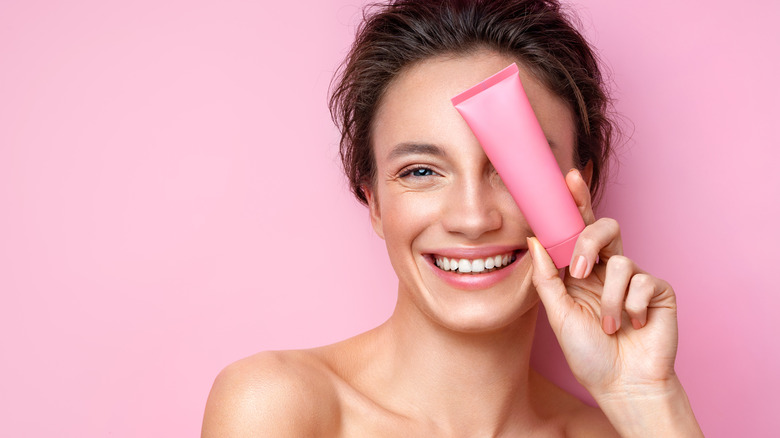 RomarioIen/Shutterstock
As much as TikTok can be a lot of fun, it can also be a hub of bad ideas. All you need is one influencer to say something works and suddenly thousands of people are trying it. The most recent bad idea coming out of TikTok is using lube — a substance made to be used during intimate moments — as a facial primer (via Shape). Yes, you read that correctly.
According to Healthline, there are three types of lube: water-based, silicone-based, and oil-based. Water-based is preferred by those who use silicone toys because silicone lube can break down and destroy silicone over time. Silicone-based lube is great for toys that are made of glass or steel, and it lasts longer than water-based lubes. Oil-based lubes don't need to be reapplied during sex like water-based lubes, but they can be messy. All lubes serve their purpose and everyone has a preferred one.
But what's important to realize about lubes is that just because they're made to be used internally, they're not always body-safe. For example, water-based lube sometimes contains glycerin and parabens. Glycerin can cause yeast infections, and as for parabens, research published in the "International Journal of Environmental Research and Public Health" found that because this component is an endocrine disruptor there's a link — albeit a small one — to breast cancer (via National Library of Medicine). Lubes can also contain general irritants that can lead to allergic reactions. So why are people putting it on their faces?
How the beauty hack got started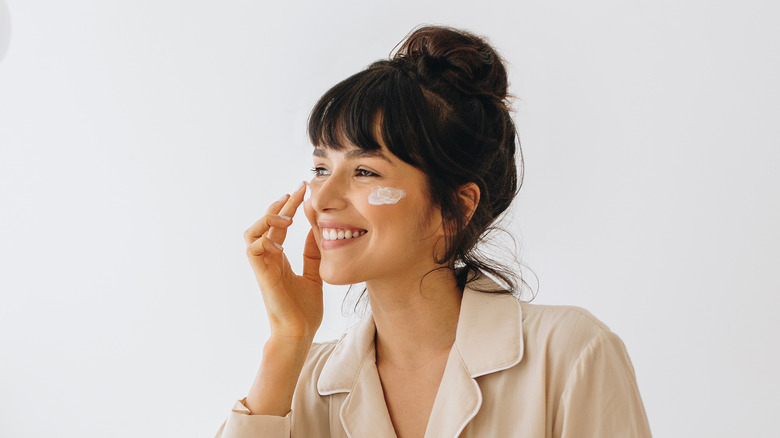 JLco Julia Amaral/Shutterstock
Back in October, influencer Sean Anthony posted a video on TikTok stating "you need to start mixing lube with your foundation ... it makes it glide extra smooth ... makes your base flawless and fresh." In the video, you can see Anthony drizzling Durex lube onto a palette with foundation, then applying it. Underneath the video, among all the hashtags is "Life-changing hack?" 
The video garnered more than 1.5 million views to date with almost 125K likes, meaning a lot of people have probably tried this and liked the results. The video became so popular so quickly that Durex's verified TikTok account had to post a comment under Anthony's video saying, "We appreciate the creativity here (and your makeup looks great) but we don't recommend using our lubricants on the face as makeup primers."
Lube is made for the genitals, while primer is made for the face. If you wouldn't put primer on your genitals — and you never should! — then you definitely shouldn't put lube on your face. "Lubes are designed for temporary use, not a full day of wear on the skin," Dr. Alicia Zalka, board-certified dermatologist and founder of Surface Deep, told Shape.
Why you should skip this trend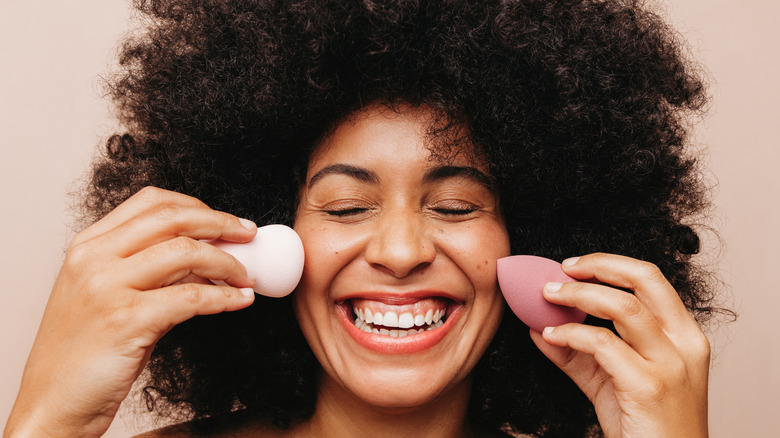 Jlco - Julia Amaral/Getty Images
The act of using lube as primer, in addition to it simply being an odd choice, comes with other considerations. "Using personal lubricant as a makeup primer can lead to facial skin sensitivities and allergies to some of the ingredients often found in lube, like castor oil, chlorhexidine, and spermicide," board-certified dermatologist Alexis Stephens tells The Cut.
Components like castor oil and chlorhexidine not only create skin sensitivities, but they can clog pores, creating whiteheads, blackheads, and excessive acne. So while it may look nice and smooth on the surface, underneath things are just a mess. And you can only go so long with aggressive acne — that may have been caused by using lube on your face — before that ultra-smooth look doesn't look so smooth anymore. 
Is it safe to use lube on your face? No. A resounding no. Lube has a lot of great uses when it comes to sex, but when it comes to using it in place of a traditional primer, it's just a bad idea. So put the lube back in your goodie drawer next to your favorite sex toys and only use it the way it should be used.