Can You Use Mascara If You Wear Contact Lenses?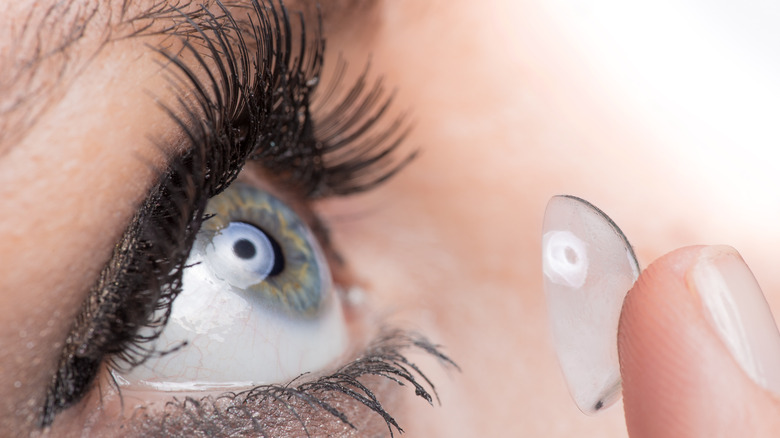 Kesu01/Getty Images
We all know that one person with long, lush lashes who could probably get away without wearing mascara to make their eyes pop. As for the rest of us, it can help to use a product like volume-enhancing mascara to complete our look. Whether you lean toward waterproof formulas or you're all about lengthening mascara, eye makeup can be tricky if you happen to wear contact lenses.
Advertisement
Contact lenses give those who require corrective lenses the option to see without the need to wear glasses. However, proper contact lens care is essential for maintaining eye health, regardless of whether you wear makeup. As the American Optometric Association (AOA) explains, hygiene is critical — your hands should be thoroughly washed before you handle your contact lenses in any capacity. Tap water should also be avoided for cleaning and storing lenses, as it may contaminate them and lead to an eye infection. There are special solutions used for storing and cleaning contact lenses, and different varieties might require different solutions.
Generally speaking, however, contact lenses can be worn regularly without any safety risks. So long as the lenses are used according to your eye doctor's instructions, you should be able to avoid eye health problems, such as infections — but what about your makeup? Is it safe to wear around your eyes? Here is what you need to know about wearing mascara with contact lenses.
Advertisement
Can you wear mascara and contact lenses at the same time?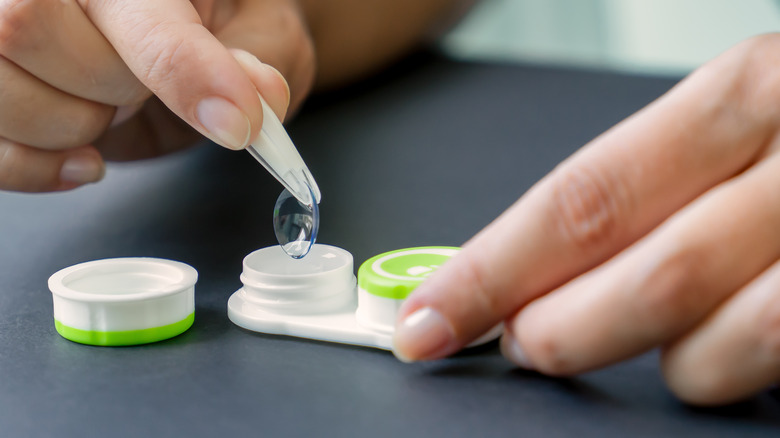 Anna Sitnik/Getty Images
In short, the answer is yes, you can safely wear mascara with your contact lenses in your eyes, according to the AOA. You'll want to put your contact lenses into your eyes prior to applying any makeup, as long as they are soft lenses — rigid gas-permeable lenses should be put into your eyes after you apply makeup. If you are unsure of what type you have, contact your eye doctor for more information.
Advertisement
In terms of mascara, the AOA recommends steering clear of lash-extending formulations and waterproof varieties, in particular. Lash-extending mascara typically contains fibers, which can cause eye irritation if you're wearing contact lenses and those fibers go awry. Because waterproof formulas are more difficult to remove, there is also a greater chance of this type of mascara making its way into your eyes. In turn, you might experience irritation, especially if you're wearing contact lenses.
Before you remove any eye makeup, make sure you take out your contact lenses first to reduce the chances of running into any issues. If you notice symptoms, such as redness, pain, or blurred vision, don't hesitate to reach out to your eye doctor. They can help diagnose and treat any underlying issues, such as an eye infection. Additionally, they'll have all of the information you need on how to safely wear eye makeup while wearing your contact lenses.
Advertisement
What to do if makeup makes its way into your eyes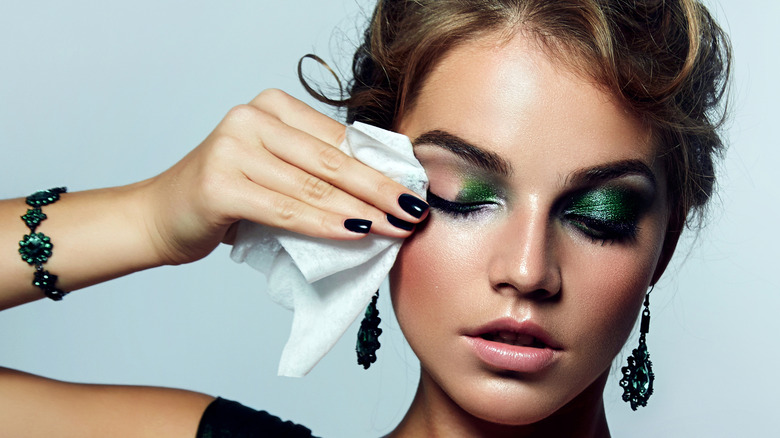 Ekaterina Jurkova/Shutterstock
Even if you take all of the necessary precautions, there's no guarantee that you won't run into any problems if you wear contact lenses and apply eye makeup. Given the close contact between the eyes and the cosmetics, there is always a slight risk. However, getting something like mascara in your eye doesn't have to result in full-blown panic.
Advertisement
In the event that you get any makeup in your eyes while wearing contact lenses, Makeup.com recommends washing your hands and then removing the lenses as soon as possible. To eliminate any irritation, rinse your eyes with a saline solution or preservative-free tears. After the incident, you should avoid putting contact lenses back in your eyes if you feel any lingering irritation. If you don't have your glasses handy, however, replace the affected lenses with fresh ones during reinsertion.
Keeping your eye makeup clean is essential to maintaining your eye health, regardless of whether you wear contact lenses. As the U.S. Food and Drug Administration notes, makeup wearers have been temporarily or permanently blinded in the past as a result of an infection stemming from a contaminated eye makeup product. To stay safe, discard eye makeup — including mascara — two to four months after purchase. Dried-up mascara should always be thrown away, and makeup should never be shared to prevent the spread of bacteria.
Advertisement