Preppy Lug-Sole Loafers Aren't Going Anywhere In 2023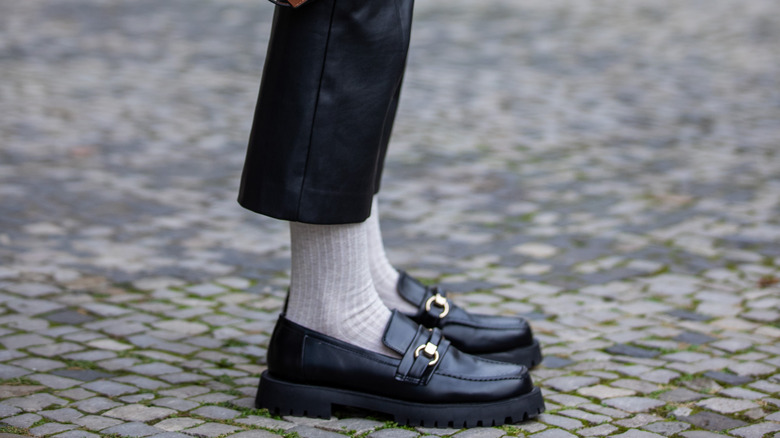 Christian Vierig/Getty Images
Shoe trends can be hit or miss, and sometimes they're just too impractical to integrate into your everyday life. The fashion world can introduce cool concepts, but if the everyday person can't recreate the look, there isn't a ton of longevity to the fad. But when it comes to chunky loafers, not only are they versatile and a good shoe to have for work but they also aren't too hard to get your hands on. On top of that, the shoes aren't just for the preps, though preppy folks are often who wear them the most.
Advertisement
Ashley Full, cofounder and stylist at AMOUR781, told Insider that even though lug-sole loafers made a major statement in the fall 2022, they're going to fully continue their reign into 2023. "The lug-sole loafers that were a favorite of 'It Girls' this fall will also continue to be a trend in spring," she explains.
Lug-sole loafers just mean loafers with a big rubber bottom sole. So searching "chunky loafers" or "platform loafers" can produce similar styles to the lug-sole loafers strutted around on the runway or seen below. Again, loafers can be very preppy and proper, but that's not the only way to style them.
Casual, loose business attire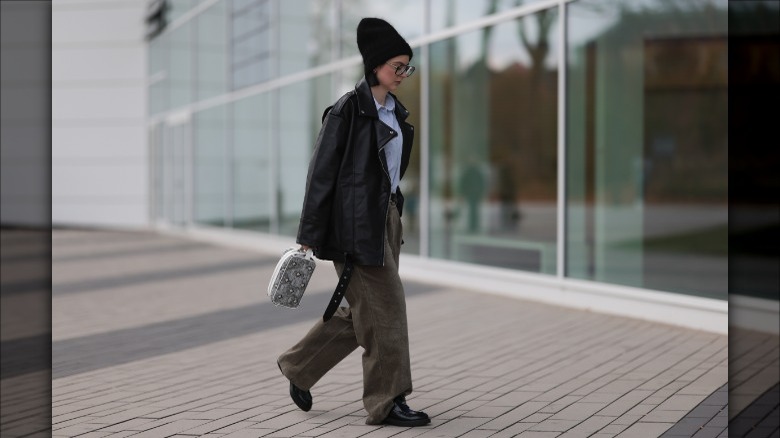 Jeremy Moeller/Getty Images
A somewhat common thought around loafers is that they're only to spruce up an outfit or only able to be worn for a clean and professional look. While that is definitely a style you can flaunt with these chunky loafers, you also don't have to. Yes, any loafer is going to make a casual outfit just slightly more polished. But you can also roll with your loose, casual business attire and make the whole outfit feel more relaxed. Some baggy pants and a loose jacket with lug-sole loafers will come across as oh-so-cool.
Advertisement
All black everything
Eugenia Lytvyn/Shutterstock
There is truly something to be said about an all-black outfit. It is one of the freshest looks and everyone rocks it so well. The color black goes with everything, obviously. But do you know what else looks good? All black everything in your attire. It also allows you to introduce a pop of color here and there, like in earrings or a bag, making your sleek fit all the more stunning. And shiny black chunky loafers are the perfect way to round out such a look.
Advertisement
Add some denim to your look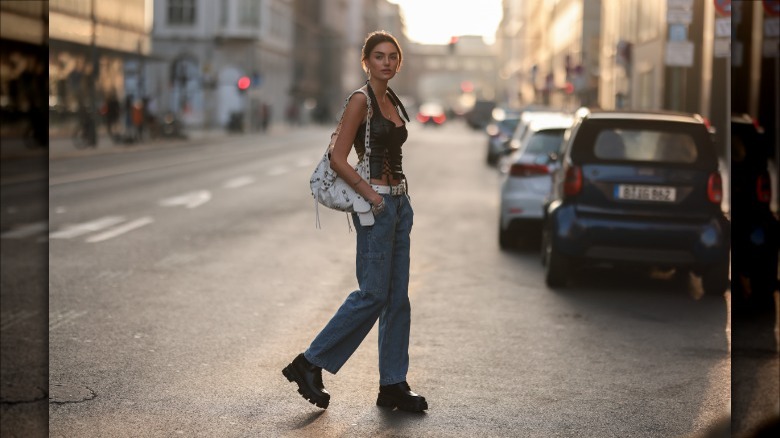 Jeremy Moeller/Getty Images
Going off of the loose casual vibe mentioned above, introducing jeans and loafers is quite a catch. It might seem weird at first because it's not the typical loafers look. However, using chunky loafers, especially platform ones, can make your denim outfit look unique and interesting. Instead of pairing with the typical docs or boots, which always go with jeans and make a great fit, lug-sole loafers will really elevate your outfit. 
Advertisement
Although loafers can still be pulled off with jeans and a baggy tee layered over a long-sleeved shirt, you don't want to dress it down too much. As seen above, you can even be a bit sexy and wear a cutout tank or corset with the shoes and wear them to a club if you're feeling bold.
Make a statement with your loafers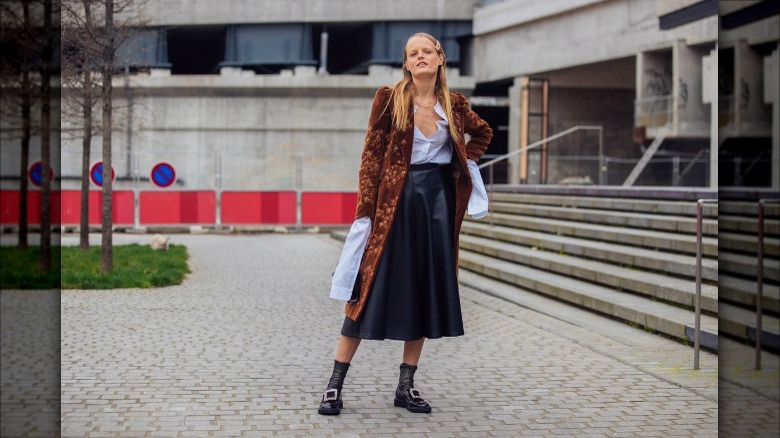 Melodie Jeng/Getty Images
Loafers are pretty attractive shoes and they're pretty much universally adored. But sometimes, depending on the outfit, they can get lost in the fit. That's not a bad thing at all, but if you want your shoes to stand out, consider getting lug-sole loafers that have a buckle, a chain, or even embroidery or designs on them. Or you can go for a striking color or textured pattern. It doesn't even have to fully match your outfit. Making a statement with either your loafers or with your outfit while having your loafers be a staple piece or a cohesive part of your look is a great way to leave a lasting impression on those who see it.
Advertisement
Tights and loafers are a match made in heaven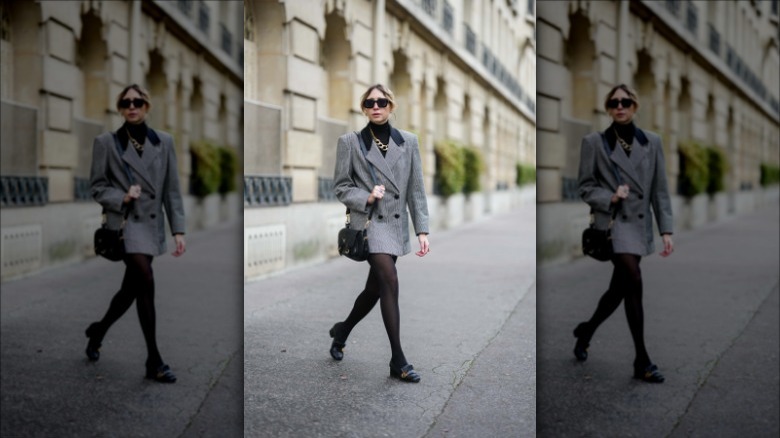 Edward Berthelot/Getty Images
Classic doesn't even begin to cut the loafers and tights look. As stated above, loafers have often been associated with the preppy look of tennis skirts and cardigans. And that's a fact for a reason; they go so well together. So there's nothing wrong at all to go with a good pair of tights and your lug-sole loafers for a solid outfit. You can also spice it up a bit with a long blazer or shorts instead of a skirt. This also gives you a chance to show up any vibrant tights for a fun and youthful outfit.
Advertisement
Crisp and clean white loafers are a must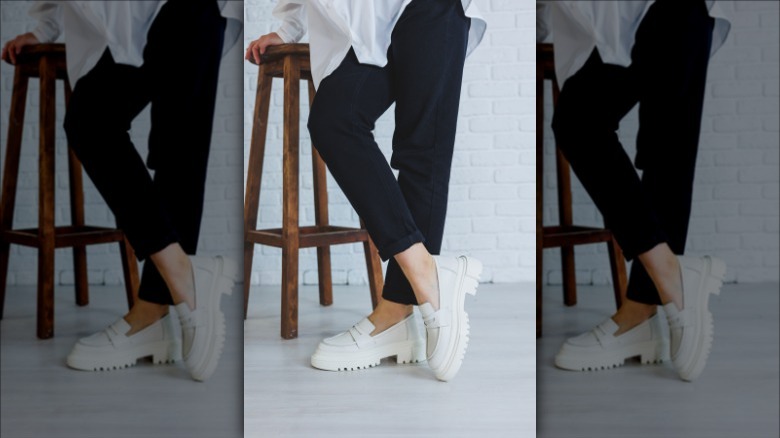 Dmitry Tkachuk/Shutterstock
Making a statement with chunky loafers of all different colors is fun and definitely a look you should try. But going with a solid white pair of lug-sole loafers is truly such a crisp and clean look from the get-go. Other colors or patterns can be fun — and are looks you should try — but there's nothing like a white pair of loafers to give you that put-together look and feel. Just like black loafers with an all-black outfit is sleek, donning a white pair of loafers gives a fresh look that is great for your business attire or a professional-looking fit. Or, heck, even just a light, spring look.
Advertisement
Hear us out: capris and loafers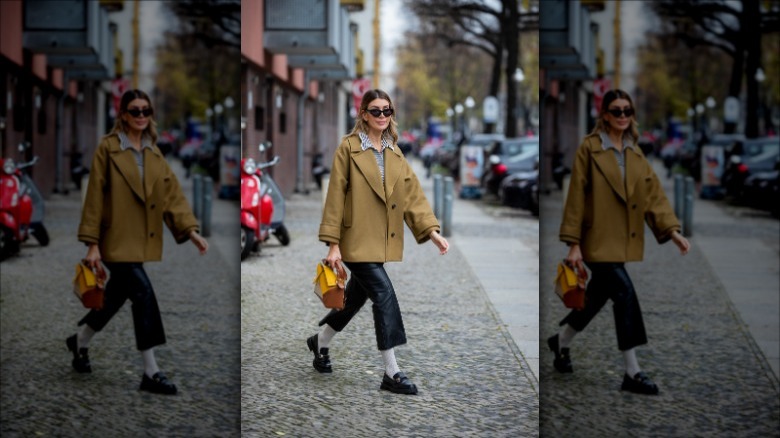 Christian Vierig/Getty Images
Okay, capris might be a bit of a stretch for some. They don't exactly scream "fashionable," and that's understandable considering the fact that Limited Too's plaid capris might have scarred us for life (even though they were kind of a slay). Regardless, capris aren't always dorky or nerdy pants. In fact, capris or shorter pants in textures and patterns like leather or gingham look very high-end. Not to mention, when you take a cute pair of capris and style them with some good chunky loafers, the outfit can look very polished and put together. Add a colorful handbag and some solid socks — or go no-show socks for a spring outfit — and you're ready for the upcoming season.
Advertisement