How To Curate Your Perfect Fragrance Collection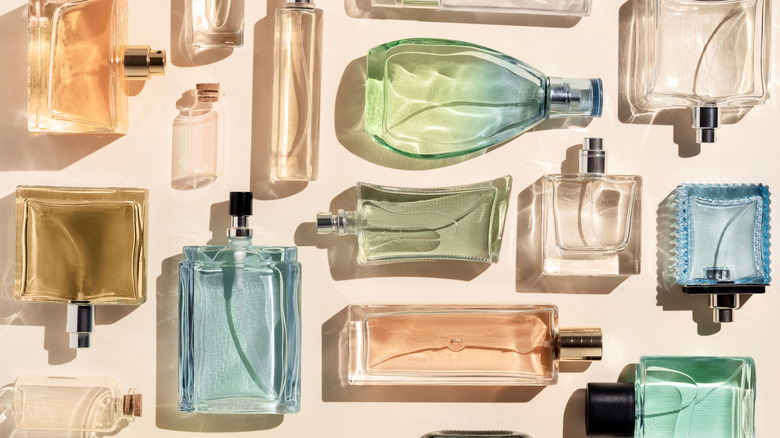 GVLR/Shutterstock
When it comes to picking out staple products in your life, one of the areas that seldom gets talked about is fragrances. A collection of favorite fragrances is essential for instantly upgrading your everyday style. Many have touted the importance of having a single staple perfume that becomes your signature scent. However, having an entire collection gives you more flexibility and versatility to choose a scent according to your mood and style at that moment. Since humans are complex creatures with various phases, it's only fair that your fragrance collection reflects it.
Fragrance plays a more significant role in your overall style and mood than it's often given credit. Currie Day Spa explains that various studies have proven that scents can help improve emotions and reignite memory functions. If you have a connection to a specific scent, smelling that scent later on in life can bring back those initial memories. Wearing the right fragrance can help boost your self-esteem by making you feel more confident and empowered. Curating the perfect collection for you will take plenty of patience and testing various scents. However, the benefits of having a core collection of options you feel attached to are plentiful.
Get specific with your scent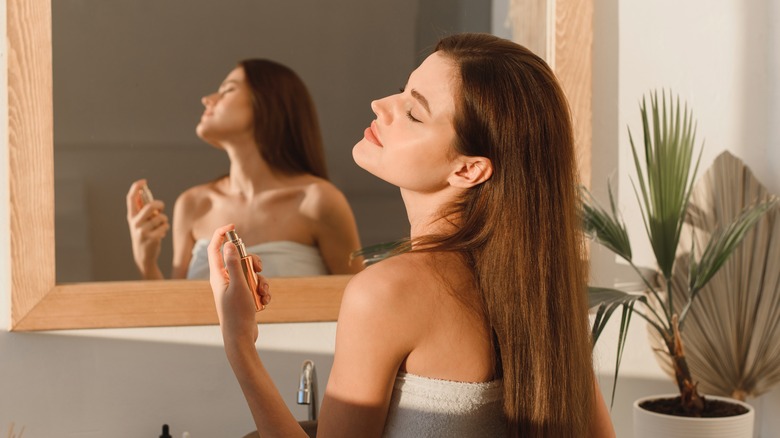 etonastenka/Shutterstock
The purpose of having a fragrance collection is to have a group of perfumes you know you can turn to at any given time. When building a collection, consider the situations you might encounter. Look for ones that you can wear daily, on vacation, and for a special occasion. You can even get specific and designate your perfumes depending on the season. Your fragrance collection should feel like an extension of your wardrobe. Just as you would have workwear pieces, you need fragrance options you can see yourself wearing at the office.
It's important to also know what types of scents you're into. Do you like sweet and fruity? Or maybe you're drawn to herbal and floral? The only way to know which scents you like is by experimenting frequently. Keep in mind that your natural body scent can fluctuate depending on various factors. Taking the time to test out perfumes and how they mesh with you is the first way you will be able to know which fragrances you adore. Perfumist and business mentor Abdulla Ajmal tells Vogue India, "Every month, you add one and compare. Comparison is critical to understand the course your collection is taking. I always encourage people to hone their smelling prowess if they are getting into the fragrance game. When trying and testing, you also have to make sure your skin is not layered with the scent of body wash and lotions." 
Follow your nose, not your head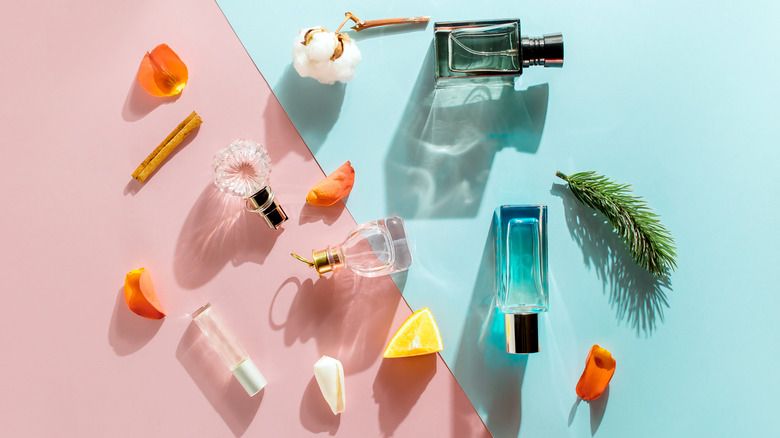 Pavlovska Yevheniia/Shutterstock
Although knowing what you like and dislike is part of finding your favorite scents, it's important not to fixate on what you don't like. Just like food or fashion, your preferences can change over time. It's also a good idea to go back and test out previously discarded fragrances from your past to see if any might suit you today. The more you start experimenting and noticing the slight differences between scents, you might find that the one you previously rejected is just the fragrance for you.
Clive Christian points out that layering more than one perfume, or mixing one scent with another, can produce your own personal scent. While combining similar notes is a great way to experiment with different scents, keep your mind open when considering blends. Trying combinations across fragrance families is the best way to figure out which notes you like and dislike. If you repeatedly gravitate to perfumes containing one specific scent, the options in your collection will likely have to include that scent. This process of elimination is the best way to continue to build your fragrance collection over time.