How To DIY Rosemary Water To Use In Your Haircare Routine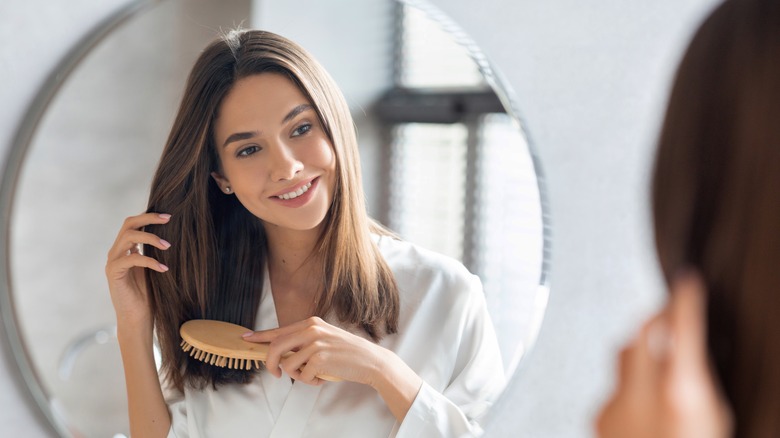 Prostock-studio/Shutterstock
Rosemary water may be the solution to all your hair loss problems. It's easy to make at home and doesn't take much time to apply. Unlike other hair loss products, rosemary is backed by science. Board-certified dermatologist Dr. R. Sonia Batra explained to Mane Addicts how studies show that rosemary leaf extract is so effective because it blocks the hormone receptors in hair follicles. Then they won't be able to absorb hormones like testosterone, which contribute to hair loss.
Applying rosemary water also stimulates hair to grow by improving circulation and decreasing inflammation on the scalp. Maintaining a healthy scalp is the first step to achieving healthy hair. However, rosemary is good for more than just hair growth. It's an antifungal, too, so it will relieve an itch, dry scalp, and dandruff. Some people will see better results than others, but those losing hair due to hormones will get the best outcome. To try this hair growth method yourself, you'll need fresh rosemary and distilled water.
Make your rosemary water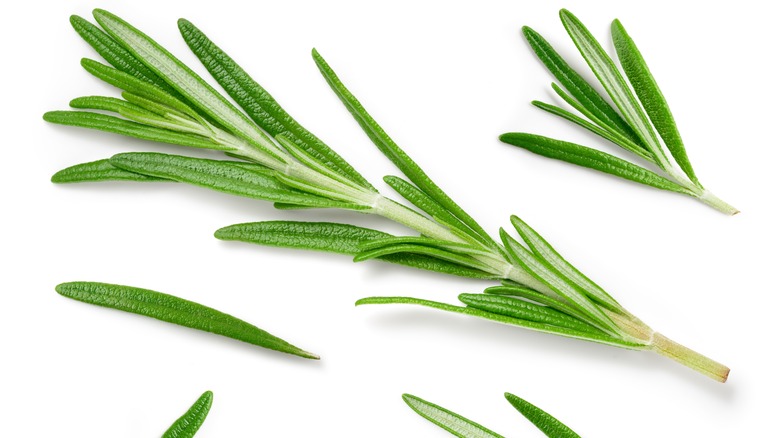 MarcoFood/Shutterstock
The most important ingredient when making rosemary water is rosemary. You can purchase some from your local grocery store or trim them fresh if you have an herb garden. You'll need five sprigs that are about 6 inches long, according to Popular Science. Rinse them off before putting them in a pot. Then add about 2 cups of distilled water. It should cover the rosemary; if it doesn't, add more.
With everything in the pot, bring it to a boil. Let it simmer for at least 15 to 20 minutes. However, let it go for even longer to get the best results and a more potent infusion. You could even leave it for as long as 2 hours as long as you add more water as it boils off. You'll notice it turning a yellowy green, which means the rosemary is infusing. Once your decided time has passed, remove the pot from the burner and let it steep for 30 minutes. Then you can strain the water and add it to the container of your choice. What you put it in depends on how you plan on applying it.
How to apply it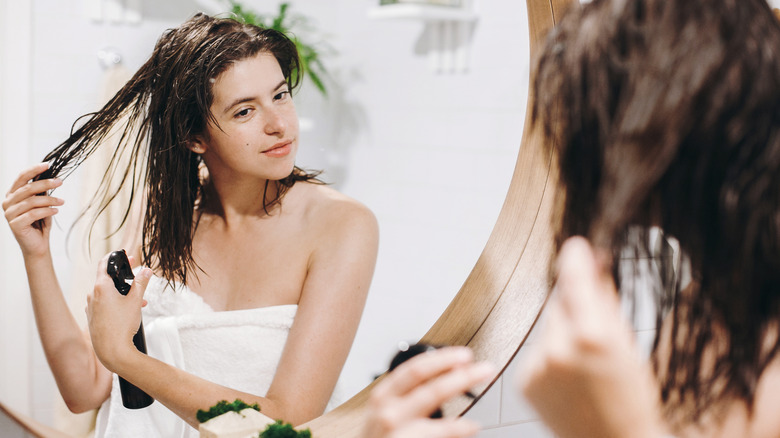 Bogdan Kurylo/Getty Images
There are multiple ways to apply rosemary water for you to see good results. However, in each method, you want to ensure you're getting it on your scalp, not just your hair. Mixing it in with your shampoo is the easiest way to use it since you won't have to add any extra steps to your usual routine. The downside to this method is that you shouldn't rinse out the rosemary water if you want to get the best results, according to Volant.
You should apply the rosemary water with a spray bottle to see the best results. Aim it at your scalp and massage it in. Then you can work it down from your scalp to the ends of your hair. You should use it one to two times weekly and store the rosemary water in your fridge. It should last up to two weeks before you need to make a new batch. Don't worry if you don't see immediate results. Be patient and wait at least six months to reap the benefits of rosemary water.