Why Are People Mixing Foundation With Their Setting Powder On TikTok?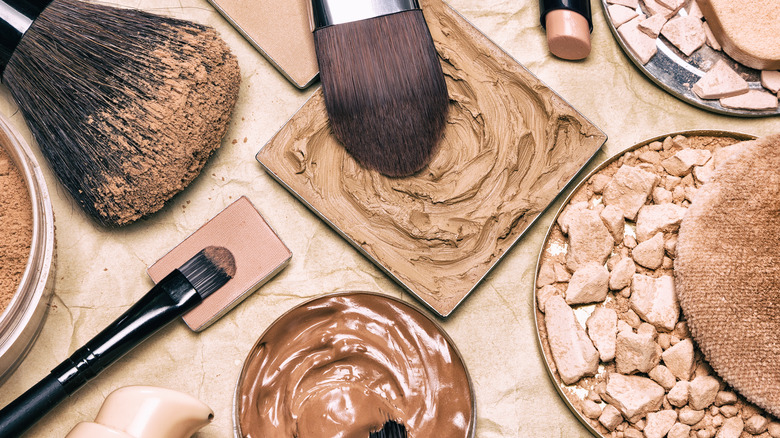 Pogrebkov/Getty Images
You know what they say: there are no rules when it comes to makeup. Except, that's kind of not true. Technically, you can do whatever your heart desires, whether that's applying your makeup without prepping and priming your face first, or failing to blend your foundation down your neck. But will you be pleased with the final look? Unlikely (unless you are, in which case, we're happy you found what works for you). Those unspoken cardinal rules are in place to guide us all to the best makeup application possible.
And one rule that you may have heard once or twice is never to mix powder and liquid products. Traditionally, you would apply foundation first, then set it with powder. Sure, according to Essence, dusting powder on the face before using foundation is a secret beloved by makeup artists for oily-skinned beauties — but the act of mixing them together? Unheard of. However, like always, thanks to the treasure trove of beauty hacks that is TikTok, people are mixing foundation with their setting powder and applying it to the face. Before you give us a confused look of shock and horror, there's actually a fantastic reason why — and dare we say, it looks incredible.
Mixing foundation and setting powder gives an ultra-coverage finish
TikTok is full of eyebrow-raising makeup hacks, and mixing foundation and setting powder together takes the crown. When TikTok creator @lordthivi mixed her foundation with her powder in a video, it prompted lots of questions. "When I do this technique, I literally get the most compliments ever." She said in the video. "Mixing your powder with your foundation actually makes your foundation way more full-coverage." She also explains that it lasts all day and is excellent for covering her acne scars.
Beauty influencer and social media sensation Seth Obrien, aka @sethobrien, posted a TikTok video trying out the hack for himself. After admitting that he never would have thought this technique could work, he was stunned by the results. "My skin looks amazing right now," he said in the video. "It looks so smooth! Like, it looks like I've never had acne before, and I don't have any acne scars, even though I do under all this foundation."
To try this hack, pump a few drops of foundation to the back of your hand or a mixing palette and sprinkle some loose setting powder on top. Mix it together with the back of an eyeshadow brush or your finger, ensuring the mixture is thoroughly blended. Then, apply it to your face with a beauty sponge or brush, and see for yourself just how full coverage your custom foundation is.
Tips for mixing your foundation and powder for the perfect base
We know you're eager to try this hack for yourself, but before you do, we'd like to pass along a few bits of advice. Depending on the foundation you choose to mix with your powder, it could give an extremely full coverage formula that is too thick and difficult to blend. In this case, try mixing a tinted moisturizer or lighter foundation with your powder instead. That's what TikTok beauty creator @giseleayora did in her video by combining MAC Cosmetics' tinted moisturizer with powder to create a creamy full-coverage formula.
If you have dry skin, you may want to reach for a damp beauty sponge instead of a traditional foundation brush because sponges tend to be more forgiving when blending heavy, full-coverage foundation into dry skin. However, if you are going for the ultra-coverage look, you'll want to use a foundation brush. Plus, according to cosmetics company Veil Cosmetics, you'll save more product going that route. Then, you can grab that beauty sponge to seamlessly meld everything together. You'll be left with a smooth, pore-blurring complexion, proving to us all that some makeup rules are meant to be broken.