The Layering Tip That Will Make Your Eyeliner Last All Night Long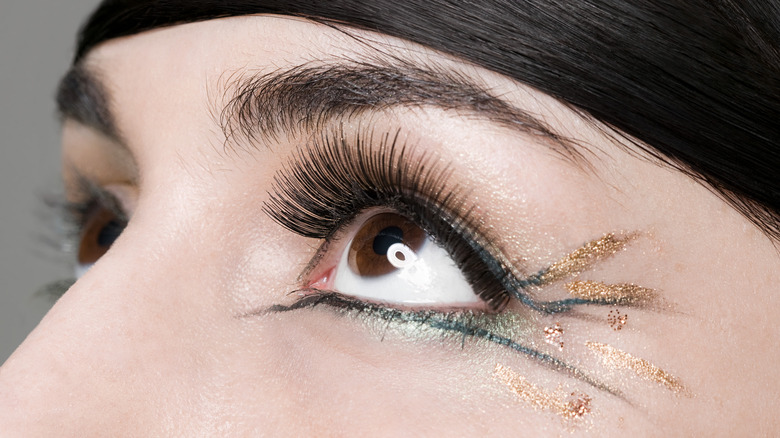 Image Source/Getty Images
Nothing is quite as disheartening as working hard on your makeup look to later find out it's all smudged. While it's true that makeup seldom lasts all day, the longer it can remain fresh, the better. Eyeliner in particular tends to be a major culprit when it comes to smudging because of its light, often liquidy consistency. If not set correctly, you'll find that your eyeliner will smear with the faintest touch. If you want to stay on top of some of the most on-trend beauty looks of the season, it's essential you know how to set this product properly.
While black is the most common color for eyeliners, that's set to change in the coming year. The latest beauty trends are all about creating fascinating and creative looks with the use of vivid color. As celebrity makeup artist Jamie Greenberg tells Ipsy: "Colored eyeliners are going to roll over as a trend in 2023. We've seen some graphic eyeliner looks inspired by Euphoria, and I expect to see even more next year." 
Long-lasting colored and black eyeliners are essential if you wish to create more statement looks. Since eyeliner will be one of the best ways to create unique outfits, you need to ensure it lasts you all day. Your best chance of keeping it looking its best all night long is by using one simple trick: layering.
How to layer your eyeliner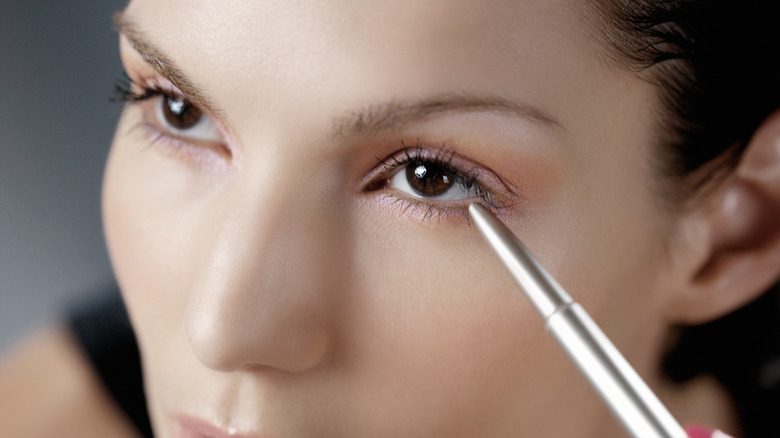 Jupiterimages/Getty Images
If you want your eyeliner to last all day, layering your eyeshadow beneath and on top of your liner is the best way to go. MasterClass suggests starting out your eyeliner routine by applying your eyeshadow first. Doing this gives you an even, dry base which will help your eyeliner adhere more easily. Once you apply your eyeliner, you can add another layer of eyeshadow on top if your shadow shade is the same shade as your liner. Just be sure to use a small, angled brush to get the proper placement. This method of eyeshadow brush is the same concept as setting powder on face makeup. 
L'Oréal Paris explains that even if you use a waterproof eyeliner formula, you still want to go in and set your eyeliner with eyeshadow. Just because your eyeliner is waterproof, it doesn't mean it won't smudge under certain conditions. Adding a sufficient amount of eyeshadow on top of your eyeliner will also help intensify your eyeliner and help create a moodier and smoky beauty look. It also helps cover spots where smudging naturally occurs and helps blend it in with the layered eyeshadow.
Other ways to set your eyeliner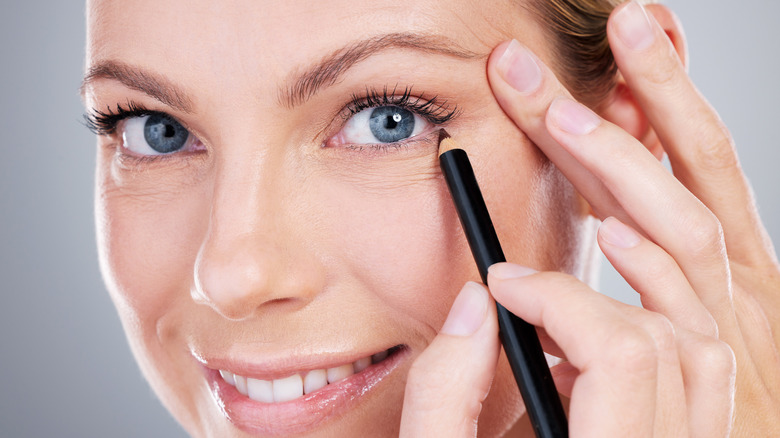 Peopleimages/Getty Images
If adding eyeshadow on top of your eyeliner isn't possible or you simply don't want to do it, there are other ways you can help make your eyeliner last longer. Real Beauty School recommends always starting your application with an eye primer. Even if you start with clean skin, eye primer will help absorb any excess oil that may still be on top of your lids. By removing and absorbing oil, you are eliminating one of the principal causes of smudging. If you want more protection, you can also set your primer with a translucent setting powder. This extra step will ensure you don't have any natural oils moving your eyeliner around later in the day.
Although many consider taking action on setting their eyeliner only after it's applied, you can still protect it while you apply the product. Using a piece of tape as a guide for your liner, you're not only giving yourself a path to perfect application, but you have something to catch any bleeding or smudging during the process. Makeup.com explains that bleeding can typically happen after application when the product is still wet. If you have tape underneath, it will capture any bleeding before it ruins the rest of your makeup.