A Necktie Can Be Your Chicest Accessory With These Tips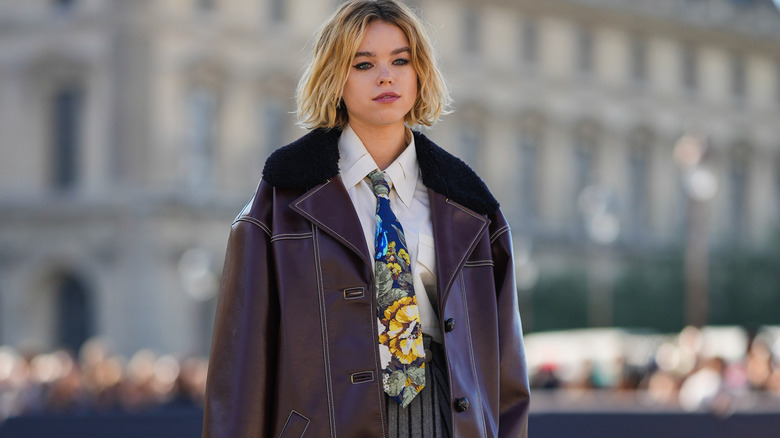 Edward Berthelot/Getty Images
No good outfit is complete without an accessory, with the ideal accessory either complementing or upgrading your outfit. Throughout the last couple of years, the on-trend accessory of the moment has changed from item to item. This time around, it seems like the must-have accessory is nothing other than a chic and professional necktie. The accessory once popular for being part of a men's suit is now a must-have for any outfit. While the necktie has its own history in womenswear, the newest take on the accessory is all about embracing masculine and feminine fashion.
While neckties are typically signs of professional wear, you don't need to be going into an office to wear one anymore. As Sportmax shared, actress Zendaya recently wore the brand's fall/winter 2022 suit ensemble to the Vanity Fair Oscar party in March 2022. This classic, clean, and chic look is both fashion-forward and work-appropriate. Although you don't need to be on a red carpet, you can still rock a necktie as well. By styling your necktie to match your style, you can add a preppy splash to any look.
Wear it loosely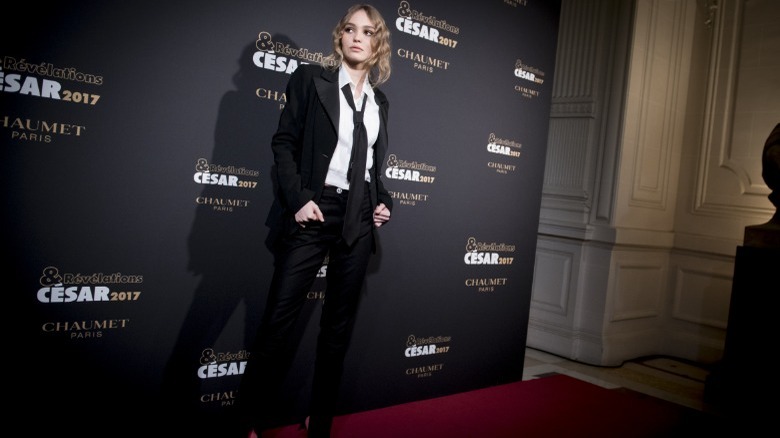 Francois Durand/Getty Images
Even though the necktie is a sign of professionalism, it doesn't mean it can't show your carefree spirit as well. One of the first mainstream examples of the necktie comes from the show "Gossip Girl." As seen on Blake Lively's character promotional poster, the necktie worn loosely is a fun way to add a non-serious preppy vibe to any look (via E! Online). If you've ever considered yourself to be more of a Serena van der Woodsen, use the loose tie as your new go-to accessory.
Tie it into a pussy bow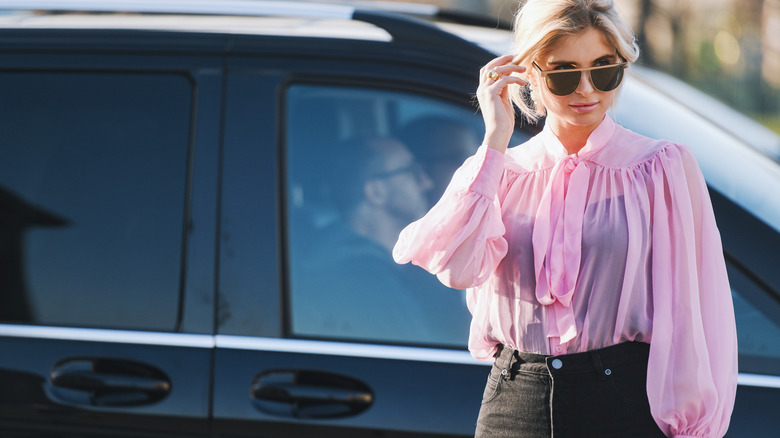 Creative Lab/Shutterstock
Perhaps no other accessory has become more of a fashion and empowerment staple than the pussy-bow. This feminine bowtie has become a staple for female empowerment in recent years due to its reappearance with the gender equality movement. Giving your necktie a fun twist with the pussy-bow will give your outfit a fun new vibe.
Wear it like a regular tie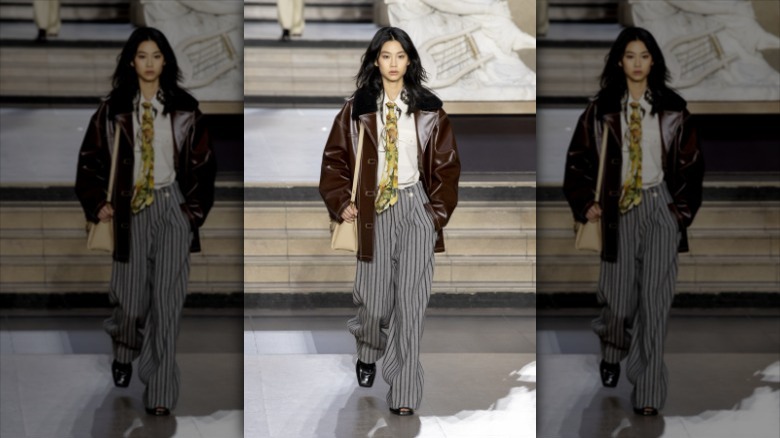 Kristy Sparow/Getty Images
One of the most understated ways to wear a necktie nowadays is by wearing it like a regular tie. While wearing it in its original form might give you the impression of a serious look, there are plenty of ways to make a necktie a fun new accessory. As shown during the Louis Vuitton Fall-Winter 2022 show, a printed tie can make a fun statement against a classic, chic ensemble. If you love a mix of classic and eclectic, try adding a printed or colorful necktie against neutrals for the ultimate combination.
Keep your necktie untied
BAKOUNINE/Shutterstock
Nothing says relaxed and chic more than keeping your necktie open and untied. Although some might say this looks improper, if styled correctly, you can get a fun and chic look. Actress Angelina Jolie donned simple black trousers and a blazer in combination with a white button-up for her 2014 BAFTAs look (via The Hollywood Reporter). To make the outfit even chicer, she finished the look with a small untied necktie. While this gives off more of an afterparty style, there's no doubt that any look where you can play up masculine details with a feminine touch is a winning combination.
Wear it layered underneath a vest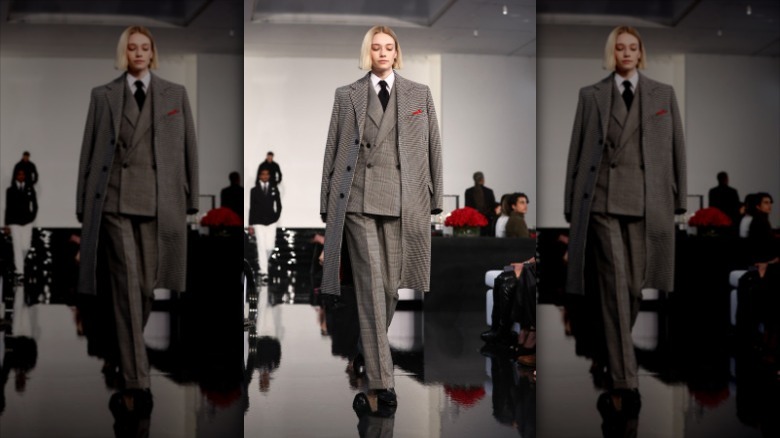 Arturo Holmes/Getty Images
Layering is one of the best ways to make a fashion statement, regardless of the season. The Ralph Lauren Fall/Winter 2022 show is a prime example of how the necktie, tucked underneath a suit vest or sweater, is a subtle way to add some interest to your look. The key to this look is to be mindful of your color combination. Since only a small part of your necktie will pop out from underneath your layers, opt for a pop of color to give your look something extra. 
Use it as a neck scarf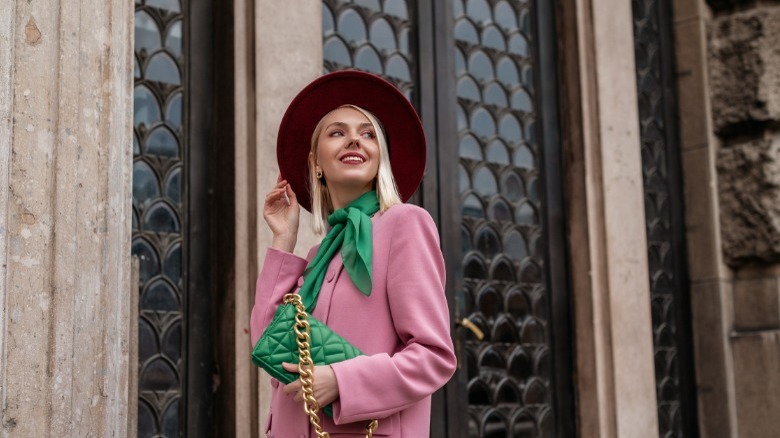 Victoria Chudinova/Shutterstock
While you may need a specific necktie to pull this look off, there's no reason you shouldn't use your necktie as a neck scarf. Using your necktie as a neck scarf is a perfect way to get European style during the warmer months when layers are minimum. While these neckties are usually in bold prints and colors, you can go with any color as long as it compliments your outfit.
Use it as an accessory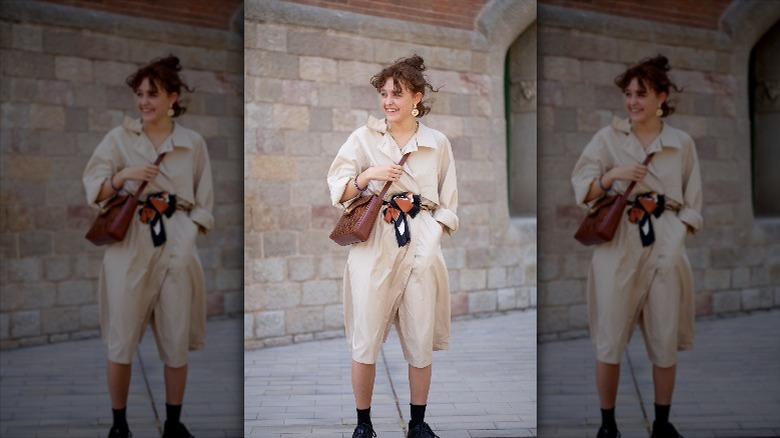 Matthew Sperzel/Getty Images
One of the easiest ways to use a necktie is by not using it as a necktie. If you want to add a bit of color or statement but don't want to put more pieces into your look, try adding a necktie to your bag. Adding a necktie is the perfect way to turn any simple bag into a new piece that no one else will have.